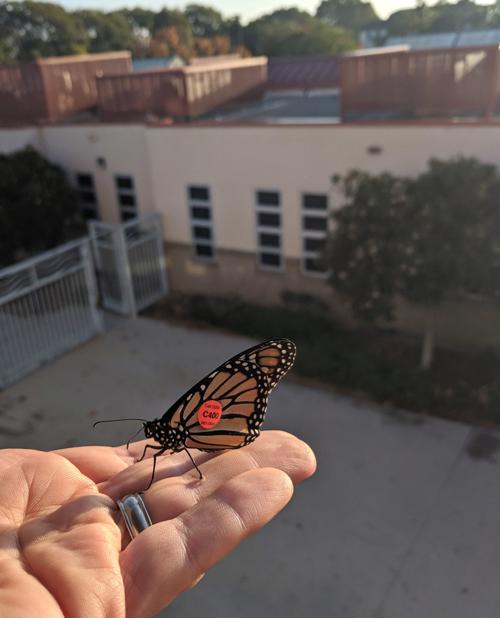 A high school teacher in Oxnard, California, received an unexpected visitor from Southern Arizona earlier this month.
On Oct. 17, a monarch butterfly tagged by a researcher near Canelo, Arizona, fluttered through the open window of Aaron Peck's second-floor classroom and landed on his shoulder, completing a journey that covered at least 535 miles in 28 days.
"It surprised the crap out of me," the Pacifica High School math teacher said.
And that was before Peck noticed the bright orange sticker, roughly the size of an M&M, on one of the insect's wings.
He didn't recognize what it was at first. "It looked like one of those stickers you find on clothes: 'Inspected by number 4,'" he said.
Or, in this case, number C400.
There were actually two of the stickers, one on each pair of wings. Peck was about to try peeling them off with his fingernail when he noticed the fine print: a phone number, starting with area code 520.
"He's like the butterfly whisperer"
The teacher soon found himself on the line with Joe Billings, a naturalist who tags and tracks butterflies under the name of MonarchQuestAZ.
Since 2014, Billings has placed numbered stickers on the wings of roughly 6,000 monarchs from Southeastern Arizona.
So far, 58 of those tags have been recovered in California, Mexico and, in one case, Nevada.
Incredibly, 11 of those recoveries were made by Billings himself during tracking expeditions to known butterfly wintering sites hundreds of miles from where he first captured and tagged the insects.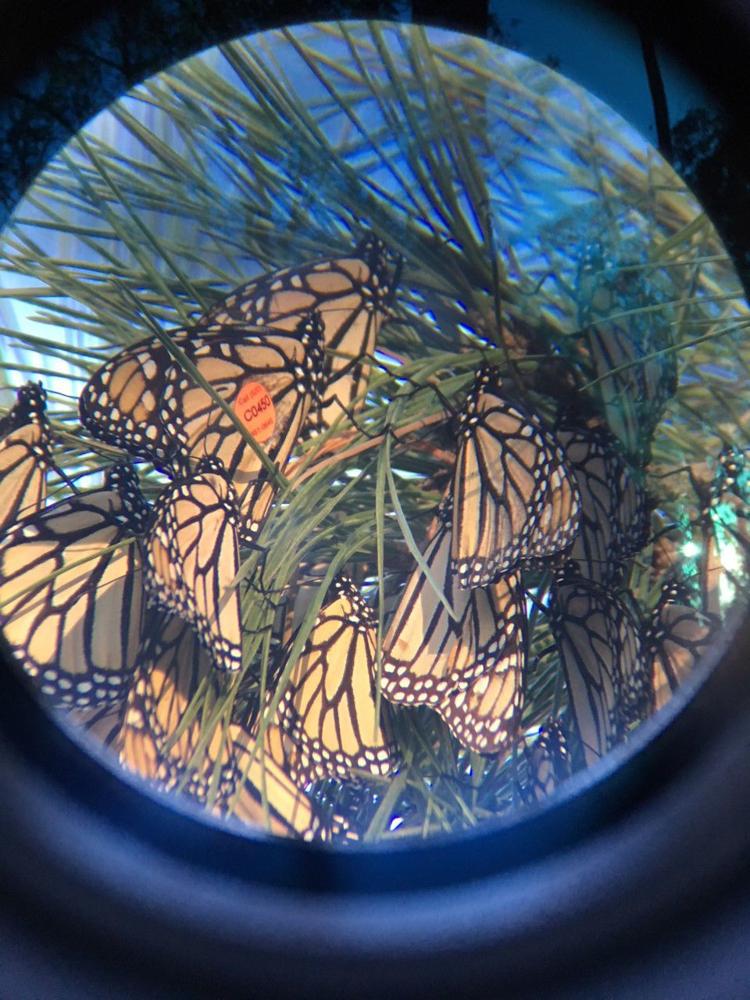 On one such trip along California's central coast in 2015, Billings spotted two of his Arizona monarchs in the same Ventura park over a five-day period. "It was the most incredible thing," he said.
What surprised him about the butterfly in Peck's classroom was its behavior. Monarchs don't typically fly inside of buildings or land on people, let alone linger there.
"He's like the butterfly whisperer," he said of Peck.
Billings described monarch C400 as a "robust" male that was in "excellent fresh condition" when he netted and tagged it on Sept. 19.
It likely started its life as a caterpillar a few weeks earlier, probably hatched from an egg laid on a milkweed plant in the Coronado National Forest sometime in late August.
Based on the photos Peck sent him, Billings said C400 survived its flight to California with only minimal wing damage.
"They're quite good fliers," he said. "They're really quite powerful, even though they're so fragile."
Research could help protect butterflies
Such a trip isn't out of the ordinary for a monarch.
The distinctive orange-and-black butterflies are famous for much longer fall migrations from the northeastern U.S. and Canada to the mountain fir forests of the Monarch Butterfly Biosphere Reserve, outside of Mexico City.
There they roost for the winter in colonies so massive and tightly packed that scientists measure them by the acre rather than by the number of individual insects they contain.
The monarchs take wing again in spring, gradually making their way back north to recolonize a daisy chain of breeding grounds over the course of several summer generations.
But one of the world's most remarkable migrations is in trouble.
By some estimates, the overall monarch population in North America has dropped by as much as 80% over the past 20 years.
The U.S. Fish and Wildlife Service blames the decline on a combination of habitat destruction, climate change and the widespread use of pesticides and herbicides.
"Their numbers are much lower than they used to be, and everyone would like to keep them around," said Arizona-based monarch researcher Gail Morris. "One of the ways to do that is to understand their migration patterns."
Morris is the coordinator for the Southwest Monarch Study, a research network launched to learn more about the migration and breeding habits of the species in the region. With the help of citizen scientists, the study group has tagged more than 20,000 butterflies since 2003.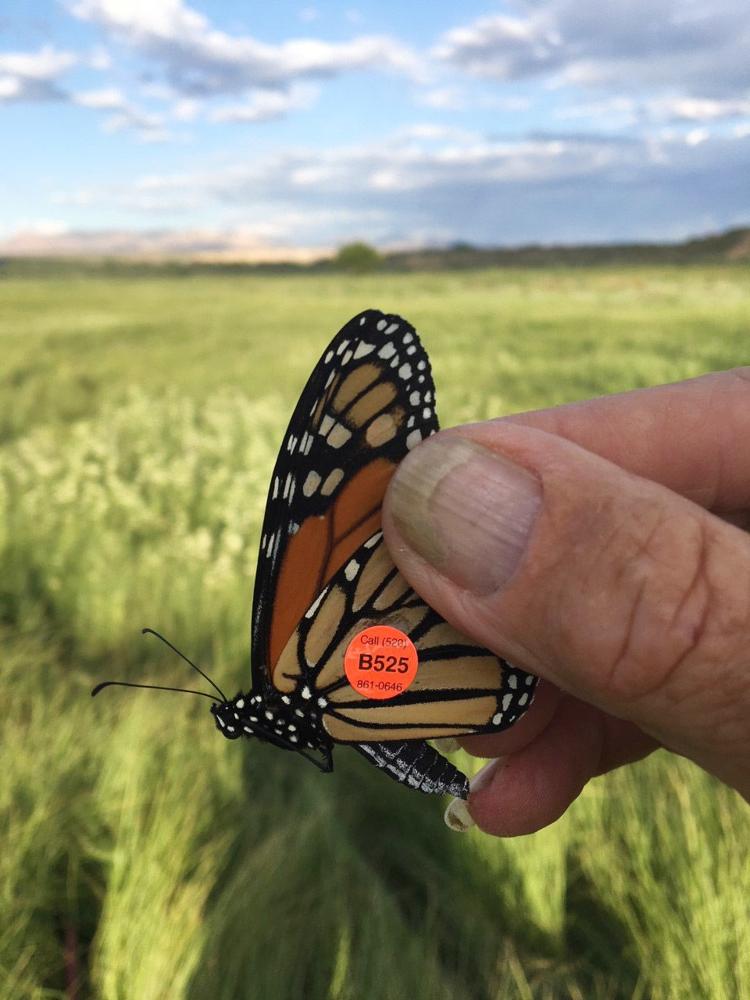 What the group has learned so far defies one commonly held belief about monarchs: that the butterflies east of the Rocky Mountains migrate to central Mexico, and the ones west of the Rockies fly exclusively to the California coast.
Morris said Arizona's monarchs tend to wind up in both places, possibly due to shifts in the prevailing winds that help carry them on their long journeys.
A new appreciation for that bug on the windshield
Billings has documented this, too.
"We have a very unique, two-way migration dynamic going on here," he said.
Billings and the Southwest Monarch Study are now working on separate scientific papers about the phenomenon.
Meanwhile, in Oxnard, Peck said his recent butterfly encounter has given him a whole new appreciation for the well-traveled insects.
He said he plans to lobby for Pacifica High to add the monarch's favorite host and nectar plants to the school's on-campus garden.
But Peck said he won't be planting any milkweed in his yard at home. "My wife, unfortunately, is allergic," he explained.
This was the first monarch Peck remembers seeing at the school, though the butterflies are common in Ventura County at certain times of the year. He said they often end up smashed on people's windshields as they try to flutter across the freeways. "Seasonally we see them in droves," he said. "I sort of feel sorry for them."
After he called Billings, Peck said he took butterfly C400 outside, but it didn't want to leave him at first. He tried scraping it off on a tree, only to have it fly back and land on his shoulder again.
Finally, just before the bell rang to start the school day, Peck managed to shake the monarch loose.
He said he watched it disappear over the roof of the school, fluttering northwest with phone numbers on its wings.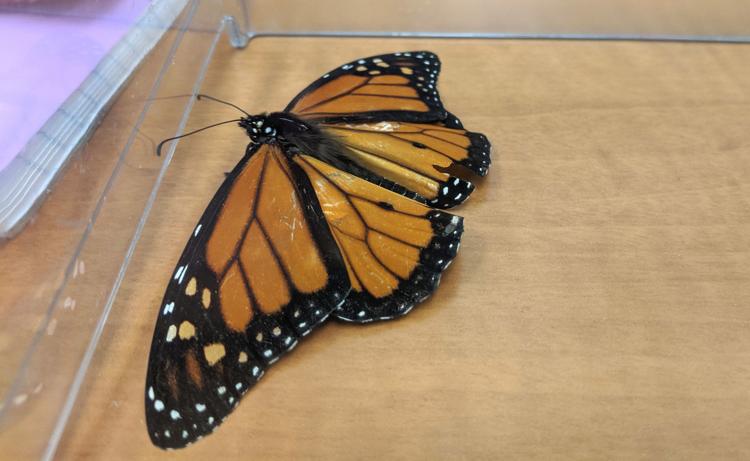 Contact reporter Henry Brean at hbrean@tucson.com or 520-573 4283. On Twitter: @RefriedBrean.