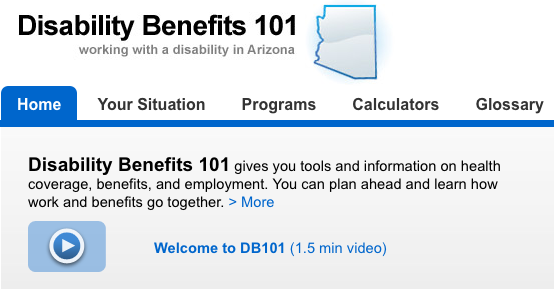 A state audit report is telling the Arizona Department of Economic Security to start spending smarter on job training for people with disabilities.
During a January performance review, the Arizona Auditor General's Office found that the state's Vocational Rehabilitation Services program was outspending its national peers, with fewer of its clients finding employment after rehabilitation.
The state Vocational Rehabilitation Services program, run by DES and financed primarily by federal grants, is designed to help people with mental or physical disabilities obtain and keep jobs.
The program spent an average of $16,200 on clients who successfully found employment in fiscal year 2015, compared with the national average of $6,300, the report said. Fifty-one percent of Arizona's clients successfully held a job for 90 days, while at comparable programs across the U.S., 57 percent of clients found lasting employment.
The audit recommended greater accountability for the DES staff that authorizes program spending and clearer guidelines on how money should be spent.
"We recommend that they analyze their data and come up with some reasonable time limits" for spending on certain services, said Dot Reinhard, performance audit manager.
Program counselors, who develop custom employment and rehab plans for clients, are authorized to approve up to $25,000 per client. Those funds can go towards a number of services, including tuition, training materials, assistive technologies like captioned videos and amplified telephones, and corrective surgery, dentistry and prosthetics.
In many cases, clients receive tuition from the DES rehab program to attend four-year colleges, or vocational or technical schools. Some receive help with transportation, such as getting a bike or bus pass.
The report recommended the program require counselors to speak to a supervisor before authorizing spending on vocational training and ensure that when an individual is receiving money for vocational training, the progress of that client is monitored, Reinhard said.
Michael Wisehart, assistant director of the DES Division of Employment and Rehabilitation, said via email the department has begun to implement the changes suggested in the report.
The rehab program "has some uniqueness in its approach to serving our clients, making it somewhat challenging to compare us to the work coming out of other states," he wrote.
A Tucson-based nonprofit health-care provider said it refers its members to the Arizona Rehabilitation Services Administration and has seen them benefit greatly.
Laura Santa Cruz, a program director at COPE Community Services Inc., said she remembered one client received money from the program to fix his teeth, which had been damaged through drug addiction, so that he could be successful on job interviews.
The rehabilitation services "really eliminate any of the barriers" that keep members from finding work, Santa Cruz said.
A DES spokeswoman said Arizona's rehab program provides high-cost services that comparable programs across the U.S. may not offer, making comparisons difficult. Those services include rehabilitation for people with visual impairments and traumatic brain injuries.
But Reinhard of the Auditor General's Office said the comparison took that into account: The audit team used federal data to compare Arizona's program to other programs listed as combined agencies, meaning they serve individuals with visual impairments as well as other impairments.
The California Department of Rehabilitation, for example, is listed as a comparable agency, and it, too, serves people with visual impairments and traumatic brain injuries.
Former clients said they had positive experiences with the DES vocational rehabilitation program.
Jenny Wendt, 33, a Tucson web designer, went through the program from 2001 to 2006 as a recent high school graduate. Diagnosed with osteosarcoma at 14, Wendt had her right leg amputated above the knee to save her life while she was in high school.
Upon graduation, Wendt decided she wanted to become a graphic designer and went to Arizona's rehab program to receive counseling and support. Wendt said her counselor helped her settle on a career option and choose a school that would give her the education she needed.
She attended the Southwest University of Visual Arts, a small private college in Tucson, where she graduated with two degrees. Arizona's rehab program provided Wendt with tuition support throughout her time in school. Wendt said she was grateful to not feel alone throughout the process.
"My counselor was always so good at checking in on me and being supportive of what I was doing," Wendt said.
Michelle Jaquette is a University of Arizona journalism student and an apprentice at the Star.
Get local news delivered to your inbox!
Subscribe to our Daily Headlines newsletter.