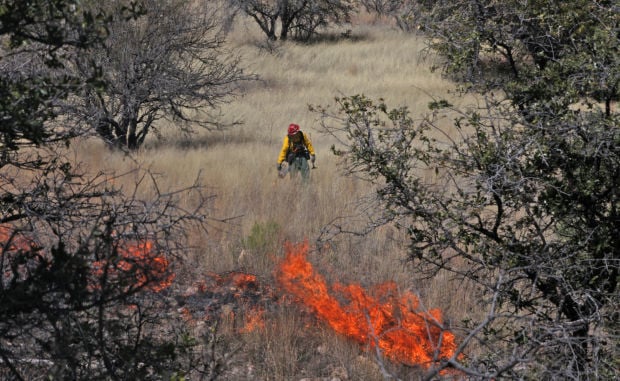 A massive prescribed burn in Southeastern Arizona — torching 35,000 acres in stages beginning at the end of February — is planned by the Arizona Department of Forestry and Fire Management.
The agency, noting that the so-named 47 Ranch Rx Burn is needed to reduce fuels and the threat of wildfires, has scheduled a community meeting Tuesday, Feb. 12, at the Elfrida Community Center in the town northwest of Douglas.
The 6 p.m. meeting will provide information on the scope of the burn and the burn process, and also provide answers to residents' questions. The community center is at 10550 U.S. Highway 191.
A first stage of the burn, covering about 2,200 acres, is scheduled to begin near the end of this month if weather conditions are favorable, said Tiffany Davila, spokeswoman for the Department of Forestry.
"It will take a minimum of a year to accomplish the 35,000-acre burn" in a series of stages Davila said.
She said the area to be burned — between Bisbee and McNeal and surrounding lands in Cochise County — is rugged terrain of grasslands and some brush.
"The main goal of the project is to reduce the threat of wildfires," Davila said. "It's a high-risk area where we often see fires in the summer."
She added that prescribed burns are also vital for the health and restoration of the lands involved.
Contact reporter Doug Kreutz at dkreutz@tucson.com or at 573-4192. On Twitter: @DouglasKreutz
Get local news delivered to your inbox!
Subscribe to our Daily Headlines newsletter.