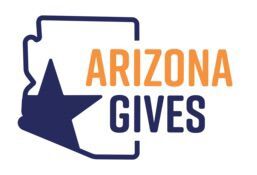 Tuesday, April 6, is Arizona Gives Day, the 24-hour online donation drive to benefit nonprofit organizations found at AZGives.org, and it's a given that Arizona nonprofits need support from the public more now than ever.
"We are just trying to get the word out and hope that people are feeling generous and understand the work and labor of love from nonprofits over the last year. In a recent survey, respondents reported over $91 million in revenue losses and $15 million in increase of expenses due to PPE and technology costs," said Jennifer Purcell, senior vice president and director of development for the Alliance of Arizona Nonprofits, which implemented the daylong fundraising event eight years ago.
Purcell said the survey also indicated that fewer than 1% of nonprofits statewide shut down operations completely during the pandemic.
"They were resilient and figured out how to continue to operate and provide programs and services, just in different ways. While they were resilient, they still incurred huge losses, so the need for people to give is great," said Purcell.
The need has been answered in the past: The virtual event has raised more than $23 million for nonprofits statewide since inception. The organizations represent diverse interests including animals, the arts, children, community development, education, the environment, health and human services, seniors and more.
This year, more than 1,030 organizations, including 252 headquartered in Pima County, have registered to vie for $160,000 in incentive prize money courtesy of presenting sponsor FirstBank and other sponsors such as Freeport McMoRan Foundation, Community Foundation for Southern Arizona and Tucson Electric Power/UniSource Energy Services. In addition, TEP/UNS is matching employees' contributions up to $10,000. Qualifying donations for all incentives can be made through the profile pages of individual nonprofits at AZGives.org.
Prize dollars are awarded based on organization size — micro, small, mid-size, large and extra-large — and include categories such as "Most Dollars" and "Unique Donors" as well as "Power Hours" awards at $25, $50 and $100 levels for the most dollars raised each hour between 7 a.m. and 10 a.m. and 1 p.m. and 4 p.m.
Golden Ticket awards will feature random drawings hourly for donations of $25 or more, with five nonprofits winning $1,000 each between 5 and 9 p.m.
The Eastside Neighbors Volunteer Program is among the nonprofits that hope to benefit from donations in the "micro" category.
One of 19 Neighborhood Care Alliances administered by the Pima Council on Aging, the program provides free transportation and assistance with shopping to facilitate the independence of 285 seniors on the east side.
"We are a valuable service, and we rely upon donations for our operation. Lots of our donations come from clients or people who send $10 or $50 because they know that 99.9% of the money they give us is used to help people. That may not seem like much money, but it all adds up, and we are more than grateful to get it," said Dale Faulkner, program coordinator.
The program is one of more than 100 Pima County nonprofits participating in Arizona Gives Day that also qualifies for the Arizona Tax Credit for Qualifying Charitable Organizations. The tax credit allows a dollar-for-dollar credit of up to $400 for single or head-of-households or $800 for married taxpayers filing jointly on 2020 Arizona income taxes if made by Thursday, April 15 (this date remains unchanged even though the U.S. Department of Treasury has extended the federal filing due date for income taxes to May 17). Donations can be applied to 2021 Arizona income taxes if you prefer.
Some nonprofits participating in Arizona Gives Day may also qualify for the Qualifying Foster Charitable Organizations (QFCO) Tax Credit, which allows an additional $500 credit for single or head-of-households or $1,000 for married taxpayers filing jointly. Check with your tax advisor for more information.