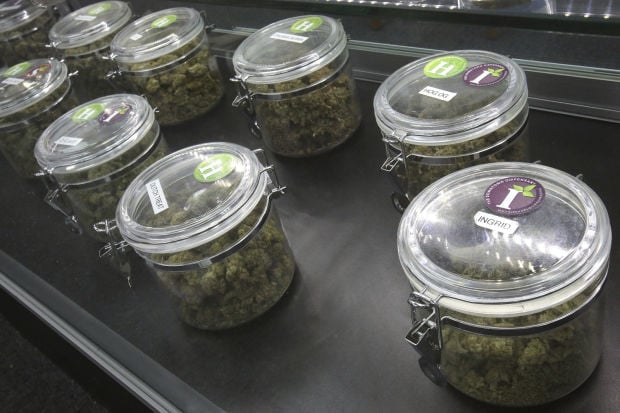 PHOENIX — State lawmakers are moving to make felons of doctors who don't follow all the rules when recommending a patient be allowed to use marijuana.
The 6-3 vote Thursday in the House Health Committee for HB 2067 would impose prison terms of up to a year for medical professionals who fail to conduct a full medical exam before issuing the required state certification to buy and use the drug. The same penalty would apply to doctors who do not review at least a year of the patient's medical records.
That vote came on the heels of complaints by Yavapai County Attorney Sheila Polk about "pot docs,'' people she said are in the business of making as much money as they can providing the required certification patients need to be able to legally purchase and use medical marijuana.
Polk has made no secret of the fact that she opposes medical marijuana. But voters approved the program in 2010, so she is powerless to stop it.
What Polk said she can do, however, is try to make sure doctors follow the certification process already required by state regulations. That is not happening, she told lawmakers.
As evidence she cited billboards that say that people can get a medical marijuana card without medical records.
Thursday's vote is the second victory for Polk in her fight against medical marijuana.
Effort dropped to lower annual state fee
Sen. Sonny Borrelli, R-Lake Havasu City, said lobbying by Polk has forced him to abandon his effort to slash the $150 annual fee the Arizona Department of Health Services charges to medical marijuana patients.
Borrelli had shepherded his SB 1420 through the Senate Government Committee late last month after pointing out that the amount of money being collected is far greater than the cost of running the program. 
But that was before Polk argued to lawmakers that lower fees would make it easier for young people to get medical marijuana cards.
Borrelli told Capitol Media Services that Polk's opposition threatened to quash the entire bill. By dumping the fee reduction, Borrelli preserves the other key provision: having the state test what's being sold as medical marijuana, both to verify the content of THC, the psychoactive element, as well as to determine whether there are residual pesticides or chemicals.
The 2010 voter-approved law allows those with certain medical conditions and a doctor's recommendation — it's technically not a prescription — to get a card from the state allowing them to purchase up to 2 1/2 ounces of marijuana every two weeks. More than 156,000 Arizonans have been issued these cards.
What's behind Polk's efforts on both bills is her belief that it's just too easy for people, especially newly minted adults, to get the cards.
"I hear a lot from the parents who are very frustrated because their son has turned 18,'' she told lawmakers. "They visited what we call the 'pot docs' and 30 minutes later they walk out with that recommendation.''
Benefits of the drug debated
But it isn't just teens: "This is a de facto recreational marijuana program,'' Polk says of the 2010 law.
She cited figures from the state which show fewer than 3 percent of medical marijuana patients got the certification for cancer and fewer than 2 percent for post-traumatic stress disorder. Conversely, Polk said, about 85 percent of certifications fall into a catch-all category of chronic pain, with the bulk of patients being men between 18 and 30.
The suggestion that many patients have no legitimate need drew a sharp reaction from Rep. Pamela Powers Hanley, D-Tucson. She said the largest users of opioids for pain among men are in that same age group.
"So I don't think you should discount the idea that because a man is young that he does not have chronic pain,'' she said.
Powers Hanley said there are studies showing marijuana is a viable alternative to opioids and a less expensive alternative to other pain medications.
"I see this bill as an attempt to overregulate a medicinal plant that has been used for centuries safely,'' she said.
Rep. Kelli Butler, D-Paradise Valley, said she's not a fan of recreational use of marijuana.
"But I do think there is a serious medical need for it,'' she said, saying she does not want to "criminalize physicians who are doing their job.''
Polk acknowledged that existing law already allows the medical boards that license and regulate doctors to discipline those who do not follow state laws and rules and even revoke their ability to practice. But she did not see that as a substitute for criminal penalties.
HB 2067 now needs approval of the full House.