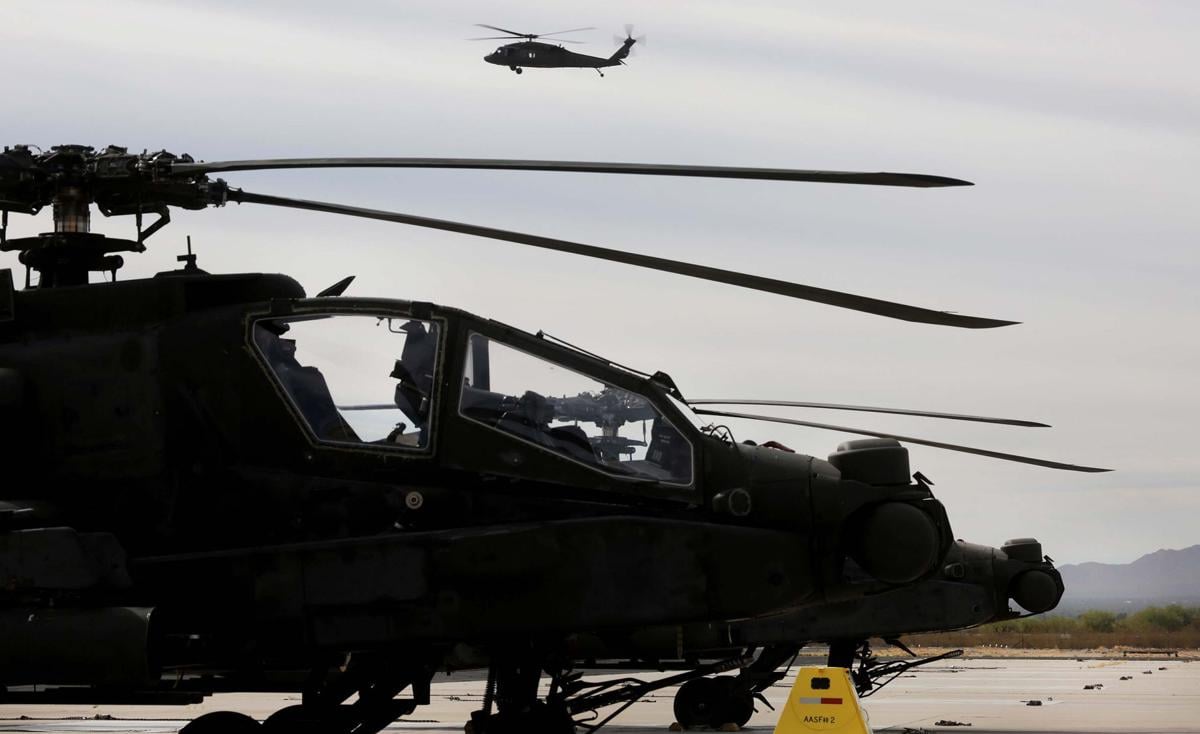 Members of Arizona's congressional delegation are making an eleventh-hour appeal to suspend a decision to cut the number of Apache attack helicopter battalions in the Army National Guard and disband a unit based in Marana.
Rep. Martha McSally, a Tucson Republican, and Rep. Tom O'Halleran, a Democrat from Sedona, joined two members from Pennsylvania in sending a letter Wednesday to Army Secretary Mark Esper and Army Chief of Staff Mark Milley.
The lawmakers urged Esper and Milley to reconsider a decision to drop the number of Guard Apache battalions to four from six.
Under the current plan, the 1-285th Attack Reconnaissance Battalion stationed at Silverbell Army Heliport would be deactivated by the end of the year, along with a battalion in the Pennsylvania Army Guard, and the remaining four battalions would be smaller.
The letter, also signed by Pennsylvania Republican Reps. Keith Rothfus and Scott Perry, contends keeping the Arizona Guard Apache battalion would be more cost-effective than a plan to establish two new active-duty Army Apache battalions, while cutting the unit would waste trained soldiers.
The lawmakers also expressed concern that the U.S. Army Aviation Center of Excellence at Fort Rucker, Alabama, where the Army is centralizing helicopter pilot training, may not be able to meet its training goals.
The letter also questioned the efficiency of "mobile training teams" used to train Apache pilots, requested Army readiness documents related to aviation units and asked that Apache transfer orders be suspended until the documents can be reviewed.
McSally, a former Air Force combat pilot and a member of the House Armed Service Committee, said the letter is a follow-up to a proposal she sent to Army leadership last December.
"We have the trained, experienced fighters and the equipment necessary to support the Army's attack aviation needs right here in Arizona," McSally said in a news release. "It would be reckless to dismantle a deployable, combat-ready unit before the Army is fully ready to supply this capability as it stands up new attack battalions in Korea and Europe."
O'Halleran, whose First Congressional District includes the Marana Army base, said the Army's decision to transfer Apache helicopters from the National Guard base in Marana will degrade military readiness.
"Southern Arizona communities that will be impacted by this decision deserve transparency from our military leaders, and I hope Secretary Esper and General Milley take the time to answer our pressing concerns," O'Halleran said. "The information regarding the Army's decision to remove these aircraft has only raised more questions for myself and my colleagues."
Operations at the Silverbell Army Heliport contribute an estimated $147 million annually to the local economy, according to a recent state-commissioned study.
Arizona's adjutant general, Air Force Maj. Gen. Michael T. McGuire, has fought the move to shrink the Guard's Apache force, contending it would waste trained personnel and erode combat readiness.
The National Guard Bureau has said Arizona and Pennsylvania will lose their Apache battalions, but the Army has yet to issue final transfer orders.
"We're going to be ready to fight until we're told to stand down," Arizona National Guard spokesman Capt. Aaron Thacker said.
If the Army follows through on its plan, more than 450 members of 1-285th Attack Reconnaissance Battalion will have the options of seeking reclassification into different military jobs, requesting reassignment or retirement, he said.