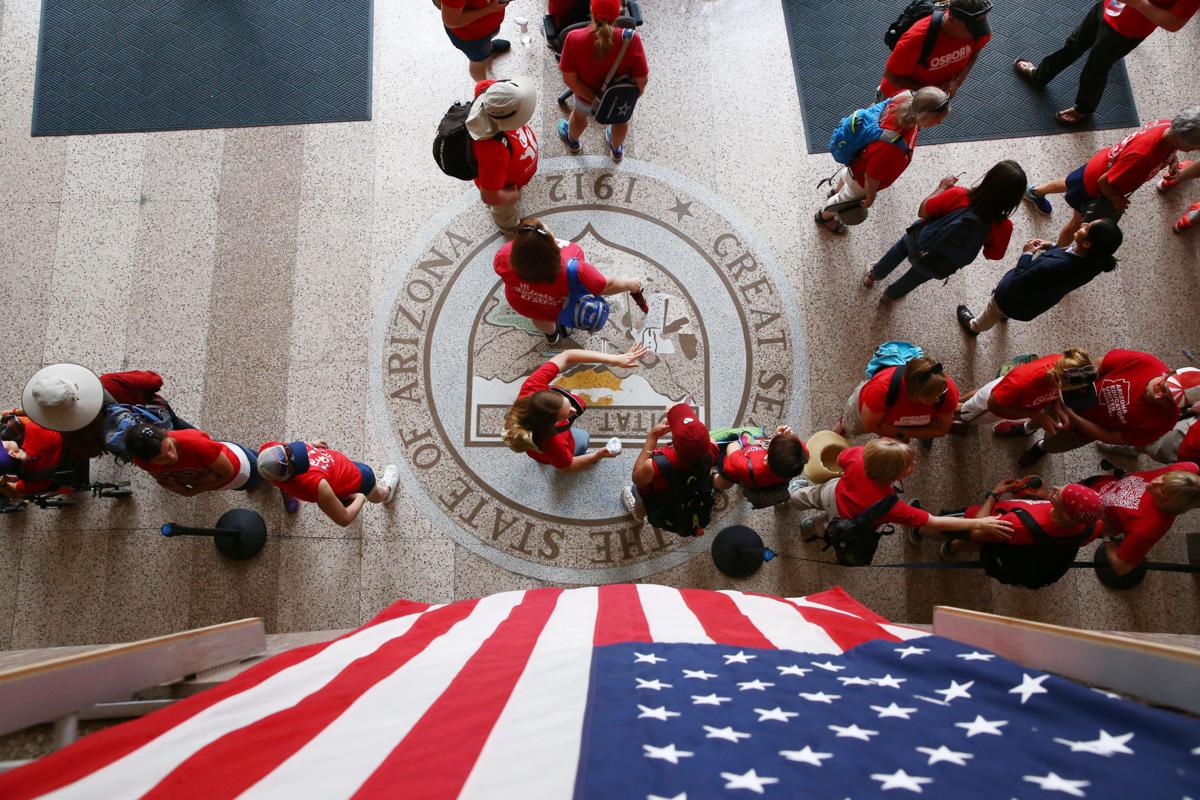 PHOENIX — Gov. Doug Ducey signed legislation early Thursday granting teachers an average 19 percent pay increase within three years hours before the Arizona Legislature approved a new state budget .
The move came as the House was still approving other pieces of the $10.4 billion spending plan. And that action came after the Republican majority rejected multiple attempts by Democrats to add more money to the budget for public education.
State lawmakers approved an overall budget later Thursday morning. Republicans now say they plan a push to end the annual session.
"Arizona teachers have earned a raise, and this plan delivers," the governor said in a prepared statement. He said the plan also provides $100 million in other assistance, money he calls "flexible dollars" that can be used by schools for a variety of needs, including raises for support staff like counselors, custodians and others who are not included in the teacher pay package.
But the Republicans who control both the House and Senate spurned proposals to enact several other demands by striking teachers, including giving raises to support staff, shrinking class size and adding money for more school counselors.
Even the presence of several hundred teachers in the galleries — and more outside, some having a candlelight vigil while singing "America the Beautiful" and "Amazing Grace" — appeared to have no effect on getting additional dollars for public schools out of lawmakers.
"The people down here, a lot of them, don't listen to our voices," said Noah Karvelis. He is one of the organizers of Arizona Educators United, the group that crafted the #RedForEd movement that, along with the Arizona Education Association, organized the strike that began last Thursday.
"They don't respond," Karvelis continued. "If they did, we'd have $1.1 billion for education in this budget."
But with the budget now approved and nothing more to be gained, teachers are expected to start returning to the classroom Friday, ending the state's first-ever teacher walkout that affected the majority of the 1.1 million public school students.
The lesson of all this for educators, Karvelis said, is to remain politically organized.
"We have an incredible infrastructure and movement built," he said.
"Now we've got to sustain it and bring answers," Karvelis said. "And one of the ways we do that is through the ballot now."
The strike produced no concessions. But the Arizona #RedForEd movement, formed in the wake of the strike of West Virginia teachers that got them a 5 percent pay hike, does have some things to show for itself.
Most significant is that 19 percent pay hike by the 2020-2021 school year.
The session started with Gov. Doug Ducey offering teachers just a 1 percent salary increase, insisting that's all the state could afford. But massive demonstrations and some Republican lawmakers crafting their own plans led to Ducey jumping out front last month, saying he found sufficient funds, largely from future economic growth, to finance the pay hike.
Rep. Anthony Kern, R-Glendale, pointed out to teachers in the gallery that Republicans were the only one voting for the bill with that 19 percent pay hike, with Democrats opposed.
"So I want the Arizona voters to know and to remember who defended the teachers in November," Kern said.
That drew derision from Rep. Reginald Bolding, D-Laveen, who said the package does not restore the more than $1 billion the Republican-controlled Legislature cut from K-12 education in the past decade.
"You can't set a house on fire, call 911 and claim to be a hero," he said.
But House Speaker J.D. Mesnard, R-Chandler, chided Democrats for complaining now that a 19 percent increase it too little even as they pushed last year, albeit unsuccessfully, for a 4 percent hike.
Even with the complaints that the state should have done more, four Senate Democrats joined with the 16 Republicans present to support the pay plan; all 25 House Democrats were solid in their opposition.
Salary aside, there are the things that Democrats sought to add to the spending plan and Republicans voted to reject.
Rep. Charlene Fernandez, D-Yuma sought to expand the definition of "teachers" — those eligible for the pay hike — to include counselors, social workers, psychologists, speech pathologists and librarians, all people excluded from getting a share of the earmarked raises.
Republicans were opposed to that, as well as to requiring one counselor for every 250 students.
There also was no GOP support for the proposal by Rep. Kelli Butler, D-Paradise Valley, to limit class size to no more than 25 students.
"Research shows that students in smaller classes perform better in all subjects and on all assessments," Butler said. She also said it provides teachers with the time for more one-on-one time with students.
"They get to spot academic problems, see if someone is being bullied or depressed."
But Rep. T.J. Shope, R-Coolidge, who sits on a school board, said these decisions should be left to local school boards.
On the revenue side of the equation, Republicans spurned several proposals to raise more money to ensure that there will not only be the dollars for future promised teacher pay raises but to finance some of the other priorities and restore per-student funding back to at least 2008 levels. That included phasing out some tax exemptions and eliminating the ability of individuals and corporations to divert some of what they owe in state income taxes to help children attend private and parochial schools.
But it wasn't just Democrats who found themselves frozen out from making adjustments to the deal that had been hammered out between the GOP leaders and Ducey.
Rep. Kelly Townsend, R-Mesa, who has been a vocal opponent of the teacher walkout sought to make it illegal for teachers to "use classroom time to espouse political ideology or beliefs," language that could be read to preclude teachers from wearing their #RedForEd T-shirts in class. But Majority Leader John Allen, R-Scottsdale, said her proposal was not part of the official budget deal.
Allen also shot down another Townsend proposal which would impose $5,000 fines on districts that close schools on days they were supposed to be open. Permissible exceptions would include invasion, riot, epidemic, plagues of insects and acts of God — but not strikes.
Townsend said many students and parents were not only inconvenienced by the strike and the closure of schools but may have suffered financial losses because of having to change travel plans for graduation or vacations. And she lashed out at teachers who were in the gallery — teachers presumably on strike — who were watching the debate.
"You should not be able to do that to the people of this state because you want funding," she said.
Townsend said she understands how funding decisions are made at the Legislature. And she seemed to indicate some empathy with the concerns of teachers.
"But you do not get to hurt the people of this state because I represent them as well," Townsend said. "And I will do everything I can to ensure that their losses are recouped."
Not everything the Democrats tried to add to the budget was related to school funding — or even to money.
For example, Sen. Katie Hobbs, D-Phoenix, sought a state law to prohibit wage discrimination based on sex and to make it illegal for companies to forbid workers from disclosing their own salaries. That was beaten back.
Sen. Steve Farley, D-Tucson, had no better luck in trying to roll back Republican-crafted laws that allow judges to disqualify initiative petitions if all the documents are not in "strict compliance" with all election laws.
And the Republican majority rebuffed a proposal by Sen. Martin Quezada, D-Glendale, to set up a system that automatically registers people to vote when they get a state driver's license.