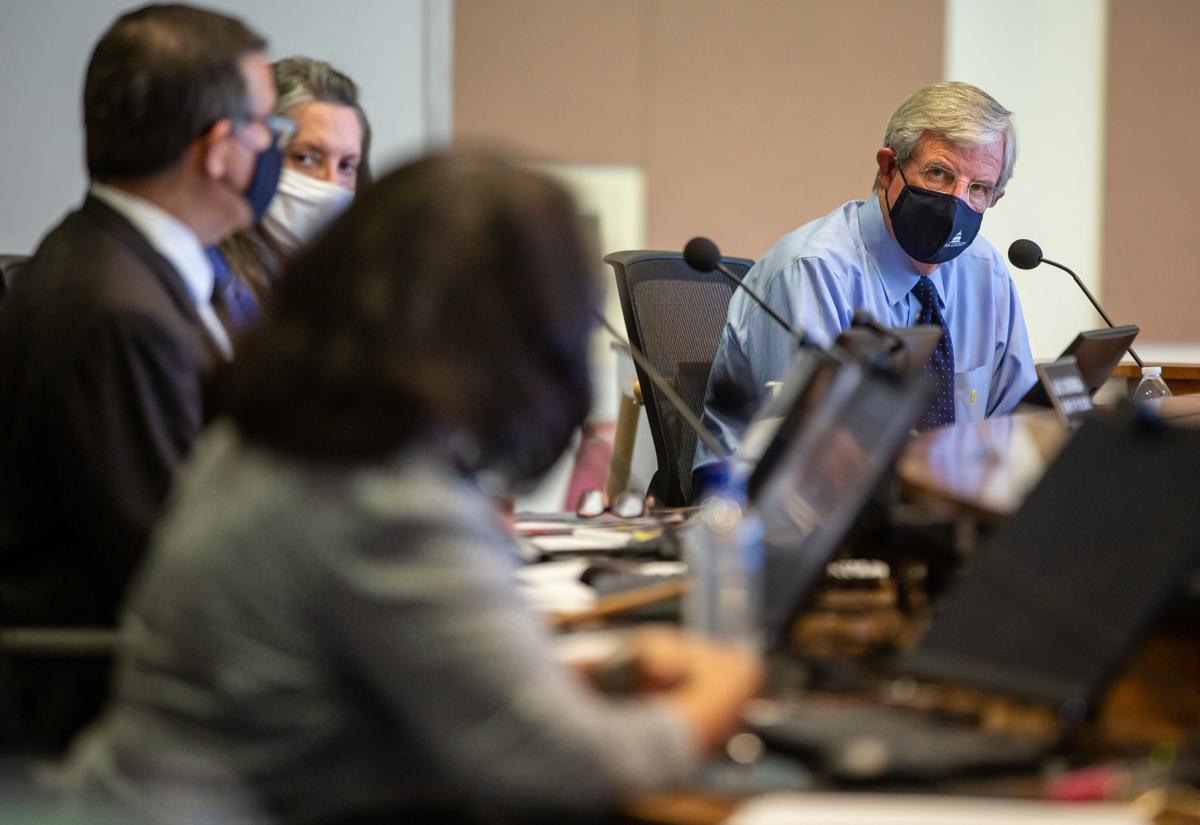 As the pandemic's status in Arizona continues to capture nationwide attention, the virus's spread broke records by several metrics. Both Arizona and Pima County set another record for week-to-week increases in coronavirus cases.
New, confirmed cases in Arizona totaled 11,665 from June 7 to June 13, according to data published as of Friday by the Arizona Department of Health Services. It was an increase of 3,962 from the week before, up about 51%.
In Pima County, cases totaled 1,129 over the same period, an increase of 366, or 48%, from the week before.
These totals may still be incomplete due to reporting lags. It generally takes four to seven days to report new test results. In the week of June 7-13, however, 572 cases were reported statewide from tests conducted from May 31 to June 6, accounting for a 7% backfill, as of Friday. And 98 cases were reported countywide from tests conducted between May 31 to June 6, accounting for a 13% backfill.
On multiple days this past week, record numbers of cases were also reported to the state.
And the state will likely continue to surpass these single-day records, said Dr. Joe Gerald, an associate professor with the University of Arizona's Zuckerman College of Public Health.
"For the next 10 to 14 days, it's going to be just more of the same," he said.
Mask-wearing requirements might change the trajectory of the outbreak.
It will take about two weeks to find out, he said, adding that July 1 will be the first opportunity to see a change in the data.
On Wednesday, Gov. Doug Ducey allowed cities and counties to set their own mask-wearing requirements to curb the spread of the coronavirus. And on Friday, Pima County supervisors approved such a requirement, superseding one enacted by Tucson Mayor Regina Romero the day before.
Effective immediately, the Pima County ordinance says all people age 5 and over are required to wear face coverings when they're in public and can't easily maintain a continuous distance of at least 6 feet from other people. It applies countywide, including incorporated areas of Tucson, Marana, Oro Valley and Sahuarita. There are certain exemptions, but there is no civil or criminal penalty for not wearing a mask.
In Phoenix, which also requires masks, refusal to wear one could bring a $250 fine.
Gerald's analysis of hospital-capacity data shows Arizona reaching zero available beds around July 16, he said. But he added that there is enough time for the mask-wearing requirements to change the time when Arizona may reach what would be its "normal" hospital capacity.
Arizona has more beds available beyond that capacity through its additional surge plan. The state health department is watching hospital bed capacity and has plans to open sites with more beds, if needed.
Gerald cautions, however, that once normal capacity is exceeded, the level of care is not equivalent in these surge settings.
"Patients will be admitted to jury-rigged settings, treated with second-line agents owing to shortages of critical resources, and cared for by nurses and physicians recruited from noncritical specialties," he wrote on May 12 in his weekly report to public-health officials across the state and fellow public-health faculty at Arizona State University and the University of Arizona.
On Thursday, inpatient bed capacity was at 85% statewide, while ICU beds were at 84% capacity, according to ADHS data.
Since Ducey let his stay-home order expire on May 16, the use of ordinary inpatient hospital beds has risen by 10% and the use of ICU beds has risen by 11%.
There is a difference, however, between the number of licensed beds reported by the state health department and the number of available beds that are actually staffed, said Will Humble, executive director of the Arizona Public Health Association and former state health director.
"What none of us know is what the real capacity limit is because that's tied to what's staffed," he said.
Some hospitals are already nearing capacity.
"While we continue to have some capacity in our hospitals, we are seeing an increased census in our ICUs and in patients requiring ventilation," Veronica Apodaca, director of marketing for Northwest Medical Center, 6200 N. La Cholla Blvd., and Oro Valley Hospital, 1551 E. Tangerine Road, wrote in an email.
In preparing for a surge, these two hospitals have added more staff and stocked up on additional supplies, she wrote.
"We are seeing an increase in COVID-19 patients in our hospitals, including receiving a significant number of patients from other parts of the state through the Arizona Surge Line," which is a 24/7 phone line for providers, like hospitals, to call when they can't provide a coronavirus patient with an appropriate level of care.
The number of available, staffed ICU beds in Pima County has decreased every day this past week, said Dr. Francisco Garcia, Pima County's chief medical officer.
"And so, yes, we have ICU beds available today, but they are a handful. And they are not in every single hospital. So absolutely we should be very concerned," Garcia said.
If a catastrophic event were to happen, like a plane crash, patients would have to sent out of Pima County, Garcia said.
"I don't believe that we would have the ICU beds for that kind of mass casualty event," he said.
Gerald said he hopes mask-wearing requirements curb the outbreak, but a large percentage of the public will need to follow the rules for it to work, he said. If 80% of people "mask up" in public, he'll be "cautiously optimistic."
At the Pima County supervisors' emergency meeting Friday, County Administrator Chuck Huckelberry cited research that widespread mask wearing could reduce virus death rates by about 15% to 45%.
During this second resurgence of cases, Gerald hasn't yet seen a clear change in deaths.
This is because it takes 14 to 15 days on average for a case to convert into a death, he said. And reporting lags are considerably longer for deaths than for cases.
The ADHS doesn't publish data on deaths at the county level, but the Pima County Health Department published a report last week showing an uptick in deaths from six the first week in June to 17 in the second week of June.
"That's super-significant," Garcia said. "I have every reason to believe that this is a number that's also going to start to grow."