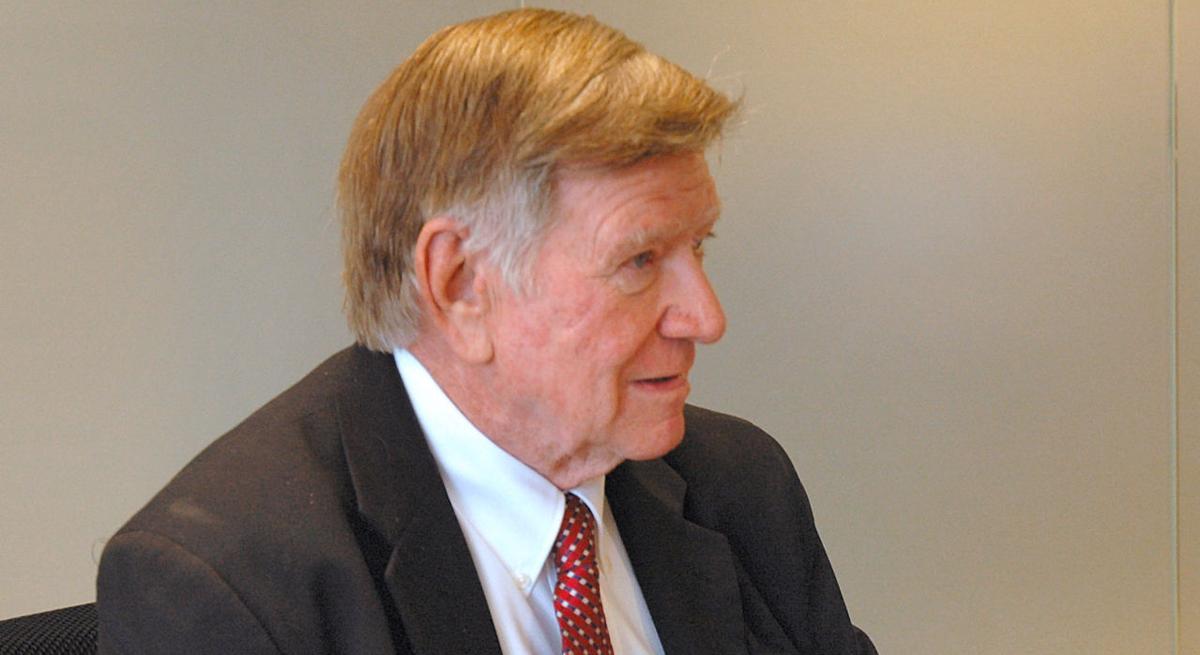 PHOENIX — The head of the state Board of Regents said Monday that a new lawsuit over tuition could finally force the Legislature to explain whether it is violating a constitutional provision to keep instruction at Arizona's universities "as nearly free as possible."
On one hand, Bill Ridenour criticized Attorney General Mark Brnovich for what he said was a publicity stunt Friday — he called it "political pandering" — in suing the board and blaming its members for the steep hikes in tuition in the last 15 years.
"The AG's lawsuit, while it makes for good headlines, does nothing to change the burden for students and their families," he said in a prepared statement. "The suit is full of attacks, but offers no constructive remedies."
But Ridenour said Brnovich is right on at least one issue: The "seismic" shift in cost from the state to students to attend one of the state's three universities.
What's wrong with the litigation, he said, is that it seeks a solution from just the regents, ignoring the role he said lawmakers have played in the 300-plus-percent increase in tuition since 2003. And Ridenour said if the issue is going to be hashed out in court, then the lawsuit needs to involve more than the regents.
"If it goes to that extent, the Legislature is an indispensable party," he told Capitol Media Services.
"The question is, who's going to pay for this education?" Ridenour continued. "Is it going to be the student, or is it going to be the state?"
But now, with Brnovich having filed a suit that essentially says the regents — and the regents alone — are violating the Arizona Constitution, Ridenour sees an opportunity to finally get a definitive legal ruling on who really is responsible.
"This suit will allow us to present the facts to a court of law and seek clarification of our constitutionally mandated obligation to provide 'instruction as nearly free as possible,'" he said. "We can now address who will pay for that mandate."
Brnovich spokeswoman Mia Garcia defended the decision to sue only the regents and not the lawmakers.
"We do not believe the court can order the Legislature to appropriate more funding for higher education," she said. But Garcia said a judge can order the regents to calculate tuition "based on actual costs" and determine if that meets the constitutional requirement.
The challenge to tuition has left the regents unhappy.
Ridenour acknowledged that everyone knew the attorney general was looking into the question of the legality of the universities allowing those in the Deferred Action for Childhood Arrivals program to pay in-state tuition. That followed a ruling earlier this year by the state Court of Appeals declaring a similar policy at the Maricopa community colleges is illegal.
But the lawsuit filed Friday not only challenged the DACA policy but the tuition for all students, with Brnovich claiming the current charges are unconstitutional.
"I think all this makes great headlines," Ridenour said. "I'm not sure what the motives were behind expanding this suit from DACA."
Politics aside, some research by Capitol Media Services found issues that also could undermine Brnovich's contention that the hike in tuition has far outstripped the loss of state dollars.
Figures prepared by legislative budget staffers show that in 2008 there were 111,368 full-time equivalent students in the university system. That FTE measurement is designed to deal with the fact that some students are enrolled only on a part-time basis.
Total funding from both state aid and tuition totaled nearly $1.9 billion, or $16,986 per student.
By the just-ended school year, total funding exceeded $3 billion. But with 166,296 FTE students in the system, that worked out to $18,217 per student, a 7.25 percent increase over 2008
But legislative budget staffers said if inflation is taken into account, the total amount being collected in both state aid and tuition on a per-student basis is actually 7.4 percent less than in 2008.
That means the tuition increases that Brnovich cites in his lawsuit did not keep pace with both the reduction in state funding and inflation.
Garcia said all that is irrelevant to the constitutional issue.
"It's a simple question," she said. "We want to know the true cost of tuition."
Ridenour, however, said any look at tuition cannot ignore the declining role of the state in paying the costs.
A decade ago, he said the Legislature funded about 75 percent of the cost for an in-state student. This year, he said, that state-aid figure is just 34 percent.
Ridenour acknowledged the question of state funding of higher education is not an Arizona-only issue.
"What is unique is that in FY 2012, Arizona ranks 48th in per-capita support for higher education," he said.
The idea of legal action against the Legislature is not new. It was first raised two years ago by Mark Killian when he was chairman of the board and told Capitol Media Services that his colleagues should sue lawmakers if they did not come forward with more funds for the university system. That never happened, with Ridenour saying Monday that board members opted instead to work with Gov. Doug Ducey and lawmakers in hopes of reversing the trend, including a $99 million cut the governor signed into law. The results since then have been mixed.
The new budget approved in May provides an additional $15 million in one-time funding to universities. But lawmakers also removed a one-time $19 million infusion they got last year.
And even that $15 million has strings attached, with the University of Arizona having to use $1 million of its $4.2 million allocation to fund a so-called "economic freedom school," which was started with seed money from the Koch brothers, whose financial interests range from Georgia-Pacific paper products and Stainmaster carpets to jet fuel and cattle. And there's an identical $1 million earmark out of the $7.6 million for Arizona State University.
Lawmakers also agreed to let the universities borrow close to $1 billion for capital needs, with the promise there will be funds in future years to pay that back.
Get local news delivered to your inbox!
Subscribe to our Daily Headlines newsletter.