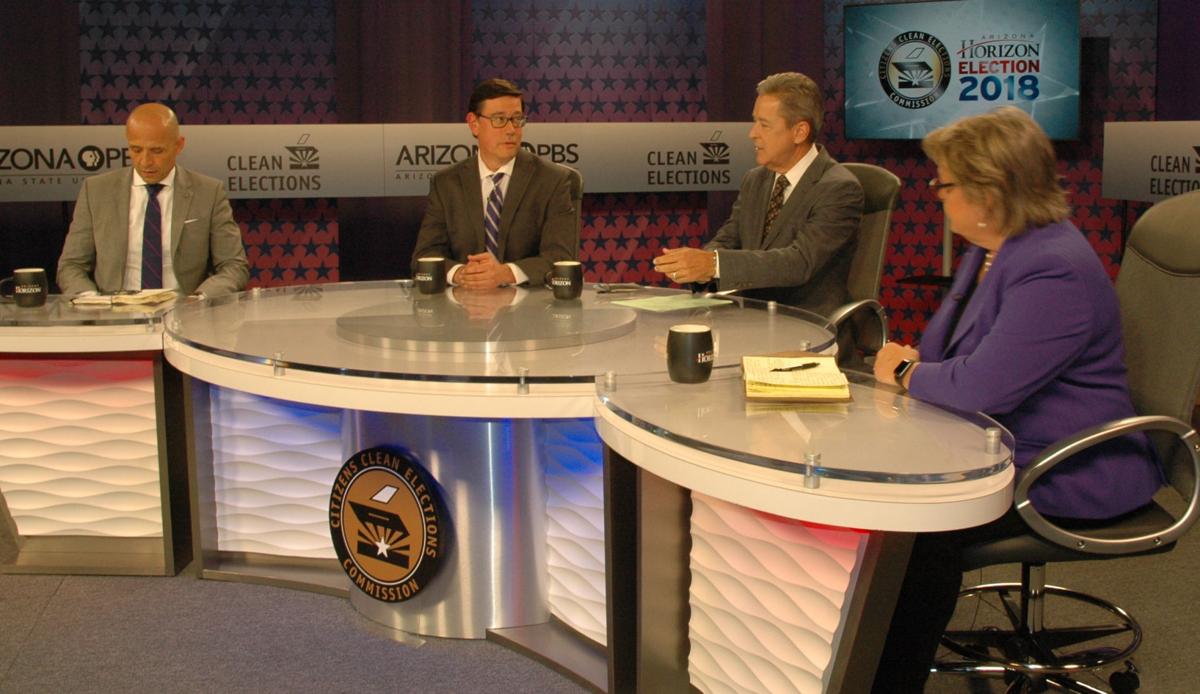 PHOENIX — The three Democratic gubernatorial hopefuls worked Thursday night to refute Gov. Doug Ducey's narrative that job and population growth show what a great job he is doing.
The Republican incumbent has been touting reports showing that Arizona is a good place to start a business. Population growth, Ducey has said, shows that people "vote with their feet." And the state's jobless rate has dropped from 6.4 percent when he took office to 4.7 percent, though it remains higher than the national average.
During a televised debate at KAET-TV, all three Democratic contenders brushed those numbers aside as any indication that things are getting better for most Arizonans.
"It may be working for certain people, but not the people I've been talking to all across Arizona," said state Sen. Steve Farley of Tucson.
"The bulk of Arizonans are seeing their wages going down," he said during the half-hour debate, though he clarified afterwards that he means in comparison with keeping pace with inflation.
Arizona State University education professor David Garcia said it's irrelevant that people are moving to Arizona.
"What about the Arizonans who are here?" he asked, citing inequities of earnings.
He referred to a report showing the top CEOs of Arizona corporations got an average raise of 47 percent this year.
"And the rest of Arizonans? Four percent on average," Garcia said.
He said that points up a flaw in Ducey's argument that more jobs means more opportunity. When the state's Office of Economic Opportunity reports on number of jobs, that is based on a survey of employers. But it does not say whether those are full-time or part-time jobs or whether two companies are counting the same individual.
"There may be jobs," Garcia said. "But Arizonans have to hold down two or three of them to pay the bills."
Kelly Fryer, CEO of the Southern Arizona YWCA, echoed the theme.
"We need to stop measuring the health of our economy based on how the rich are doing," she said. "And we need to start measuring our economy on the basis of how the poor are doing and how the middle class is faring."
Fryer said if she is elected she would shift the economic development funds given out by the Arizona Commerce Authority away from luring big corporations.
"I'm going to shift that investment into locally owned businesses that are around the state and businesses that are paying a living wage," she said.
Farley said the key is using state resources to invest in infrastructure.
"Every billion dollars you spend on transportation infrastructure creates 19,000 new jobs and improves our quality of life," he said. Farley also said more money into rural information technology would provide a major boost to economic development outside the state's urban areas.
Not surprisingly, each of the three insisted she or he is in the best position to get elected in a state where Republicans outnumber Democrats by more than 160,000 in a state with 3.6 million registered voters.
"We're running a statewide campaign to increase turnout," Garcia said.
"I've never seen Democrats energized across the state as they are now," said Farley. He added that a Democratic candidate could pick up the support of political independents who actually outnumber Democrats and are within 35,000 of Republicans.
"And I'm seeing Republicans who are dissatisfied with the way this guy has destroyed our public education system," Farley said in referring to Ducey.
Ducey has a GOP primary challenge from former Secretary of State Ken Bennett. But Ducey, with far more cash in the bank, has refused to debate Bennett.