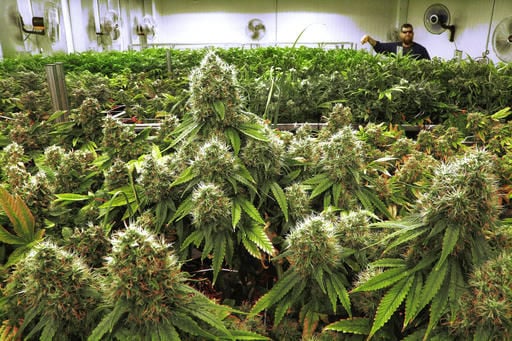 PHOENIX — The Arizona Supreme Court won't allow state and local officials to hide behind federal drug laws to thwart medical marijuana sales.
Without comment, the justices declined Tuesday to review a Court of Appeals ruling that federal law doesn't trump the 2010 voter-approved Arizona Medical Marijuana Act. The lower court said the fact that marijuana remains a felony under federal law does not preempt the state from deciding to decriminalize it for some.
That ruling also specifically rebuffed contentions that having county officials issue the zoning permits required for medical marijuana dispensaries would mean they were illegally aiding and abetting in the violation of federal law.
In reaching that conclusion, the judges pointed out that nothing in Arizona law — or in their ruling — protects dispensary operators or medical marijuana users from being pursued and prosecuted by federal authorities under federal law.
But attorney Steven White, who represented the dispensary that argued the case, said that, for all intents and purposes, that can't happen — at least not now.
He pointed out that a budget provision, first inserted in 2015, precludes the U.S. Justice Department from using its funds to prosecute providers of medical marijuana who are complying with state laws. That provision was just renewed.
The extension, however, runs only through Dec. 8, and then will need another vote by Congress.
Maricopa County Attorney Bill Montgomery had sought to use federal law to block new dispensaries and to effectively void the decision by voters to legalize the drug for medical use.
The Arizona Supreme Court ruling "represents the latest failure of every level of the judicial branch in Arizona, from the trial court to the Court of Appeals to the highest state court of review, to fulfill their respective oaths of office," Montgomery said.
The 2010 law allows those with a doctor's recommendation and a state-issued ID card to obtain up to 2ƒ ounces of marijuana every two weeks. The law also set up a network of state-regulated, privately run dispensaries to sell the drug.
Before issuing a permit for a dispensary, though, state health officials need certification from the local government that the site is properly zoned.
White Mountain Health, seeking to locate in Sun City, which is unincorporated, sought the necessary certification from Maricopa County. But Montgomery instructed county officials not to respond. He argued that doing so would make them guilty of violating federal laws, which prohibit not only the possession and sale of marijuana but doing anything to facilitate either.
He contended anything the state enacts cannot preempt federal law. Montgomery said the supremacy clause of the U.S. Constitution makes federal laws supreme and says "the judges in every state shall be bound thereby, anything in the constitution or laws of any state to the contrary notwithstanding."
But Judge Donn Kessler, writing for the appellate court last year, said the federal Controlled Substances Act doesn't prohibit states from having their own drug laws.
Anyway, the judge said, the fact that Arizona has chosen to legalize the possession and sale of marijuana simply immunizes those involved from being prosecuted under Arizona law. He said there is no conflict with federal law because the federal government can still enforce its own laws.