Keeper Emily Kornmuller squirts several blobs of nontoxic paint on a blank canvas — preparing it for none other than two adorable javelinas at the Arizona-Sonora Desert Museum.
She straps the canvas onto a plastic tray and lowers it into the javelina habitat. Within seconds, javelinas trot over and rub their noses on the paint, creating their very own masterpiece.
"We've got some Vincent van Gogh's out here," said Shawnee Riplog-Peterson, the museum's Curator of Mammology & Ornithology.
The artwork is part of the javelinas' enrichment — activities that are not only fun but also mentally and physically stimulating. The activities are often created with the goal of helping the animals feel as if they're in their natural habitats.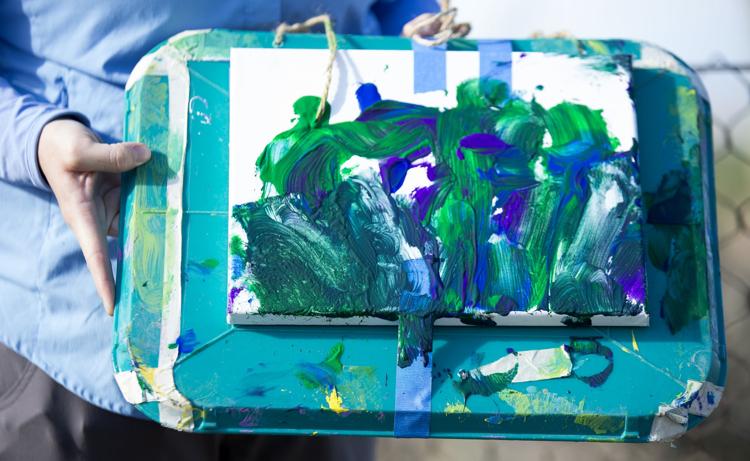 "In the wild, animals have to find shelter, food, a mate — all of those things," Riplog-Peterson said. "Here, everything is provided for them.
"We want to make sure we're stimulating their minds in a stimulating environment."
Although javelinas don't have bright purple paint in the wild, they do use their noses to dig for food. Painting helps replicate that.
Kornmuller said javelinas gravitate to the paint because of its unfamiliar scent and smooth texture.
Enrichment was introduced to the museum sometime in the mid-80s. Of the over 230 species at the Desert Museum, every single animal receives enrichment tailored to their own traits.
Sometimes it's as simple as a little feng shui. Sometimes crafting is involved, such as meat-stuffed paper mache for a hungry puma. Food puzzles are also popular because they allow animals to hunt for food as they would in the wild. As it turns out, sometimes animals would rather work for the food than eat what is more easily accessible.
And because enrichment is sometimes geared toward replicating animals' natural environments, some activities aren't as favored by the animals — which isn't always a bad thing.
For example, staff might throw a snake shed into the javelina habitat. They're scared initially, but they'll flex their problem-solving skills and learn that a snake isn't actually nearby.
"It's not necessarily a negative activity because it creates a working dynamic," Riplog-Peterson said. "That's something they would encounter in the wild. They figure out it's just a shed and you can hear the changes in their voices."
Enrichment has also proven beneficial for veterinary purposes. For example, staff are training Strawberry, a black bear, to hold out her arm — which means anesthesia isn't needed each time they draw her blood.
Other animals, such as mountain lions, bobcats and even fish, are "target trained," where they learn to follow a target, such as a ball attached to a stick. Target training helps staff easily move animals from one area to another.
Enrichment happens several times a week for each animal, though the types of activities are usually spread out. The idea is to keep them novel in order to keep them engaging.
And although some animals love every activity that comes their way, others don't care as much. Every activity is recorded and reviewed by keepers and veterinarians to keep track of what's working and what's not.
"We had a couple of wolves a few years ago that were afraid. They wouldn't even come out for enrichment," Riplog-Peterson said.
But staff continued to try different activities until they found one that worked — phone books.
"They like to shred phone books into teeny weeny pieces," Riplog-Peterson said. "Who would've thought they'd be fine with pieces of paper all over the place?"
Beyond the trial and error, the museum also crafts activities based on what they know about each animal.
"A coati, for instance, has a very long nose," Riplog-Peterson said. "That's their tool for their job. Knowing a bit about the natural history puts you in the direction of what activity they'd be most keen on."
Here's just a handful of activities that have worked for the animals:
A crinkly 3-way tunnel — actually made for cats — is given to a skunk named Penny. The tunnel helps stimulate a skunk's natural urge to burrow.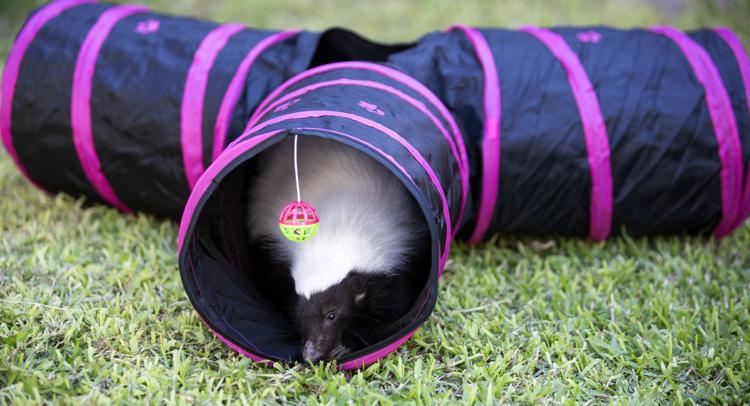 There's Mancha, a common king snake who slithers around on a sensory board made of random items — egg cartons, fake grass, towels and sponges — stuck to plywood. Mancha likes the textures of the board, which mimic the different elements he'd feel in the wild.
And Luca, a flirty military macaw, sits in a shady tree where a Swiffer box, filled with shredded paper and sometimes a hidden peanut, hangs down. His keepers call it a "kabab" because recycled materials are tied together on a string.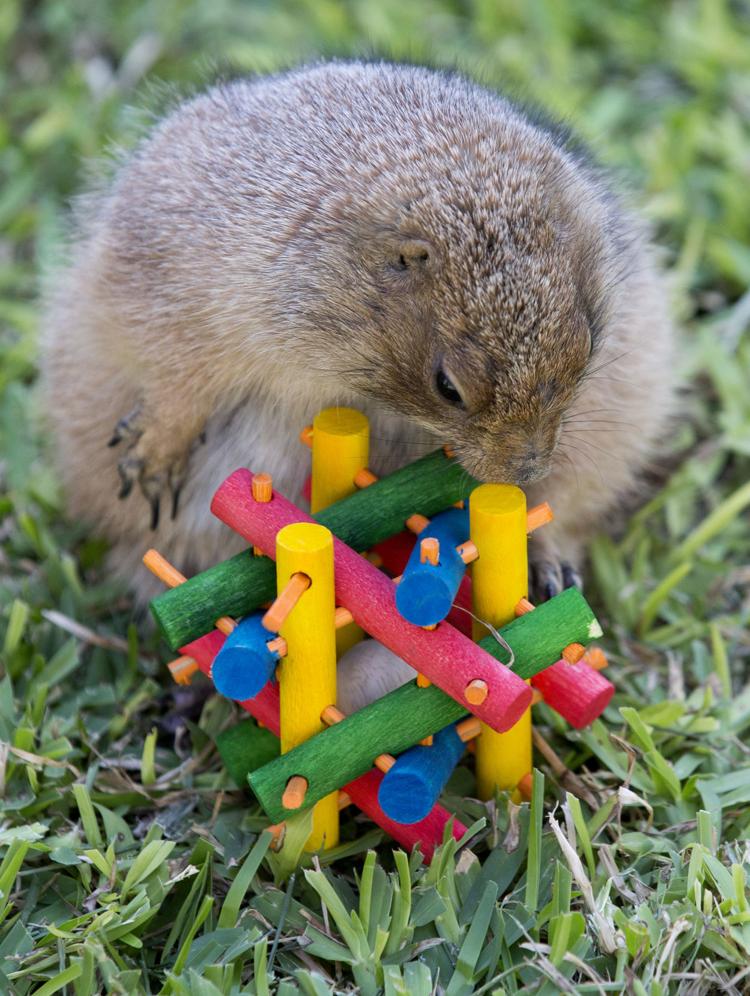 Sandy Cheeks and Sheldon Plankton, black-tailed prairie dogs named after SpongeBob Square-Pants characters, get to run around on the grass, where toys and hide-houses sit.
One of the hide-houses is a Quaker Oats container stuffed with recycled paper. Prairie dogs are diggers, which makes the cylinder-shaped container especially appealing.
And since a prairie dog's teeth never stop growing, sturdy toys, such as a colorful "knot nibbler" made out of wood, are given to them during enrichment.
Although staff and volunteers sometimes bring in recycled materials from home, the museum has an Amazon wish list filled with enrichment items, such as rubber balls and squeaky toys.
"We're constantly thinking about ways to enrich the animals," Riplog-Peterson said.
Contact reporter Gloria Knott at gknott@tucson.com or 573-4235. On Twitter: @gloriaeknott