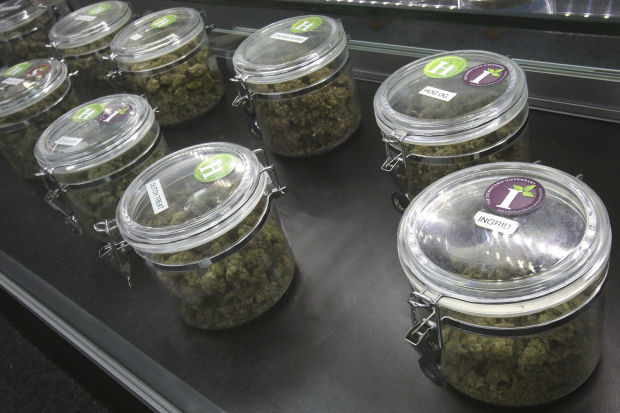 The amount of money spent on medical marijuana in the next four years will nearly double according to a new study — assuming the Trump administration doesn't step in.
Projections by New Frontier Data and ArcView Market Research peg retail sales this year at $367 million. But by 2020 the report figures they should reach the $681 million range.
What makes that spending increase even more remarkable is that the report's authors say the price of medical marijuana is likely to drop sharply during the next few years. Put another way, each dollar spent will buy more pot.
"Operators interviewed stated they have seen wholesale prices fall from over $3,500 per pound to less than $1,800 in some cases, with continued declines expected," the report states.
Some of that is simple competition. For example, the state Department of Health Services recently granted permission for 31 new dispensaries to open in the coming year on top of the 98 licenses already issued.
But there's also the fact that recreational marijuana is already available in Colorado. And California voters just approved their own measure allowing adults to purchase the drug.
"Product diversion from neighboring adult use markets will apply downward pressure on retail prices as dispensaries try to remain competitive against the illicit market," the report says.
"While the lower prices will benefit patients, they will add to the financial challenges already facing operators in the highly competitive market," it continues. And it predicts some dispensaries that were counting on voter approval last month of Proposition 205 to generate more traffic could go out of business.
The report was written with investors in mind. Both companies do professional analysis of medical marijuana markets across the nation to help them decide whether and how to put their money into not just dispensaries but auxiliary services ranging from warehouse construction to security.
John Kagia, lead researcher for New Frontier Data, said that even with increased competition and even with the defeat of Proposition 205 there are reasons to believe that the market for medical marijuana will continue to expand. Put simply, he said there will be an increasing number of people who want the drug.
"Over time, the population overall becomes more familiar with medical cannabis," he said, some of whom may already have used the drug illegally. They then start exploring "options for using it as a medical patient."
The next group, Kagia said, are those who have no history with marijuana.
"But because of the conditions they're suffering from are introduced or exposed to it by their physicians and then consider using it for the first time in this medical context," he explained.
And Kagia said he expects some attitude changes among doctors who are now probably reluctant to suggest marijuana to their patients.
"They start to hear from their colleagues and from their patients about the types of relief that the patients have been getting from debilitating conditions," he said, increasing the likelihood they will write the recommendations that are legally necessary for patients to be able to purchase and use the drug legally.
But that still leaves a big unknown: the new administration in Washington.
Marijuana remains a felony under federal law.
Under President Obama the Department of Justice has taken the position it will not pursue those who sell and possess the drug legally under properly enacted medical marijuana laws. In fact, the feds have effectively taken a similar hands-off approach to even the recreational marijuana sales already occurring in several states.
President-elect Trump, however, has nominated Sen. Jeff Sessions as the new head of the agency. And Sessions, a former U.S. attorney from Alabama, has been openly critical of both Eric Holder and successor Loretta Lynch for not enforcing federal laws.
Kagia, however, said it's not time for those who own marijuana businesses or those who invest in the industry to panic.
He said that first presumes the Senate will confirm Sessions, who years ago failed to win confirmation to a federal judgeship. And he said the new administration will have a lot more pressing issues to address after Trump takes office in January.
And even if Sessions chooses to take a harder stance than his predecessors, Kagia predicted the most likely focus would be the states with recreational marijuana laws. He said it's a question of numbers, with 28 states plus the District of Columbia now permitting the medical use of the drug.
"Given the broad and very robust public support for medical cannabis legalization ... there's really very little political capital to be gained by going after the medical side of it," he said.
Still, Kagia conceded, a new administration could affect marijuana sales and the expansion of the market "even without sending federal drug agents into adult-use markets." He said that could be done simply announcing a change in Department of Justice policies.
"That may not necessarily eliminate or lead to businesses that are currently in the industry leaving it," Kagia said.
"But what it almost will unquestionably do is result in investors ... to be much more gun-shy," he continued. "The concern is not that they're going to try to put the genie back in the bottle but that, through the positions of the Trump administration, there will be a significant chilling effect that will slow the overall growth of the industry."