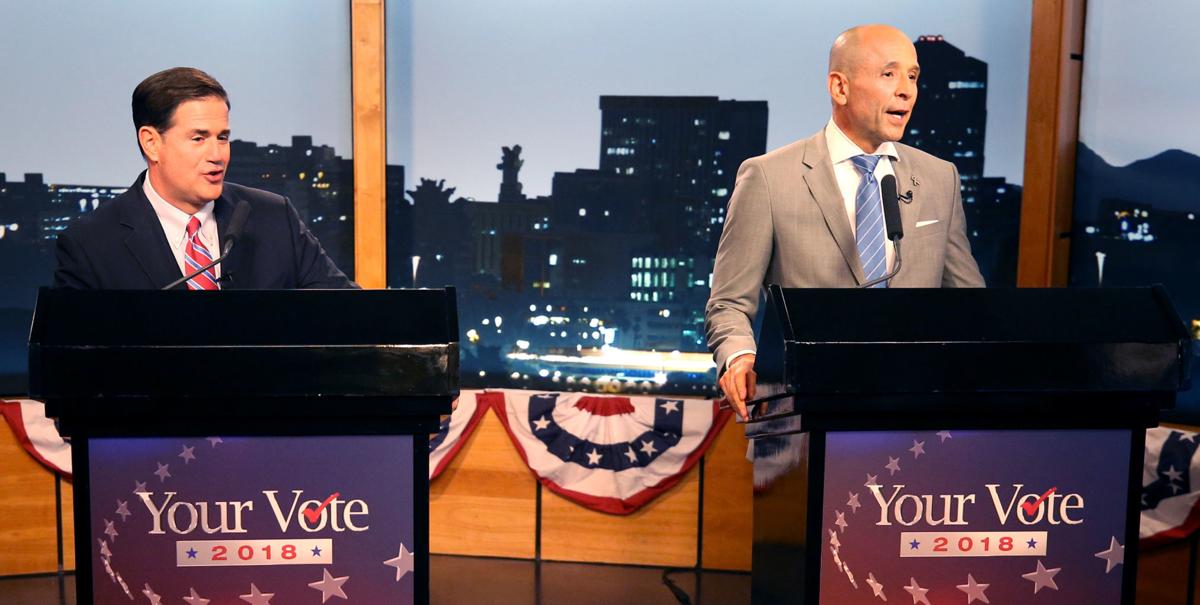 Republican Gov. Doug Ducey says voters should give him another four years because the economy is a lot better than when he took office.
But in a head-to-head televised debate Tuesday night in Tucson, his Democratic challenger, David Garcia, said whatever growth there has been in Southern Arizona's economy has been far less than in the rest of the state.
Southern Arizona issues took center stage as the pair faced off for their second — and final — debate, held at KUAT-TV and organized by Arizona Public Media in partnership with KJZZ and the Arizona Daily Star.
"I'm proud that Tucson is experiencing the fastest job growth than it's had in six years," Ducey said during the hourlong televised debate.
He specifically called out plans by companies Caterpillar, Comcast, Amazon and Raytheon to expand in Southern Arizona as evidence his focus on them has paid off.
Garcia countered that the whole country's economy is improving — and that Tucson's is lagging.
"The reality is, Tucson is nearly at the bottom of almost all economic indicators," Garcia said.
Job growth in Maricopa County has been at twice the rate of Pima County. Cochise County lags even further behind.
"They're not growing to the extent the rest of the state is," Garcia said. "It's a lack of investment in K-12 education and a lack of a highly skilled workforce."
Ducey, who has crowed that Arizona is "open for business," was asked whether that means less regulation — and potential danger to Arizonans. That specifically includes his decision to allow Uber to test its self-driving cars on Arizona roads without restrictions, permission that was withdrawn only after an Uber vehicle struck and killed a pedestrian in the Phoenix area.
Ducey was unapologetic, seeking to put that one death into perspective.
"We lose over 800 Arizonans a year on our highways due to human error from drivers," he said. "I wanted to open up the innovation for this technology for autonomous vehicles to come here."
On other issues, Ducey offered his reasons for supporting President Trump's plans to expand the existing border wall.
"If we're going to have a wall that's going to stop drug cartels, human trafficking and child sex trafficking, I'm in favor of it," the governor said.
He said that just two-thirds of the border has a real physical barrier.
"And where these crimes are happening is where it's wide open and unprotected," Ducey said. "So a wall, a physical barrier and surveillance can keep our state safer and our country safer."
"I am against Trump's wall," Garcia said, repeating his stance that when he said "Imagine no wall" he did not mean removing existing barriers.
Instead, he said, the state should focus on the things that border sheriffs want, including patrolling the roadways of Southern Arizona on a 24/7 basis, as was originally promised by Ducey when he proposed and funded the Border Strike Force.
The pair found lots of other issues on which to disagree.
Ducey boasted of his school safety plan, a combination of taking guns from people who are determined to be a danger as well as adding armed police to serve as school resource officers.
The governor got no traction on the proposal in the Legislature, with the Republican-controlled Senate first diluting it before the package died in the House. But Ducey said it's still far preferable to what his opponent wants.
"He would remove school resource officers," the governor said. "His plan is that actually kids should run for cover. I want to make sure that our schools are safe and that there's law enforcement available."
"I'm against more weapons on campus," Garcia acknowledged, including armed police.
"What we need are more eyes and ears, more guidance counselors, more opportunities for our young people to go to," he said, adding that Arizona has one of the highest ratios of students to guidance counselors in the country.
Closely related to the question of school safety is school choice.
Ducey has proclaimed himself a major supporter, having signed legislation approved by the Republican-controlled Legislature to expand who can get vouchers of tax dollars to send their children to private and parochial schools.
The governor also urged voters to ratify that expansion by voting in favor of Proposition 305.
Garcia said he, too, supports "choice," but not the way it's defined by Ducey, which is why he urges a "no" vote on the measure.
"One of the things that I believe the Legislature has gotten very wrong is they believe that only parents who have taken their children out of traditional public schools in some way have made a choice," Garcia said.
"We have hundreds and thousands of parents who are choosing to be in traditional schools," he said. "And I believe that the Legislature needs to honor their choice as well."
All that goes to the issue of resources.
Ducey said he does believe more money is needed for K-12 education. He said the state can find the funds without raising taxes but by simply enacting "tax reform," a concept he declined to explain.
But Garcia was no more forthcoming in terms of exactly how he planned to put more dollars into K-12, saying only that he has a plan that he will share with voters.
Garcia dodged a direct question about whether the state should increase its 18-cent-a-gallon tax on gasoline to fund highway improvements.
"It is a question that has been brought up by people in Arizona," especially rural residents, he said, especially with Arizona having a history of diverting those revenues to balance the state budget.
Ducey said the state's overall economic improvement means there is no longer a need to make those diversions.
Anyway, he said: "We're not going to raise gas taxes, especially when electric cars are what's coming next."
The moderators had no luck getting either candidate to say exactly what they would do to help secure a steady supply of water for the future. Garcia promised to bring people together to study the issue; Ducey, who has vowed in prior years to come up with a solution, promised a "drought contingency plan" next legislative session.
The candidates took a side trip down the road of who is tossing mud.
Ducey, in responding to a question about education, told viewers to go to a website his campaign has constructed, which he said exposes lies Garcia is telling.
That brought a sharp retort from the Democrat. "Take a look to what it says about the character of the man," Garcia said. "What he is resorting to is negativity and an amateurish hit site."
" I'm proud that Tucson is experiencing the fastest job growth than it's had in six years. … I'm proud of Caterpillar and Comcast and Amazon and Raytheon's expansion in Southern Arizona. I've focused on that." Gov. Doug Ducey, Republican " The reality is, Tucson is nearly at the bottom of almost all economic indicators. They're not growing to the extent the rest of the state is. … It's a lack of investment in K-12 education and lack of a highly skilled workforce." David Garcia, Democrat