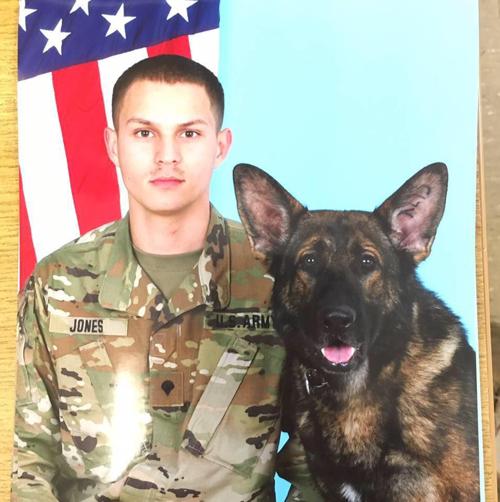 A Vail man died on his birthday while serving in the Army in Kosovo.
Spc. Robert W. Jones, 21, died Jan. 6 at Camp Bondsteel, where he served as a military police working-dog handler, U.S. Army Europe said Tuesday.
His death is under investigation and no further details were available, the Army said.
Jones graduated in 2015 from Cienega High School, where he spent two years in the Navy junior ROTC program, said principal Nemer Hassey.
"He was a really nice kid who always wanted to be in the military," Hassey said, recalling a time last year when Jones stopped by the school dressed in his Army uniform to visit his former teachers.
Jones joined the Army in August 2015 and was assigned to the 18th Military Police Brigade in April 2016, the Army said.
He served as part of NATO's Kosovo Forces, a peace-support operation that began after the 1999 bombing campaign to end the regime of Slobodan Milosevic, according to the NATO website.
In the Army's statement, Lt. Col. Jeffrey Searl, 709th Military Police Battalion commander, called Jones a "remarkable soldier."
"He volunteered to serve his nation and we mourn his tragic loss," Searl said.
Jones' cousin Leila Counts said he had a "tender heart" and grew up in a "large, loving family."
He married his high school sweetheart about two years ago, Counts said. His wife was living in Germany to stay close to him while he was deployed in Kosovo.
He also loved dogs, which led him to become a dog handler for the Army, Counts said.
To honor Jones, Gov. Doug Ducey ordered flags at all state office buildings in Arizona lowered to half-staff from sunrise to sunset Wednesday.
"We mourn the loss of this brave young soldier at just 21 years old, serving in the NATO force in Kosovo," Ducey said in a prepared statement. "We are forever grateful for his service and sacrifice in defense of America and our freedoms."
Family members appreciated the gesture and shared photos they took of the flags at half-staff from all over Arizona, Counts said.