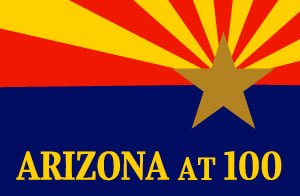 In this year leading up to Arizona's centennial, Feb. 14, 2012, we'll reprint a story or excerpts each day from the Arizona Daily Star or Tucson Citizen archives.
BISBEE — That the county may have to go into the courts to regain and retain possession of certain county roads, including portions of the Borderland Route, is indicated by a statement made by H.H. Heath, of the valley, who says that the farmers will stand together for their fencing rights.
The county authorities are equally determined that the county highways shall not be encroached upon, and this makes an issue which the courts may have to decide.
The statement of Mr. Heath is as follows:
"In reply to Mr. Benton, I will say these so-called roads were surveyed and recorded for the most part without the knowledge or consent of the persons whose lands were affected.
"I have consulted with the chief of the field force, and with special agnets of the federal field force, also with a number of local attorneys, and all have agreed that a road could only be opened across a man's land by purchasing or condemning such lands.
"Now it would be 'possible' to make a good road on any section line in the valley, and these surveys were not made to secure the best roads but were made to satisfy certain individuals who oppose the farmers as a matter of principle. The farmers are more vitally interested in good roads than any other class of people, but we want them in an orderly system and we will have them that way, too."
 The Sundt Companies, O'Rielly Chevrolet, Research Corporation for Science Advancement, Sam Levitz Furniture, the University of Arizona, Freeport McMoRan Copper & Gold Inc., Rosemont Copper, Tucson Realty & Trust. Co.,  Jack Furrier Tire & Auto Care, Walgreens and Carondelet Health Network are sponsors of the Star's Arizona Centennial project.