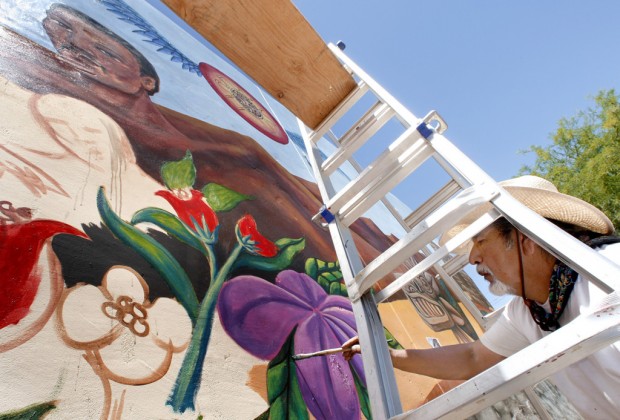 As Martin Moreno touched up the swirling form of Quetzalcoatl - the Aztec feathered serpent deity - neighbors, students and city officials stopped to compliment his work.
After a year of restorations, the La Pilita mural is back in Barrio Viejo.
Originally painted by students under the supervision of Moreno in the 1980s as part of a youth program, the mural was torn down when renovations were done to the La Pilita museum and adjacent shrine, known as the El Tiradito Shrine.
"The feedback has been tremendous. The neighborhood has been wanting this," said Moreno, who has been a muralist for 40 years and is a recipient of the 2011 Arizona Governor's Artist Award for his numerous works.
As Moreno paints, he glances at a detailed photo of the old mural to keep all the original elements in place. But he also adds his own artistic interpretation.
In the mural a Latino family stands out from the mountainside of Gates Pass, painted subtly to resemble the form of a pregnant woman. In the sky, the Sun God shines over the entire piece.
The shrine is devoted to El Tiradito - the only registered shrine devoted to a sinner. Folklore suggests that the shrine honors a man who fell in love with a married woman. He was later shot and died in the place where the shrine now stands.
This mural reflected thoughts in the forefront of the minds of Moreno's students.
"My students thought about punishment, heaven and earth," Moreno said.
Twenty-five years later, it's nice to be able to revisit the mural, he said.
"Normally when we do these, we do these and move on," Moreno said. "All you have is a photo."
So it's a unique opportunity to make a new piece from an older mural, Moreno said. Typically, he said, murals aren't destroyed on purpose-they usually get weathered or city officials paint over them.
"It's not an old piece, it's rather a new piece. Just with old memories."
The painting of the mural marks the final step in the restoration of La Pilita and the shrine. And the rehabilitation was so successful, the restorers will receive a 2011 Governor's Heritage Preservation Honor Award for their work.
The City of Tucson Historic Preservation Office, Sellers & Sons Inc., Oden Construction Inc., and Poster Frost Mirto Architects are all recipients of the award.