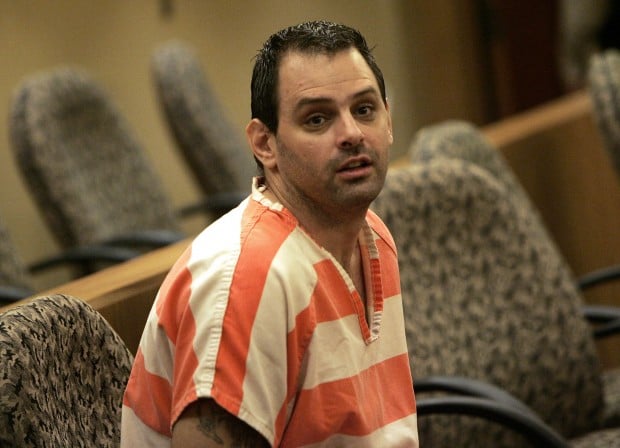 Investigators in Washington and Arizona are concerned a serial killer is sitting in the Pima County jail, and not all his victims have been discovered.
When Jason E. Bush arrived in Southern Arizona in May, Washington authorities charge, he had already killed two people. Soon, Pima County prosecutors say, he killed two more, meeting the definition of an accused serial killer - someone who kills at least three separate times.
Newly released police reports from Washington state say Bush killed two people months apart in 1997, and at the time bragged that he had killed three. The reports also say that in December 1997, weeks after the two killings he's charged with, Bush appeared "covered in blood" on his upper body and asked a friend to use her shower.
One Washington state resident, Earl Thompson, told police this summer that Bush said in 1997, "This isn't the first time I've killed somebody, and it won't be the last time."
Now Bush is in the Pima County jail, accused of shooting three members of an Arivaca family, including a 9-year-old girl, during a home invasion May 30. The case became notorious because Pima County authorities alleged that the leader of a border-watch group, Shawna Forde, organized the home invasion to raise money for her activities.
Bush and Forde have pleaded not guilty to the Arivaca murders, and in an August interview with the Arizona Daily Star, Bush denied any involvement in the Washington murders with which he's charged.
Wenatchee, Wash., Detective Sgt. John Kruse said in a report filed Nov. 17 that he has asked the FBI for help finding other possible victims of Bush, who friends described as a white supremacist.
"I related my concerns to (an FBI agent) that Bush, tied to right-wing groups, had been involved in killings in 1997 and 2009. I felt it was likely he had committed further killings between those two points in time," Kruse wrote. "I also telephoned Sgt. Jesus Lopez from the Pima County Sheriff's Department, who agreed with these concerns."
Long before the Arivaca murders occurred, the reports show, Bush established a pattern in two killings that could be viewed as carrying over to Southern Arizona this year. Bush thoroughly surprised each victim and killed each with deliberation, the reports say.
Also, in each case, Bush killed in front of other people who said they had no idea what he was about to do and didn't understand why he did it.
Kruse and Detective Steve Groseclose of the nearby Douglas County, Wash., Sheriff's Office interviewed people this summer who said they witnessed both murders. One said he moved out of state to get away from Bush.
A witness, referred to as Confidential Informant No. 3 in the reports, said he was walking with Bush late the night of July 24, 1997, when they saw a homeless man sleeping on the ground. Bush picked up something heavy - other witnesses said Bush later referred to it as a piece of concrete - and dropped it on the sleeping man. Then, the informant said, Bush pulled out a knife and began stabbing the man.
The man, later identified as 29-year-old Hector Lopez Partida, screamed and ran away before collapsing. Kruse, the Wenatchee detective investigating the case, was one of the officers who arrived that night after a passer-by called 911 to tell police of a man down.
The informant admitted he had kicked the victim, the reports say, but he said it was only because Bush told him to at the outset of the attack before the stabbing began. He also admitted that he and Bush both put yellow shoelaces in their boots - a symbol of having killed someone - when they later attended an Aryan Nations gathering in northern Idaho.
After the killing, the informant said in the reports, Bush wanted something to eat, so they went to a restaurant.
"Jason ate food like nothing had just happened," he said, according to the report. Bush had blood on his pants as he ate, the informant said.
Bush, who was interviewed by the Star in jail in August, declined an interview request for this story. In August, he denied responsibility for all the murders in which he is charged. His attorney, Chris Kimminau, did not return a call seeking comment.
The reports show that Jason Bush later bragged to a mutual acquaintance, Jonathan Bumstead, about having killed a Mexican man, the informant said. Less than two months after Lopez Partida was killed, Bumstead himself would become a victim.
The informant and another man told investigators Bush drove them out of town in his red Chevrolet Blazer to go shooting on the night of Sept. 21, 1997.
Within five minutes of arriving at the area where they were planning to shoot, a blast rang out, and the informant looked over to see Bumstead on the ground, moaning for help. Bush walked up to Bumstead and shot him in the head, the informant and a second confidential witness said. Then Bush picked up the shell casings from his gun and took the shotgun Bumstead had been using.
Bush pointed the .22 caliber rifle at each of the others there, a witness said in the report, and threatened to kill them if they told anybody.
The informant "said Bumstead was his 'buddy' and 'friend.' He said he was 'freaking out' and thought Bush was going to shoot him next," the report says.
The second witness moved out of state with his family to avoid Bush, he told investigators.
Another witness, Earl Thompson's sister, Ginny Gamble, said this summer that in 1997, Bush showed up at a house where she was attending a gathering and asked to take a shower at her house, the reports say. Gamble, using methamphetamine at the time, agreed.
"On the way she noticed Bush had dried blood on his hands, his neck, his face and his hair," the report says.
Wenatchee police arrested Bush at Gamble's house after he had showered, on charges related to a theft, beginning a spell behind bars that lasted until 2003. This summer, Kruse determined that arrest occurred Dec. 5, 1997, about six weeks after the second murder in which Bush is charged. Why Bush was stained with dried blood, Kruse doesn't know.
Gamble told investigators Bush did not have any injuries.
The Washington murders described in the reports are, on the surface, quite different from the Arivaca cases. In Southern Arizona, Bush is accused of working with two partners in a pre-planned home invasion, as opposed to the surprise attacks described in Washington.
But the cases also have similarities in that the onset of violence was sudden and the reason for the killing was unclear.
"It is worth repeating that Bush did not give (the witnesses) any advance notice about the killings he committed," Kruse wrote in his report.
Investigators say Bush, Forde and at least one other person came to the Flores family's door in Arivaca just after midnight May 30. They said they were law enforcement officers looking for a fugitive and needed to come in.
After Flores let them in, he asked why Bush had tape on his gun, and Bush shot and killed him, police reports say. He then shot Flores' wife three times - she survived - and interrogated 9-year-old Brisenia Flores before shooting her twice, killing her.
If he is guilty of all the killings, Bush could be classified as a "missionary killer," who feels he is doing the world a favor by ridding it of a particular type of person, said Peter Vronsky, author of the 2004 book "Serial Killers: The Methods and Madness of Monsters."
Another possibility would be a "thrill" killer "who gets his high from the control he gets in taking people's lives," Vronsky said via e-mail.
Witnesses said Bush carried around a newspaper article about Lopez Partida's killing, which he showed friends in claiming responsibility, according to the reports. One witness also told investigators Bush took photographs of Bumstead after he was killed and showed them to the witness.
Bush later told people he killed Bumstead because Bumstead was a "race traitor" with a contract on his life put out by the Aryan Nations. But the witnesses never got a clear reason why Bush would have killed Lopez-Partida, though they supposed his race - and the chance for Bush to earn his yellow boot laces - was a reason.
One eyewitness doubted Bush's later explanation for Bumstead's murder, too, according to Groseclose's report.
His impression, the report said, "was Jason Bush killed Jon Bumstead for fun."
On StarNet: The online version of this story, at azstarnet.com/border, includes audio of the 911 call from the Arivaca murders.