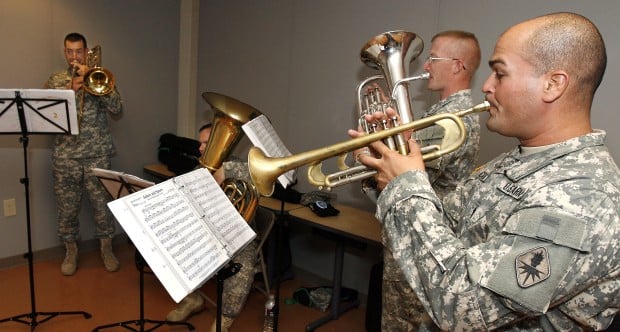 Chief Warrant Officer 4 Otha Hester is the first to admit he has one of the sweetest gigs in the Army.
For 25 years, the Southern Arizona soldier has been playing bass guitar for his country. But, increasingly, some in Congress are questioning the military's need for skills like his.
Last month, the U.S. House of Representatives voted to slash spending on armed forces bands by close to 40 percent in the 2012 budget - a move that, if approved by the Senate, could be the first major cut in history for military music.
Taxpayers spent close to $320 million this year on more than 150 bands across all branches of the service. The House-approved measure reduces that figure to $200 million for the upcoming budget year, which starts Oct. 1.
A cut of that magnitude would almost certainly be felt to some degree by Arizona's only active-duty military band, the 40-member 62nd Army Band at Fort Huachuca, which has a budget of about $170,000 this year.
The band is a fixture at parades and ceremonies in Sierra Vista, the city that surrounds the fort, and at public events from Tucson to Tombstone and beyond.
Members have played about 200 gigs so far this year, on- and off-post. Unlike some military bands, the 62nd does not deploy to war zones.
Hester, the 62nd's commander, is hoping the local impact of cuts will be minimal, though he doesn't yet have details.
Spending could be trimmed substantially, he said, by limiting out-of-town gigs in places like Phoenix or Flagstaff unless bookers agree to pay travel costs.
Others paint a grimmer picture of the future of military music.
The National Association for Music Education, a group representing more than 100,000 music teachers and students, calls the proposed band cuts "potentially devastating."
"Scores of bands would immediately have to be deactivated, and thousands of military musician contracts would be abruptly terminated," the group said in an action alert that urges members to contact senators to protest.
The Fleet Reserve Association, a national group of current and former enlisted members of the Navy, Marines and Coast Guard, recently wrote to Republican Arizona Sen. John McCain, ranking member of the Senate Armed Services Committee, noting the "invaluable morale, community relations and military awareness benefits" bands provide.
The campaign to cut band spending is being led by U.S Rep. Betty McCollum, a Minnesota Democrat on the House Appropriations and Budget Committee.
"I respect the service of military musicians" McCollum said in a statement.
But the current level of band spending "is an extra America cannot afford."
Defense analyst Michael O'Hanlon of the Brookings Institution, a Washington, D.C., think tank, said cuts to military music are a harbinger of things to come.
The money saved by band cuts is minuscule in light of the Pentagon's request for $670 billion next year, he said. But even small expenses will be coming under a microscope amid mounting federal budget pressures.
"Anything in the nice-to-have-but-not-militarily-essential category is going to be at risk," said O'Hanlon, who recently caused a stir by suggesting the Blue Angels, the Navy's aerobatic flight team, could be axed to save money.
In Southern Arizona, where a state study found the military pumps $4.5 billion a year into the local economy, many are bracing for the impact of cuts.
"Like all organizations across DoD, units on Fort Huachuca are preparing for the possibility of reduced budgets and looking for cost-saving initiatives," said fort spokeswoman Tanja Linton.
Said Hester, the fort's band commander: "I guess we'll just have to ride the wave and see where it goes."