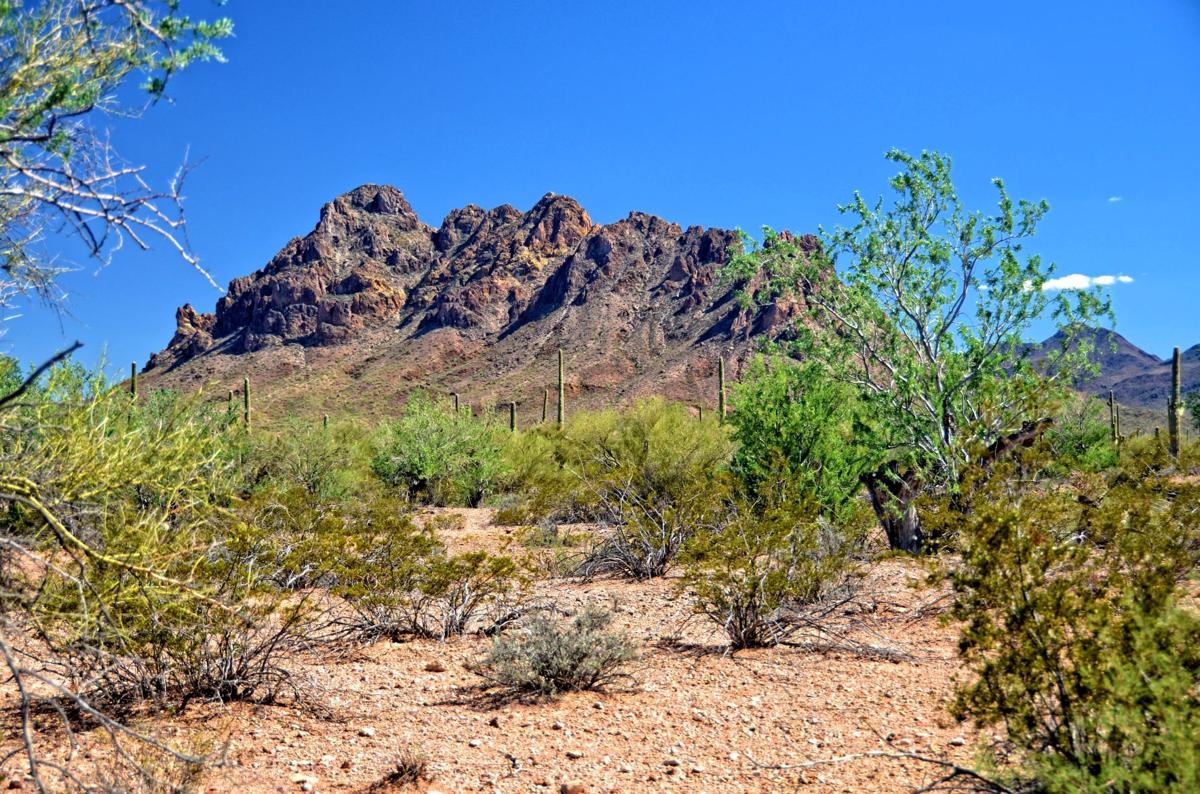 A major conflict is brewing between Arizona's copper industry and environmentalists and recreationists over the future of Ironwood Forest National Monument and two other monuments.
As part of the Interior Department's ongoing review of 21 national monuments, the multinational mining giant Asarco has asked that more than 11,000 acres be pulled from the 129,000-acre Ironwood monument northwest of Tucson so it can mine more copper there, next to its existing Silver Bell copper mine.
The mining company said in a letter to Interior this summer that it wants the land removed to carry out an expansion it says has been blocked since Ironwood was designated 17 years ago. The company says the agency erred on legal and technical grounds in designating the monument.
Asarco's letter coincides with a broader effort by the state's mining industry to shrink Ironwood and two other Arizona national monuments that were named by President Clinton. The others are the Sonoran Desert National Monument lying north of Ironwood in Pinal County and the Vermilion Cliffs National Monument in Coconino County.
The Arizona Mining Association, the Southern Arizona Business Coalition and two other industry groups wrote Interior their own letter making many of Asarco's points on a broader scale. Asarco also joins the much smaller Liberty Star Uranium & Metals Co. of Tucson, which has asked Interior Secretary Ryan Zinke to eliminate the monument.
At issue are points of contention between the industry and environmental advocates over whether the monuments' scale violates requirements of the 1906 federal Antiquities Act that Clinton used to set aside land without congressional approval.
Zinke made recommendations Thursday to President Trump for these and other monuments located from Maine to Southern California, but did not release them to the public. News reports have said, however, that Zinke, besides recommending trimming two Utah monuments and a third in Oregon, is open to scaling back other monuments or allowing traditional uses in them such as mining.
U.S. Rep. Raúl Grijalva, a Tucson Democrat and vocal monument advocate, predicted Thursday that the Trump administration will be sued if it decides to shrink Ironwood and other monuments.
"The whole review by Zinke is an industry-driven, extraction-driven review, whether it's gas and oil in some areas and mining in others," said Grijalva, whose district includes most of Ironwood. "This process that Zinke and Trump are directing is contrived to see how much land can be opened up.
"The reason Ironwood was designated was to protect its habitat and protect its land in perpetuity," said Grijalva, who sat on the Pima County Board of Supervisors when it unanimously voted to recommend creating the monument in March 2000. "There are no private rights to public property."
Asarco, however, says it's unable to make economic use of 880 acres it owns and 4,050 federally owned acres on which it has filed mining claims within monument boundaries. It calls that a taking of its property rights.
Its Silver Bell mine, abutting the monument to the southwest, has produced copper and other minerals for more than 65 years and lies within one of five historic mining districts near and inside the monument, the company's letter to Zinke said. But Asarco says it's been prevented from exploring the monument land to assess its mineral deposits — an act it says would be in accord with the 1872 Mining Law.
In 2000, Asarco pegged its economic losses due to its inability to exploit those claims at $146 million, wrote Nancy Johannesmeyer, the company's senior manager for environmental affairs.
How much is too much?
Since Zinke's monument review began this spring, more than 36,000 written comments have poured into Interior that at least mentioned Ironwood monument. The overwhelming majority favored leaving it alone, although a large number were identical, likely generated by advocacy campaigns.
In one comment, the National Parks and Conservation Association wrote that Ironwood "arose from a transparent effort to permanently protect the natural resources and landmarks, structures, and historic and scientific features of Arizona's Pima County."
It said the monument campaign drew support from a wide range of interest groups: "landowners, ranchers, preservationists, and the Tohono O'odham Nation" to provide significant and lasting protections for the area's natural features, antiquities and traditional uses.
But this protection runs afoul of a federal requirement that monument land be no larger than "the smallest area compatible with the proper care and management of the objects to be protected," Asarco and the mining groups wrote to Interior. The language comes from the Antiquities Act, which protects items of historical and scientific interest.
In 2000, officials working on the monument should have conducted what the company calls "a proper identification of discrete objects of interest" worthy of protection, Asarco wrote. They failed, which led to Ironwood's "expansive designation," Asarco's Johannesmeyer wrote.
"The objects protected in the case of (Ironwood Forest) are not valid objects of scientific and historic interest. Thus, the area designated to protect those unjustified objects is equally invalid."
As Asarco sees it, the Antiquities Act and its legislative history show a clear intent to preserve works of man such as Indian archaeological sites. The monument's saguaro cacti, ironwood and palo verde trees, desert bighorn sheep and federally protected cacti and bats don't fit that category, Asarco wrote.
Science debated
Pima County Administrator Chuck Huckelberry, however, recalled that the monument plan was based on "pretty sound science" that supported the county's Sonoran Desert Conservation Plan. It included the Ironwood monument as an area to be preserved.
"The plan talked about conservation ratios of lands that would be disturbed versus conserved, about the productivity of the ecosystem and of the large blocks of land that would be contiguous rather than fractionalized small patches," he said.
Since the state of conservation biology in 1906 was "not sophisticated at all," interpretation of that year's Antiquities Act should evolve as more knowledge is gained about the land's scientific value, Huckelberry said.
"In this case, the ecosystem is fairly unique. It needs a certain size of conservation area to be protected. You can't protect it with small pieces," he said.
Some boundary changes would be OK as long as they're done through a public process, he said. But to be biologically valid, any lands removed should be replaced at a 5-1 ratio, as called for by the county's Sonoran Desert plan, Huckelberry said.
"If Asarco wants 11,000 acres removed, there ought to be a discussion of how to add 55,000 acres," he said.
Contact reporter Tony Davis at tdavis@tucson.com or 806-7746. On Twitter @tonydavis987