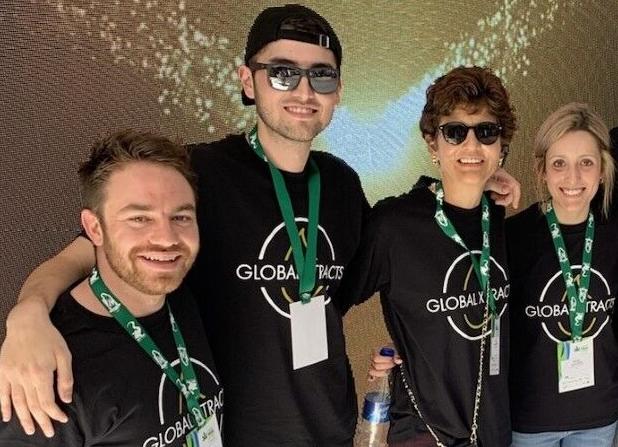 Ask Vicky Puchi-Saavedra, the owner/operator of Tucson's only woman-owned marijuana dispensaries — Earth's Healing North and South — about how she got into marijuana, and she'll tell you a story about family.
Ask Puchi-Saavedra about her family and she won't stop telling you that's what makes her dispensaries special: family.
"We started like a small family business," she says, referring to old pictures of her original Earth's Healing dispensary, located at 2075 E. Benson Highway. "Now, we're a really big family business."
A medical introduction to marijuana
Puchi-Saavedra, a Nogales, Arizona native, came to Tucson originally to attend the University of Arizona. After graduating, she became a real estate agent in the area, where she found success. Then, about 15 years ago, she was diagnosed with chronic pancreatitis.
After going through a few procedures and surgeries to help alleviate the pain, she says she considered trying alternative forms of medicine, mostly to avoid taking opioids and other pain relievers. That included medical marijuana.
Unlike some, Puchi-Saavedra had no prior history trying marijuana. "Back in the day, like when I was in high school, it was the taboo of the time and I just didn't partake," she says.
However, it wasn't long before any reservations she had about using the plant as medicine were alleviated.
"I fell in love with the product because it helped me feel better," she says. "It gave me a sense of wellbeing, which I don't think I ever had."
Puchi-Saavedra's daughter, Magie Saavedra says her mother was no fan of the various pills and other treatments doctors first recommended because they didn't offer any real relief and tons of unwanted side-effects.
"It was more of like a temporary fix, kind of like a band-aid over the problem," Magie Saavedra says. "They didn't really reassure her that she would ever find a permanent relief. So she looked to cannabis and it helped her in a huge way that nothing else was able to."
Setting up shop 
A change in political attitudes toward medical marijuana in Arizona began in 2010 with the passage of Prop. 203, the Arizona Medical Marijuana Initiative. The law allowed adults to petition the state for a medical license to buy cannabis from state-regulated dispensaries.
Sensing that the law had a good chance of passing and drawing on her real estate background Puchi-Saavedra began to search for properties that would suit all the potential guidelines for where a dispensary could be located.
"The locations were few and far between," she says. "But I went and I leased about five properties."
Then Arizona's governor at the time, Jan Brewer, filed a lawsuit seeking an injunction to stop dispensaries from opening and patients from legally acquiring state-approved cannabis. That held up implementation of the law until 2013.
"So, for two years after that, I continued to pay the leases, pay the rents for five locations. Yes. It was quite the risk," she says.
Eventually, in 2013, that risk paid off. After Brewer's lawsuit was shot down in federal court, the state of Arizona conducted a lottery to announce which prospective properties would be awarded a license to open as a dispensary.
"Each property that popped up failed," she says. "My first one failed. My second one failed. My third one failed, my fourth one failed.
And her last property? "My fifth one? I acquired that one," she says.
That fifth property ended up being the one on Benson Highway, where Earth Healing's new, state-of-the-art dispensary now sits. But the digs weren't always so pretty.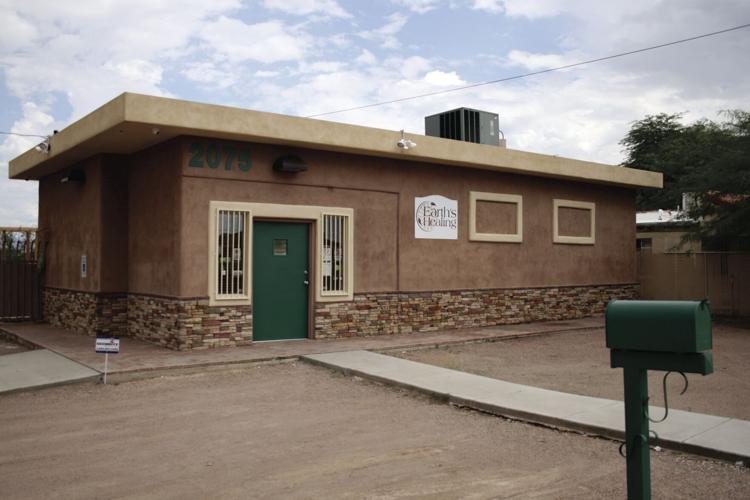 "We called it the little building that could," Puchi-Saavedra says. "It was just a little box."
In time, that little box would grow to two dispensary locations, a planned grow house operation and a burgeoning line of Earth's Healing's own brand of products. But it wasn't without obstacles.
Calling on family, friends
Even with a license and a location, Puchi-Saavedra said there were additional obstacles to opening up and running Earth's Healing. The first issue was finding staff.
For that, Puchi-Saavedra reached out to close friends and family. Six to be exact.
"I picked a small group, six people, including my kids, to help me in the beginning," she says. "Because we were just starting out, and we really didn't know what the impact of this would be for patients."
Since everyone she would be bringing on would be new to the industry, she says she left a lot of the decision making up to fate.
"I had faith that if it was it was going to work out, that doors would not get closed," she says.
Magie Saavedra says she remembers that time well.
"I started as the receptionist," Saavedra says while laughing, before ticking off all the other positions she's held with Earth's Healing.
As the current chief culture officer, Saavedra is in charge of company culture, coming up with in-house branding and keeps up with employee morale. She says she couldn't have fulfilled her current role without her overall experience within the company.
"I was just helping out with the business really anywhere kind of trying to be moldable and flexible on, see where they could use me," she says.
Another of Puchi-Saavedra's first six employees, William Elliott, was a close family friend prior to working at Earth's Healing.
Elliott, now Earth Healing's chief operating officer, had just graduated from college and moved to Hawaii with his sister when he received a call from Puchi-Saavedra.
"I was not really into cannabis yet at that point," Elliott says. "I didn't know much about running a business either, but it seemed like a good opportunity. She (Puchi-Saavedra) said I took that leap of faith and it's been a learning experience ever since."
While Elliott said it's been a long road for Earth's Healing — going from one dispensary location to two, opening a new location and expanding the brand's reach and dealing with the recent recreational marijuana rollout — it's been a journey that's worth it. 
Although he's been the COO from day one, Elliott says the biggest challenge has been how the company has kept growing, while continuing to maintain the same standards of patient and customer service.
"We are firm believers in taking care of the employees," he says. "They have everything they need. And in turn, we trust in them and ask them to take care of our patients and customers the same way we did since Day One, when Vicky and I would be in there bud-tending."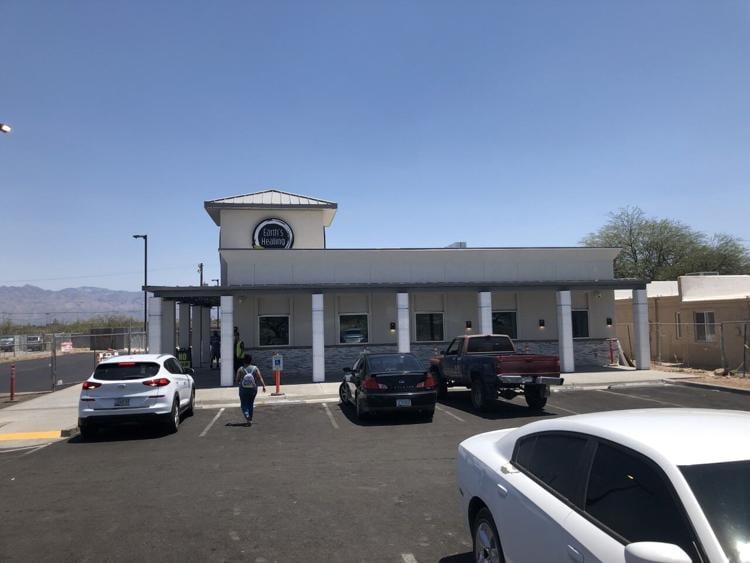 Growth and plans for the future
While the company's first location on Benson Highway has been totally rebuilt, Earth's Healing North, located at 78 N. River Road, came online in 2018 and was made possible when Puchi-Saavedra was able to acquire the license of a dispensary located in Globe, Arizona.
"It took a lot. I mean, it was a restaurant," Puchi-Saavedra says, alluding to Zona 78, the pizzeria that was formerly housed in the building. "We completely just gutted it and turned it into a pretty nice dispensary."
And even though Earth's Healing has a family atmosphere, that doesn't mean it hasn't attracted the attention of larger, more corporate entities in the industry. 
Although Puchi-Saavedra says the relationship between Tucson-area and Southern Arizona dispensaries is collegial, she says it's a little different when it comes to the major national players. That made itself apparent when recreational cannabis hit Arizona.
"When [recreational] hit, we were made offers by publicly traded companies," Puchi-Saavedra said. "And you know we applaud them — to be a part of something bigger is great."
However, with recent moves the company made to become vertically integrated, she isn't interested in turning Earth's Healing over to anyone. "I'm not going to see them as competition because if we're vertically integrated, we can control our own pricing."
Part of that vertical integration strategy involves bringing a new, much larger cannabis operation online in the near future. Her son, Eddie, who's also been with the company since the beginning, will run the 12,000 square foot, state-of-the-art lab.
Puchi-Saavedra says the new operation is a game-changer. "It's a, state-of-the-art greenhouse," she says. "It has every bell and whistle electronically that we can ask for."
On top of all that, both Puchi-Saavedra and Elliott rave about Earth's Healing most far-flung venture: Earth's Healing Colombia. Essentially, the company has opened up a CBD-centric operation in Colombia.
"My best friend is from Columbia and she retired a long time ago from her family business," she says. "And she decided she wanted to do something new and we decided that we're going to do something together."
That "something together" will include exporting Earth's Healing Colombia product to European Union countries, once EU general manufacturing and production details are worked out and approved.
For Magie Saavedra, being the daughter of an independent businesswoman trying to make her way into an industry, the change in how Earth's Healing is perceived, not just here in Tucson and Southern Arizona, but on a nearly international level, is the real victory.
"When we first opened our doors, there was so much backlash from the community, we weren't really perceived as a legitimate business," she says. "My mom took on a lot of negativity and stuck to her core values and her knowledge that this plant is beneficial to people."