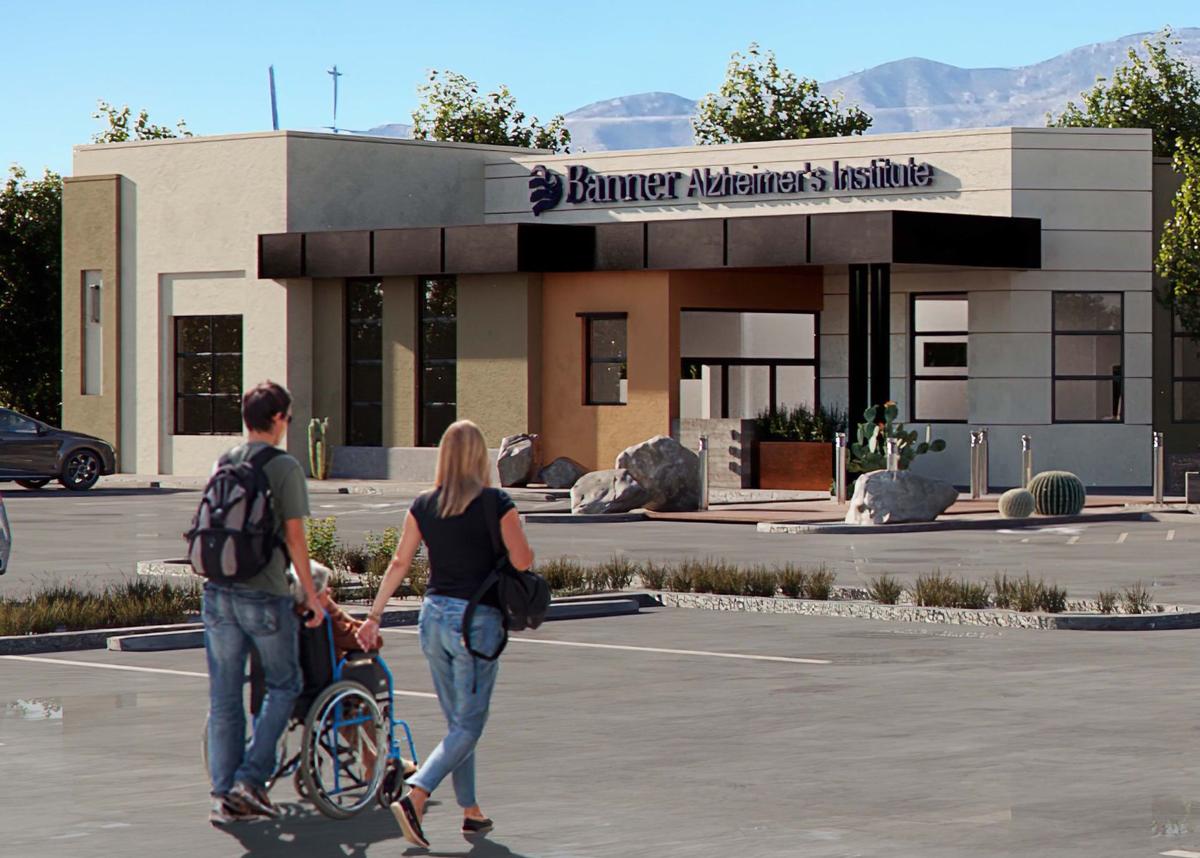 The Phoenix-based Banner Alzheimer's Institute, known internationally as a leader in the fight against Alzheimer's disease and related dementias, is building a multidisciplinary memory and research center in Tucson's Catalina Foothills.
The 10,000-square-foot facility, which is set to open in the spring of 2020, will be named the Toole Family Memory Center at Banner Alzheimer's Institute in Tucson. The institute was scheduled to break ground on the project Friday, June 28.
It will be located at the southeast corner of North Hacienda del Sol and East River roads, east of North Campbell Avenue.
The Toole family lives in Tucson and donated $5 million to the Banner Alzheimer's Foundation to bring the institute to Southern Arizona, officials said.
Thomas Toole, president of Southwest Energy LLC of Tucson, a company that provides explosives to mining, quarry and construction companies in the western United States, is representing the family at the event.
Toole's father, mining executive James D. Toole, was diagnosed with dementia and he knows "how important it is for not only the person with dementia to have full support in their medical needs, but also the non-medical care component that Banner Alzheimer's Institute offers," said Jennifer Fenter, a spokeswoman for Banner Research in Phoenix, in an email interview. James Toole, who founded Southwest Energy, passed away June 19.
"Banner Alzheimer's Institute brings a unique model of clinical care, family support and research to our community," said Dr. David M. Labiner in a news release. Labiner is the University of Arizona's department of neurology professor and chair.
The center will provide outpatient services related to the evaluation, diagnosis and medical management of both cognitive and non-cognitive behavior problems, according to the release. The center will also offer clinical trials where patients can learn about and gain access to promising investigational treatments and research.
Family and community services programs also will be offered to meet the needs of family care providers, along with community education programs.
"We are excited to work so closely with our University of Arizona colleagues in providing the kind of memory care that all affected patients and families deserve, and to advance the fight against Alzheimer's disease in Tucson and Southern Arizona," said Dr. Eric M. Reiman, executive director of Banner Alzheimer's Institute and chief executive officer of Banner Research in the news release.
Reiman also is a professor with the UA department of psychiatry and director of the Arizona Alzheimer's Consortium.
Alzheimer's disease — a progressive, irreversible disorder and the most common form of dementia — develops when brain cells stop functioning and eventually die. The disease affects parts of the brain that involve thinking, remembering and using language. It can ruthlessly impede a person's ability to carry out daily activities. There is no cure.
The number of people living with Alzheimer's in Arizona is expected to grow by 43% over the next seven years, the national Alzheimer's Association says.
Among other findings in the association's 2018 Alzheimer's Disease Facts and Figures report:
An estimated 5.7 million Americans have Alzheimer's dementia, including 140,000 in Arizona.
By 2025, the number of people age 65 and older with Alzheimer's dementia is estimated to reach 7.1 million. In Arizona, the number of individuals with Alzheimer's is predicted to be 200,000.
The burden on Alzheimer's caregivers continues to grow. In 2017, more than 16 million Americans provided about 18.4 billion hours of unpaid care in the form of physical, emotional and financial support — a contribution valued at $232.1 billion. In Arizona, 330,000 caregivers provided 376 million hours of unpaid care, valued at $4.7 billion.
Contact reporter Carmen Duarte at cduarte@tucson.com or 573-4104. On Twitter: @cduartestar
Get local news delivered to your inbox!
Subscribe to our Daily Headlines newsletter.