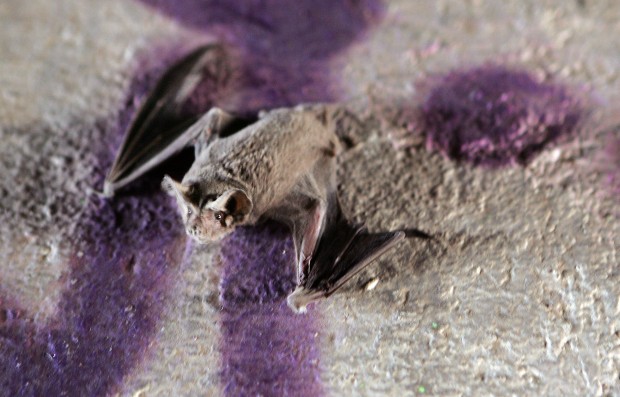 Eighty bats found dead or dying under an east-side bridge Dec. 27 were shot with a BB gun, Arizona Game and Fish Department officials have concluded.
Necropsies performed on 15 of the Mexican free-tailed bats at a state lab in Phoenix and another lab in Wisconsin found the mammals had been shot with a 4 mm BB gun, probably powered by a CO2 cartridge, said Mark Hart, a Game and Fish spokesman. It is the type of gun a youth, not a hunter, would use.
The remaining bats removed from the scene by the Pima Animal Care Center also showed signs consistent with "ballistic trauma," Hart said. Necropsies showed damage to the 15 bats ranged from mild to severe, with seven fractured wings, one spinal fracture, one leg fracture, two "through-and-through" entrance and exit wounds on opposite sides of the body and four cases of generalized wing trauma.
A man walking his dog made the gruesome discovery just after the Christmas weekend: dozens of bat carcasses strewn across the walking path that runs under a bridge on East Speedway where the road crosses the Pantano Wash.
Testing of a dozen or so bats revealed they did not have rabies. Nor were they afflicted with white-nose syndrome, a fungal infection killing bats in the East.
Based on the most recent findings, Game and Fish officials concluded a de-icing solution containing magnesium chloride that was used by city workers on the bridge Dec. 23 played no part in the death of the bats.
"This was extremely malicious and flagrant because of the numbers involved. We're talking 80 bats, so it wasn't just one shot," Hart said.
In all probability, the bats were shot during daylight hours when they were sleeping or semi-awake, Hart said. He said because a BB gun is quiet compared with a rifle, the bats did not awaken when the shooting started, making them easy targets.
Illegally taking non-game wildlife is a second-degree misdemeanor punishable by a maximum of four months in jail and $750 fine. Civil penalties may also apply.
Though Hart wouldn't speculate on how the courts would handle such a case, he said penalties could be assessed for each bat killed.
Hart couldn't recall another such incident in Tucson, but in early April 2009, near the Peralta Trailhead in the Superstition Mountains, 90 Mexican free-tailed bats in an abandoned mine east of Apache Junction were shot and killed.
The Game and Fish Operation Game Thief Program is offering a $750 reward for information leading to an arrest in the case. Individuals with information should call 1-800-352-0700, anonymously if need be, and reference OGT# 11-000017. Calls will be taken 24 hours a day, seven days a week. Information may also be provided through www.azgfd.gov/thief