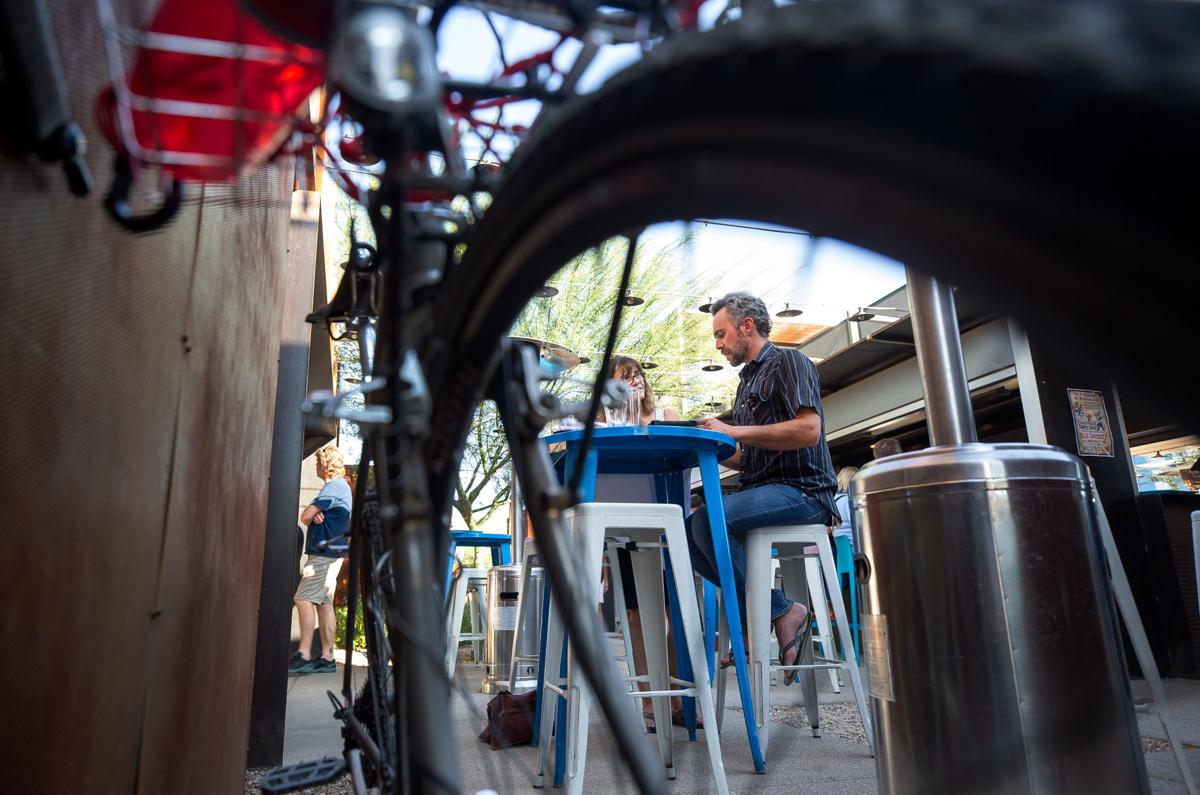 From an east-side craft beer haven that offers moonlight bike rides, to a brewery that sells its own cycling merch and another launched by two hardcore enthusiasts of the sport: There's no question that Tucson has its share of bike-friendly spots to grab a drink.
Here's a look at five of them — just remember to drink responsibly.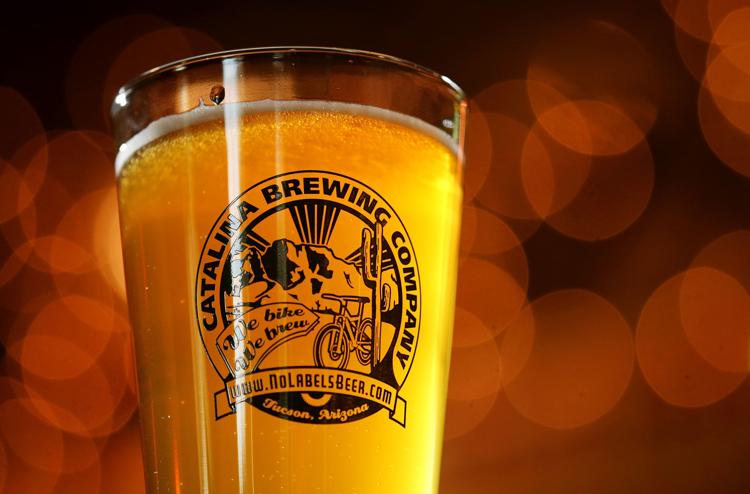 With bicycles hanging on the wall and a bar top with gears, tools and other cycling parts embedded in an inch-thick acrylic, it's obvious that Catalina Brewing has a thing for bikes.
And cyclists are welcome to bike right in.
The duo behind Catalina Brewing, brewing partner Hank Rowe and managing partner Brian Vance, are avid cyclists. Their slogan is, "We bike, we brew."
Anyone who visits the brewery on a bike gets $1 off their first beer. The brewery also has tools available to cyclists, in case their bikes needs a fix.
Catalina is near the Chuck Huckelberry Loop, Tucson's continuous pathway that's restricted to cars.
"I've been cycling since I was in kindergarten," Rowe said. He says cycling is a passion of his, along with beer.
"My whole life, I've been about taking things apart and seeing how they work," he says. "So, brewing — not only does it fit when it's done, but you get to drink it and it tastes good."
"Bike or not, (the brewery) is a lot of fun," he says.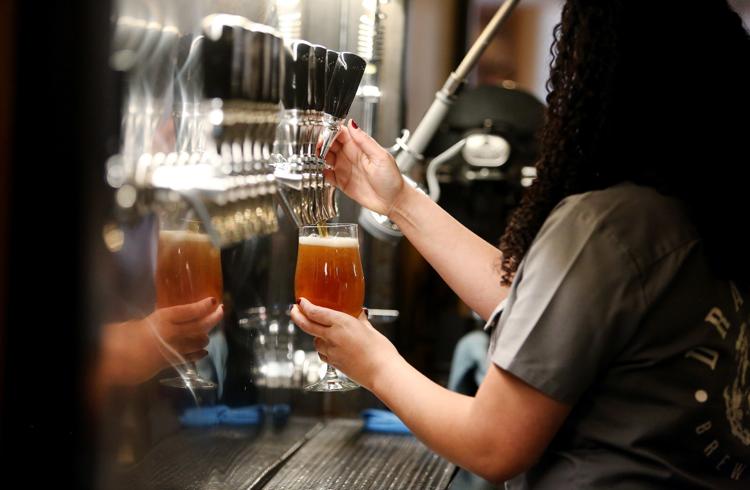 Put simply: "We love bicyclists," Dragoon's general manager Tristan White says.
"We have a lot of good relationships with bicycling communities," he says.
The company is involved with Bicycle Inter-Community Art & Salvage — more commonly known as BICAS.
For six years, Dragoon has been the beer provider for BICAS' annual art preview and auction.
Currently, until early December, Dragoon is housing 11 of BICAS' sculpture pieces and two paintings. BICAS also gets the credit for building Dragoon's bike rack.
From regularly hosting bicycling events with beer specials to selling cycling-related merchandise, White says: "We try to do everything we can."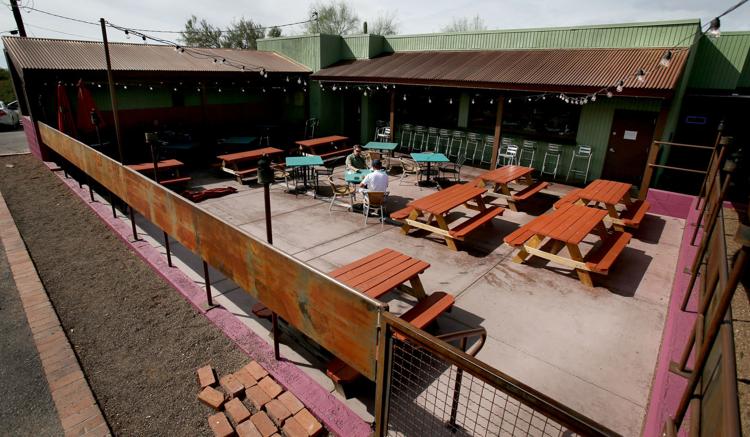 A few years ago, Saguaro Corners started a moonlight bike ride through Saguaro National Park, led by Ben Chandler, owner of Ben's Bikes — a bike shop on Tucson's east side.
Last week, about 75 people showed up for the ride, which happens whenever there's a full moon.
"They have a nice, relaxing ride through the park and then they come back (to Saguaro Corners)," owner David Musso says.
On ride nights, Musso says Saguaro Corners makes sure to keep the restauran open, even if it's later than usual.
Cyclists also frequently bike down Old Spanish Trail, in addition to The Loop — which stops right in front of the Saguaro Corners parking lot.
"The cyclists enjoy it a lot because it's an easy in and out," Musso says.
The restaurant doesn't have bike racks specifically, but they do have a fence around the eatery's large patio, where cyclists can lock their bikes up or sit near them.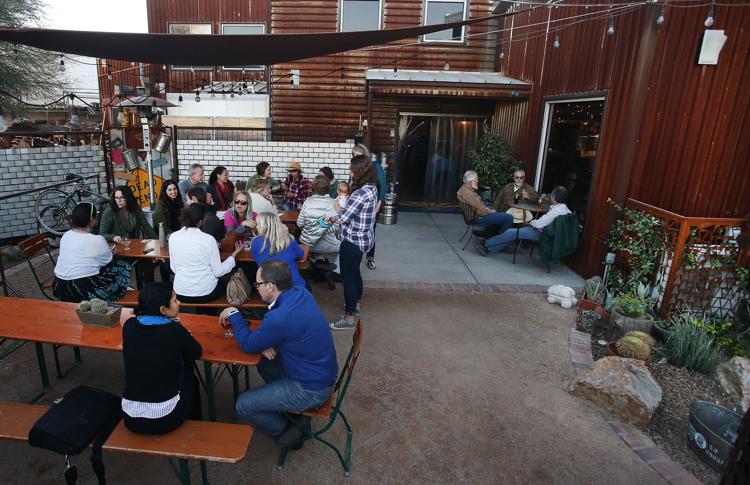 Tucson Hop Shop is located blocks away from The Loop, making it an ideal spot for cyclists.
Although the bar has bike racks and will even give loaner locks to people who forget to bring one, co-owner David Zugerman says cyclists are also welcome to bring their bikes inside.
Tucson Hop Shop hosts several bike events, including rides with cycling groups like Blue Dog Bicycles, Sonoran Desert Mountain Bicyclists and Bell Joy Ride.
Tucson Hop Shop was given a certificate from the League of American Bicycles, recognizing them as a bike-friendly location for a number of reasons including the area of Tucson, proximity to The Loop and nearby street traffic, Zugerman says.
And did we mention that Tucson Hop Shop's other owner, Jessie Mance, is an avid mountain biker?
"That was kind of what gave us the impetus to be as bike friendly as we are," Zugerman says.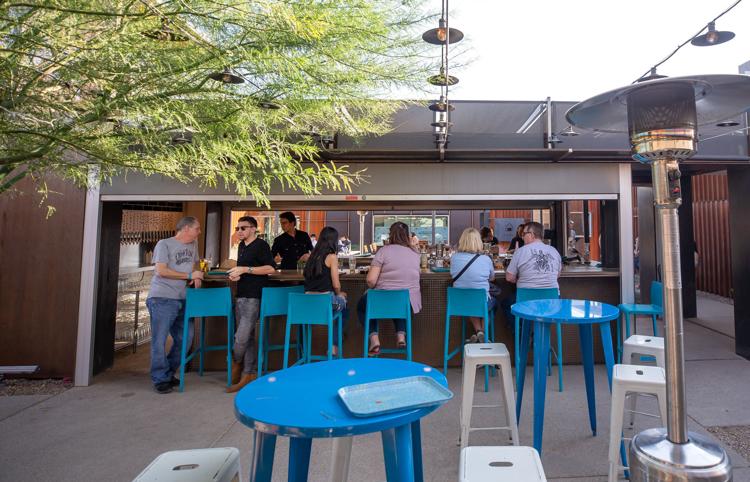 Westbound is located in the MSA Annex — the outdoor west-of-downtown plaza made of shipping containers. It's an ideal space for cyclists to ride right up to the entrance and lock up their bike — or lean it against the table they're sitting at.
"The space lends itself," owner Rebecca Safford says.
"It's an added bonus that Transit is right next to us," she says of Transit Cycles, the locally-owned bike shop next door.
Every third Wednesday of the month, cyclists are invited to take a bike ride from Transit to Dragoon, about four miles north. Cyclists participating in the ride can get $1 off any draft at Westbound on those days and $1 off their first beer at Dragoon.
And last year, Westbound and Dragoon participated in the "westside pedaler" event with Whiskey Del Bac and 1912 Brewing. Safford says she would love to bring it back.
"You could pedal from place to place and get a drink special at each place," Safford says, adding that each location is west of Interstate 10, making it easy for bicyclists to travel.
Contact reporter Gloria Knott at gknott@tucson.com or 573-4235. On Twitter: @gloriaeknott