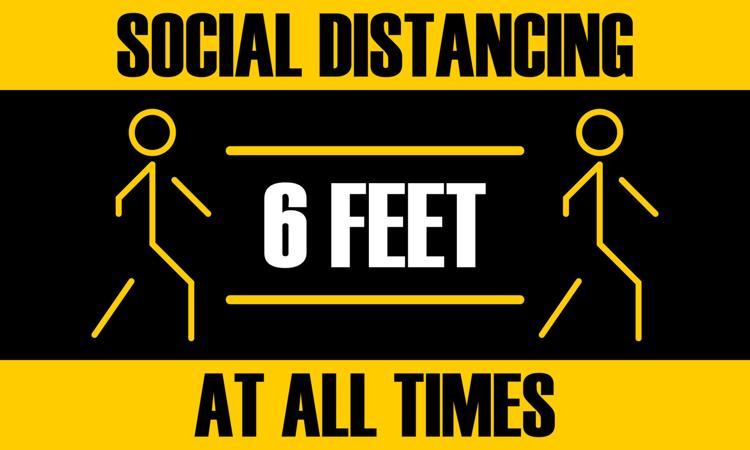 Sheltering in place and social distancing are things most of us never thought we would have to take part in, but they are now the new reality because of the coronavirus pandemic.
Did we ever think our Easter Sunday church services would be attended via video? Did we ever think we'd scurry through the grocery store wearing face masks and trying to stay 6 feet away from everyone else? Did we ever think we'd worry about running out of toilet paper?
It's a new world and we're all learning to adapt.
We're making face masks or learning to wrap scarves around our faces so we won't transmit a virus we hope we don't have. We're staying home and we're doing our best to stay 6 feet away from everyone we meet when we must go out.
For many of us, 6 feet is easy to estimate. But there are a lot of people who just aren't as good at that as others. How much is 6 feet?
A good way to estimate that is to imagine you and the next person holding out your arms toward each other.
The average single arm length from shoulder to fingertip is about 42% of a person's height. So two people who are 6 feet (72 inches) tall would have arms that are about 30.2 inches. If they hold their arms out toward each other, they would need to leave about a foot more of space between their hands to be 6 feet apart. It's easier to estimate a foot in distance than 6 feet.
But enough math. You have to get out before you begin knocking down walls.
What about hiking? Yes, you will come across other people if you go out for a hike.
Art and Sharon Ragland like to get out on some hiking trails around town and haven't let COVID-19 stop them. They seek out the more open and wide trails so they can see more of what is around them. They know some trails that aren't very crowded.
That way, when they see someone coming from the other direction, it is easier to see that it's safe to step off the trail to allow 6 feet of space between them and the other hikers.
Now that more rattlesnakes are likely to be out, they said it's important to look carefully before stepping off the trail, so they often look ahead for the best places to step aside.
The couple is quite familiar with the concept of social distancing.
Sharon is the senior pastor of St. Mark's United Methodist Church on the northwest side. She and other leaders at St. Mark's are becoming adept at video services and Zoom video conferencing meetings.
Art, who is retired, was careful to wear a mask when he volunteered at the church and was recovering from a cold a couple of months ago.
Now that masks are harder to find in the stores than toilet paper, we are learning to make our own. There are many how-to videos online with instructions. We recommend the simplest versions using such items as old T-shirts or bandannas for the material.
We can't control the coronavirus, but we can control our safety, at least in part. So stay home, except for forays on hiking trails.
Keep your distance from others and offer a cheery word instead of touching.
And spare a thought or prayer for such people as health-care workers and grocery store workers who must be in contact with others.
Contact Johanna Eubank at
Concerned about COVID-19?
Sign up now to get the most recent coronavirus headlines and other important local and national news sent to your email inbox daily.