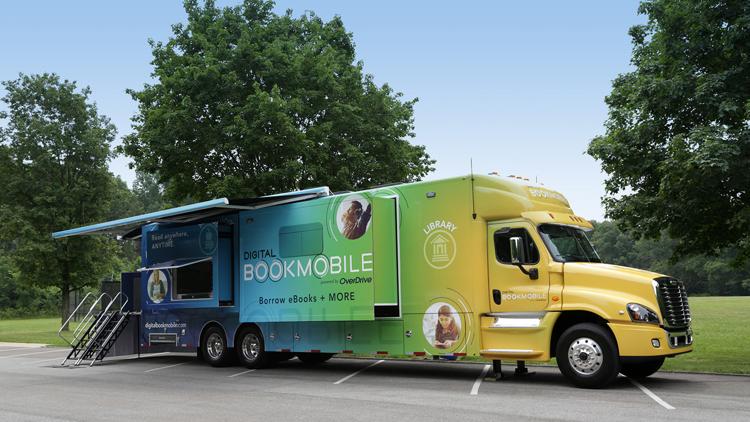 If you are like many in Tucson, you have found yourself working at home instead of in an office with coworkers. Unfortunately, some are home because they are not needed at their jobs during the COVID-19 crisis.
To make matters more complicated, children are home from school. While they are doing some home schooling, online education and the like, once school time is over, they still cannot spend time with their friends.
If you have to get work done, you need activities to keep the children busy. You may need some diversion for yourself as well.
That's where the Pima County Public Library can help. You may think the library is closed to you if you are isolating yourself to prevent exposure to the virus. But there are many digital services you can access if you have a valid library card.
The Tucson Festival of Books was canceled because of the coronavirus.
However, had it gone on, visitors would have been able to visit the Digital Bookmobile.
This bookmobile travels across the United States and Canada, visiting libraries and schools to talk about Libby, the free library app, said Joe Skelley, who travels with the bookmobile and is an expert on its services.
Those on the bookmobile help patrons download the app, get signed in with their library cards and learn how to access ebooks and audio books.
Interactive displays, tablets and touchscreen TVs help brand-new users learn about digital content.
While the Digital Bookmobile is a great help, you can do most of this on your own. Then visit the Digital Bookmobile at the 2021 Tucson Festival of Books — it will be there — and you are bound to learn something new.
Start by downloading the Libby app on your smart phone, tablet or smart TV. You'll find it in the Apple store or Google play store.
When you download the Libby app, it will prompt you through entering your library card number and pin. Then you can browse e-books and audio books and download what you want if it's available.
Just like the physical library, there are a certain number of each e-book or audio book based on the number of licenses the library purchased. If the book you want is checked out, you may place a hold and the app will tell you about how long it will be until the book is ready.
This is where "hold re-delivery" is helpful. When your turn comes, the book won't automatically download. Instead you will get an email telling you it's ready.
If you want to finish the book you are currently reading first, you just tell the library you aren't ready.
The book will go on to the next person in line, but you'll still be first in line after that.
You may check out up to 20 items at a time, for three weeks each.
There are read-along books for children, especially for early readers and those not quite at the point of reading. These titles work like a sing-along: As the book is narrated, the words are highlighted. Of course, you probably want to do the reading to your children, but this is a help if you have work to do.
You do not need a library card from the Pima County Public Library to use these digital services. You can sign up using your mobile phone number to gain access to the library's ebook and audiobook collection.
All Pima County Library locations and book drops are closed during the current crisis.
The library has extended check-out limits for physical items indefinitely; don't try to return anything you have from them right now.
However, due dates apply to digital items.
So download Libby and start taking advantage of all of the free services the library has to offer — even if you are stuck at home.
Contact Johanna Eubank at
Get local news delivered to your inbox!
Subscribe to our Daily Headlines newsletter.