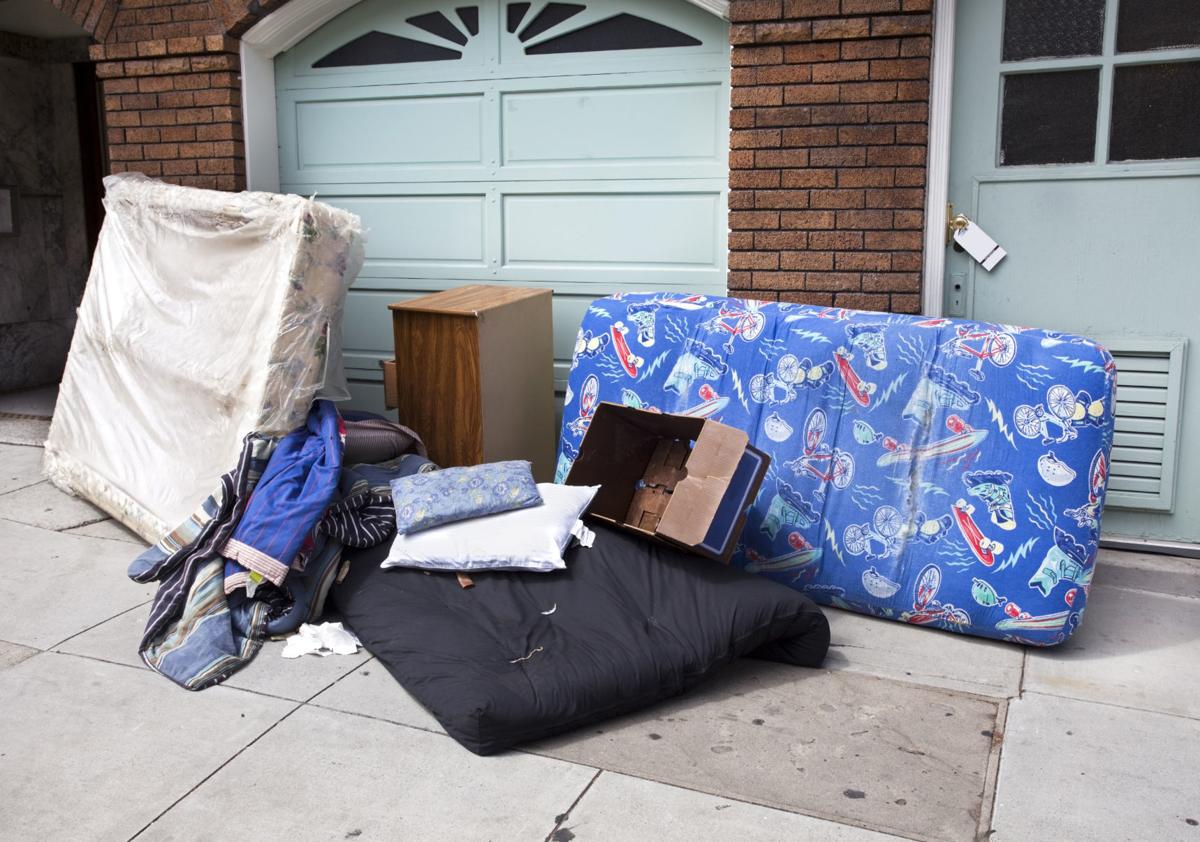 A bill is on Gov. Doug Ducey's desk that opponents say would allow landlords to evict tenants for not paying rent in full even after partial rent is paid by a housing assistance agency.
Opponents of HB 2358, which passed the Legislature in May, say the bill will not only allow landlords to evict a tenant and keep a partial rent payment from a government or housing agency, but it would exacerbate already high eviction rates.
Proponents say the law is necessary to protect landlords who rent to people who receive housing assistance like the government-run Section 8 housing program, and that it will even incentivize landlords to rent to them.
James Daube, an attorney with Southern Arizona Legal Aid who handles housing issues, is one of the opponents concerned the law could exacerbate Pima County's high eviction rates. About 13,000 eviction filings are adjudicated in the Pima County Consolidated Justice Court each year, according to Arizona Daily Star archives.
He's also worried that landlords will keep a payment from a housing agency and still evict the tenant for not paying their portion of the rent, potentially retaining taxpayer money for a service that wasn't rendered.
Rep. Ben Toma, R-Peoria, who introduced the bill at the request of the landlord lobbying group Arizona Multihousing Association, says the bill doesn't allow the landlord to keep the money if they evict the tenant.
"To say that this law would somehow grant landlords the ability to take a partial payment and then evict the tenant anyway and keep the money, that's basically to say this law would allow landlords to essentially commit fraud, which is ridiculous," he said.
Toma said the intent of the bill was to counter a chilling effect from a 2018 Maricopa County Superior Court ruling that he said was hindering landlords from renting to people receiving housing assistance. The ruling said that after a landlord accepted a third-party partial payment, the right to evict the tenant was waived. Toma says landlords are scared that if they accept that partial payment they won't have the ability to evict a tenant for other serious issues.
"This wasn't about helping landlords as much as it was about ensuring these programs remain viable," he said about housing assistance programs.
Daube says he doesn't buy the argument that landlords are becoming more hesitant to accept renters who receive housing assistance. He says although landlords may incur extra requirements, they also have the security of guaranteed payments from a government agency.
As well, since the ruling came from a lower court, it doesn't set a legal precedent like it would if it came from an appellate court. Lobbyist for the Arizona Multihousing Association Jake Hinman said although it's a nonbinding decision, justice courts are using the case for guidance.
When landlords accept a partial payment, they waive the right to evict that tenant, but before this court ruling, housing assistance payments were not considered a partial payment and so the landlord didn't waive their right to evict, Hinman says.
Peggy Hutchison, CEO of nonprofit Primavera Foundation, which works to alleviate poverty and prevent homelessness, said the bill is a way to discriminate against lower-income renters.
"It just doesn't make sense if one payment gets there before the other that they could get evicted," Hutchinson said. "It would only increase eviction in our community."
She says Tucson is in an affordable housing crisis, which she attributes to the city being late in rebounding from the Great Recession, low wages, a lack of affordable housing, and out-of-state companies buying up properties.
She said maybe some landlords would be more agreeable to Section 8 renters if they had more leeway to evict them, but she doesn't think that would create more affordable housing.
Arizona has the third-worst supply of affordable housing in the country, with only 25 affordable rentals for every 100 extremely low-income renter households, according to a report released in March by the National Low Income Housing Coalition.
State Rep. Pamela Powers Hannley, D-Tucson, said she voted against the measure out of concern about high eviction rates and a lack of affordable housing. She said there were a number of bills that didn't pass the Legislature to tackle the housing problem during the recent legislative session. She says the bills focused on help for homeless youths and families, as well as widows and the elderly.
"We have issues with affordable housing in this state which are pretty glaring," she said. "Making it easier for landlords to boot people out isn't a good idea."
CORRECTION: The final version of the bill said payments made by a faith-based organization are not considered a housing assistance payment, therefore not included in the bill.
Get local news delivered to your inbox!
Subscribe to our Daily Headlines newsletter.