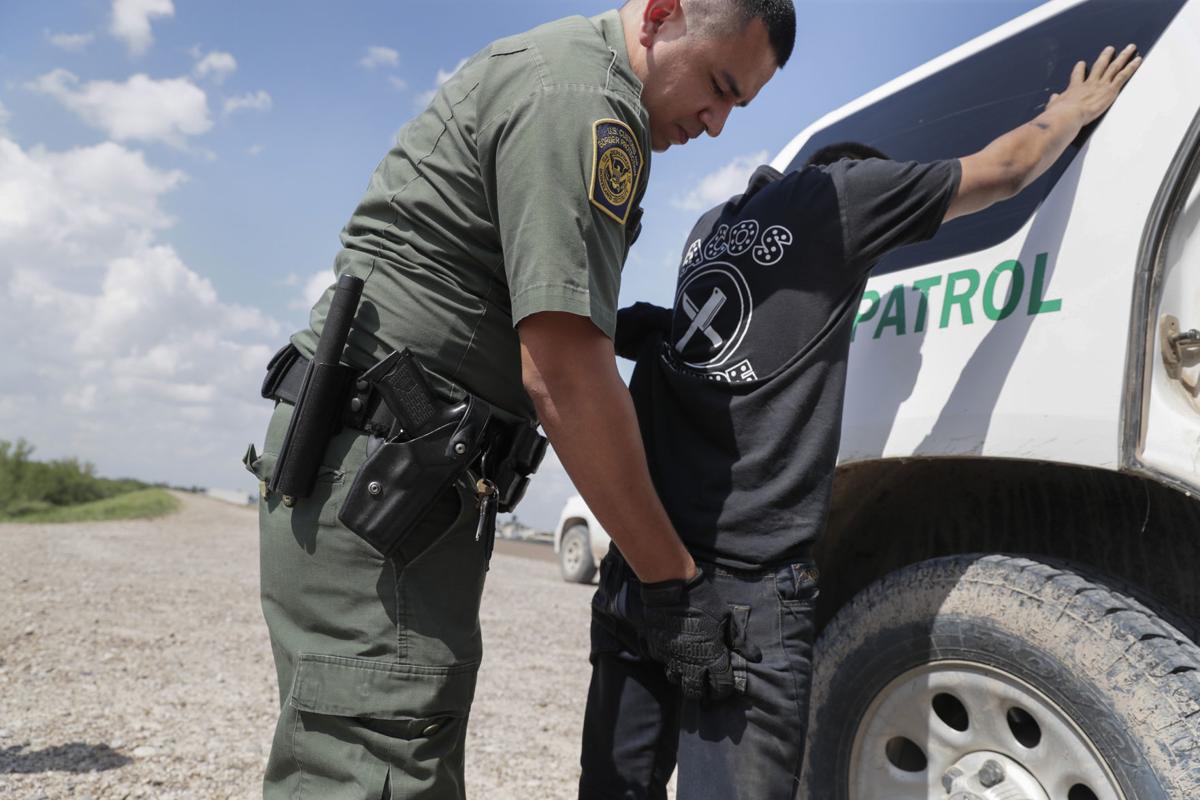 The road to a felony charge is much shorter now for illegal border crossers apprehended in Southern Arizona.
Under a new policy at the U.S. Attorney's Office in Tucson, it now takes fewer illegal crossings before prosecutors file felony charges, a move that could lengthen prison sentences in hundreds, if not thousands, of cases every year.
The new policy comes amid a wide-ranging crackdown on illegal immigration by the Trump administration. In Tucson's federal court, that crackdown involved a decision to file misdemeanor charges against thousands of first-time border crossers in May 2017. Now, they could face felony charges the next time they are caught at the border.
In recent years, border crossers with little to no criminal history often faced misdemeanor charges at least a half-dozen times before they would be charged with a felony.
Under the new policy, one or two misdemeanor convictions can lead to a felony, according to court records and interviews with six defense lawyers.
In recent months, the new policy has led to about 50 new felony prosecutions each month, according to a "rough estimation" by Eric Rau, a supervisor at the Federal Public Defender's Office in Tucson.
The U.S. Attorney's Office would not comment on changes to its charging policy, but Rau's estimate jibes with a review by the Arizona Daily Star of nearly 200 cases in U.S. District Court in Tucson.
The Star found indictments under the statute used in these cases grew gradually from four in October to 19 in April. They then jumped to 50 cases in May, followed by 55 in June and 40 in July, court records show.
Defendants in 98 felony cases since the start of May had two or fewer misdemeanor border-crossing convictions. Another 15 had three misdemeanor convictions.
The new policy is in line with Attorney General Jeff Sessions directing federal prosecutors in April 2017 to file felony charges against border crossers with "one or more administrative or criminal immigration violations."
But it also presents challenges to the court, such as the increased workload for probation department employees who prepare detailed pre-sentence reports in felony cases.
Prosecutors met with the probation department, public defenders and other court offices two weeks ago to discuss ways to streamline prosecutions under the new policy and improve plea offers, Rau said, but nothing has been set yet.
The new policy is causing a stir among defense lawyers, one of whom noted its effects on his client at a July 11 hearing.
"In my experience, this is an example of a case which previously would have gone through Operation Streamline," Richard Bacal told Magistrate Judge Leslie Bowman, referencing a fast-track prosecution program for illegal border-crossers.
In Streamline, his client likely would have been sentenced to six months, Bacal said. Instead, he faces up to 10 months in prison after pleading guilty to a felony charge.
The vast majority of illegal border-crossing prosecutions in Tucson's federal court go through Streamline, including more than 13,000 cases in the first 10 months of this fiscal year, court calendars show.
Bacal's client, Octavio Avila Valencia, a 52-year-old Mexican citizen, was arrested May 10 by Border Patrol agents near Patagonia, court records show. He had two previous misdemeanor convictions in Streamline.
Two months later, he pleaded guilty to a felony charge of crossing the border illegally after a previous deportation in 2015 through San Luis. He is scheduled to be sentenced Oct. 29, nearly six months after his arrest.
The road to a felony was even shorter for Victor Guzman Vazquez, a 29-year-old Mexican citizen who had lived in Phoenix since 2003. He was deported April 5 and was caught trying to cross the border illegally near Nogales on April 14.
Two days later, he was charged with a felony for crossing the border illegally after a previous deportation, court records show.
He had served one day in jail for a misdemeanor reckless-driving violation in 2014, but had no federal immigration convictions, his lawyer, Raul Miranda, wrote in a sentencing memorandum.
Even with his lack of criminal immigration history, he faced up to six months in prison under his plea agreement.
Meanwhile, one man sentenced in Streamline within days of Guzman's arrest had an extensive criminal history and was sentenced to 75 days, Miranda wrote. Another man with a similar criminal history to Guzman was sentenced to 30 days.
Court records show Guzman was sentenced July 12 to time served after spending 89 days in custody.
Miranda also critiqued the "current regime of ever-increasing federal spending" and urged the court to consider the high costs of incarceration.
"Warehousing foreign nationals in federal prisons or contract facilities is not the answer," Miranda wrote.
The monthly cost for incarcerating border crossers is about $2,900, according to Rau.
Because felony prosecutions can take five or six months before sentencing, only 21 of the new prosecutions have resulted in sentences so far, the Star found.
Seven cases ended with sentences between six and 10 months. In 14 cases, judges handed down sentences of time served after defendants spent between three and six months in custody.
By comparison, about half the 112 sentences handed down in Streamline the week of July 16 were for 30 days. More than three-quarters were for 75 days or less and only 11 were for four months or more. About 150 defendants were sentenced to time served for a first-time misdemeanor conviction.
NOTE: This story has been updated to reflect Octavio Avila Valencia had two previous misdemeanor convictions. A third charge was dismissed.