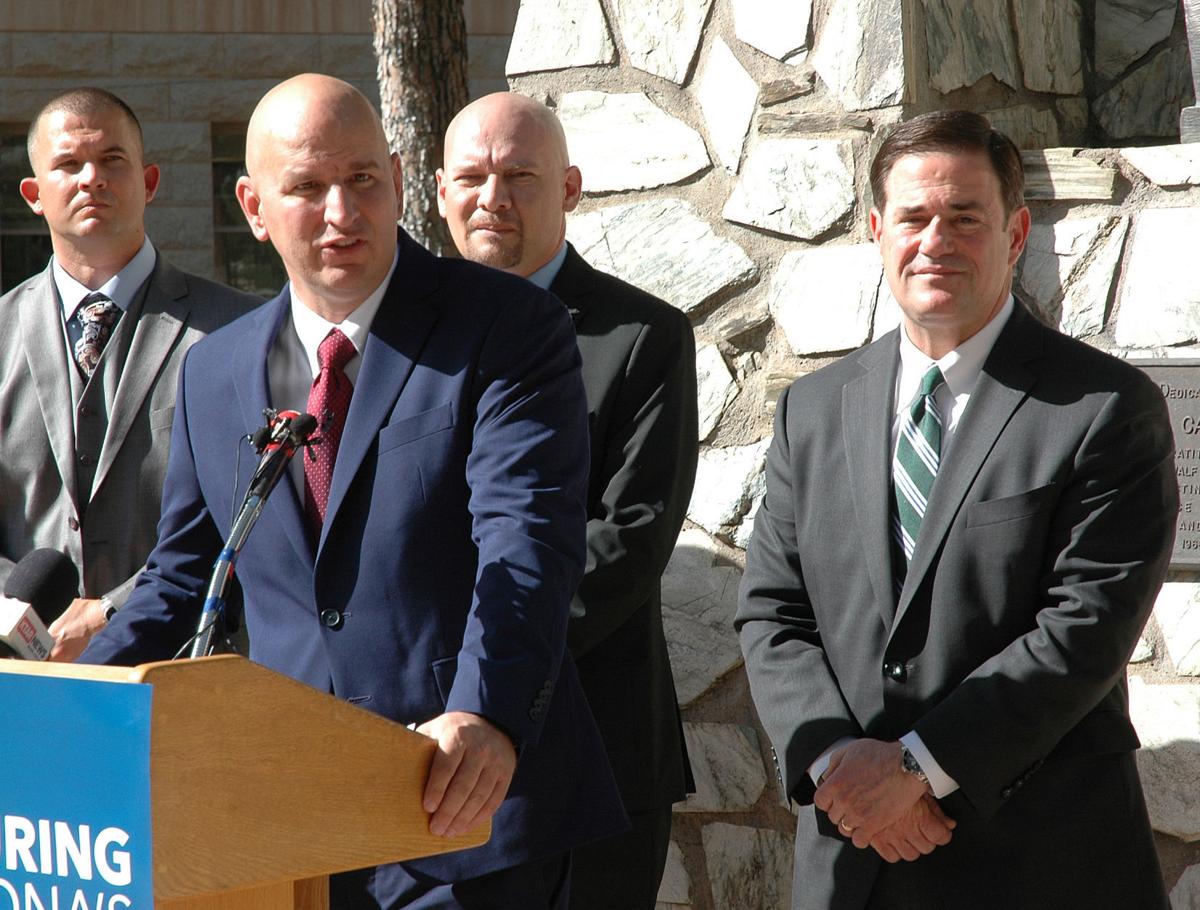 PHOENIX — The head of the local Border Patrol union is telling Hispanics they should not support Democrat David Garcia for governor simply because he is Latino.
"Do not vote for lawlessness," Art Del Cueto said Monday at a press conference organized by the reelection campaign of Republican Gov. Doug Ducey. "Do not vote for those individuals that align themselves with people that cuss out our law enforcement in this state."
Garcia countered in an interview that he believes there's a racial undertone in the attacks on him by Ducey supporters, who seek to stir up fears of illegal immigration and drug smuggling, even if Del Cueto is himself Hispanic.
However, Garcia has also inserted ethnicity into the gubernatorial race by saying it's wrong that a state where 31 percent of the population is Hispanic has not had a Latino in statewide elective office in four decades.
Del Cueto's comments Monday referred to tweets by Xenia Orona, a former Garcia campaign staffer, who wrote that "law and order is the smokescreen that bigots hide their hate behind." Orona also used a curse word next to an emoji of the American flag and wrote that, "ICE is abusive and needs to be abolished," with a hashtag that curses police.
Orona quit following publication of the story, and an aide to Garcia said the candidate was unaware of her comments until they were published by conservative site P.J. Media.
Del Cueto spoke to the cameras in Spanish, saying he was addressing "all Latinos in the state."
"Don't be fooled just because a candidate has the same surname as another Hispanic person," he said.
"Vote for our state's safety and vote for the person who has the best interests and not just for a person who feels entitled to your votes just because he is a Latino or because of his last name."
The press conference at which Ducey was endorsed by the National Border Patrol Council, of which Del Cueto is an officer, also featured Brandon Judd, president of the national council. It came as the role of a governor when it comes to illegal immigration has taken center stage in the race and as the Republican Governors Association has already set aside $9 million for commercials to attack Garcia.
Garcia has provided some fodder for his foes to use. He talked about dismantling and rebuilding Immigration and Customs Enforcement in the wake of practices of "zero tolerance" and family separation.
Ducey supporters have said that shows Garcia seeks to "abolish" the agency, though the candidate, unlike other Democrats, has never used that specific term.
And in a speech in New Orleans, Garcia urged that people "just imagine no wall, no wall in Southern Arizona," comments he later said were meant to mean opposition to new walls proposed by President Trump, not a call to remove existing barriers.
Garcia, in an interview Monday with Capitol Media Services, disputed claims he's not interested in border security, saying that, unlike the incumbent, he has a record of protecting the border.
"I have put my time in as a young man to defend our borders," he said, referring to his time in the infantry. Ducey has no military service.
"To think I would do anything else as governor is contrary to who I am," Garcia said, suggesting that the attacks on him have racial overtones.
"I think people are going to see through this bigotry," he said. "I think they are not going to normalize this bigotry as basically business as usual."
Garcia has not shied away from the concept of advancing his candidacy based on his heritage and the fact his family was here "before Arizona was Arizona."
"I firmly believe, what our campaign believes, is what we need is leadership that reflects the population of Arizona," he said. "We haven't had that in over 40 years," since Raul Castro was elected governor.
Castro was the state's one Hispanic governor since statehood in 1912. Since then, Garcia said, there has not been a Hispanic in any statewide elective office despite Hispanics making up 31 percent of the state population.
"From my perspective, I believe that to have representation that looks like Arizona, that should be changed," said Garcia.
But he said he was not telling people to vote for him because of his ethnicity or surname. "I have never said you should vote for me or any other candidate because of their ethnicity," Garcia said.
Garcia said the union's endorsement of Ducey is no surprise, pointing out that Judd and his organization backed Trump in 2016 even before he was the GOP nominee for president.