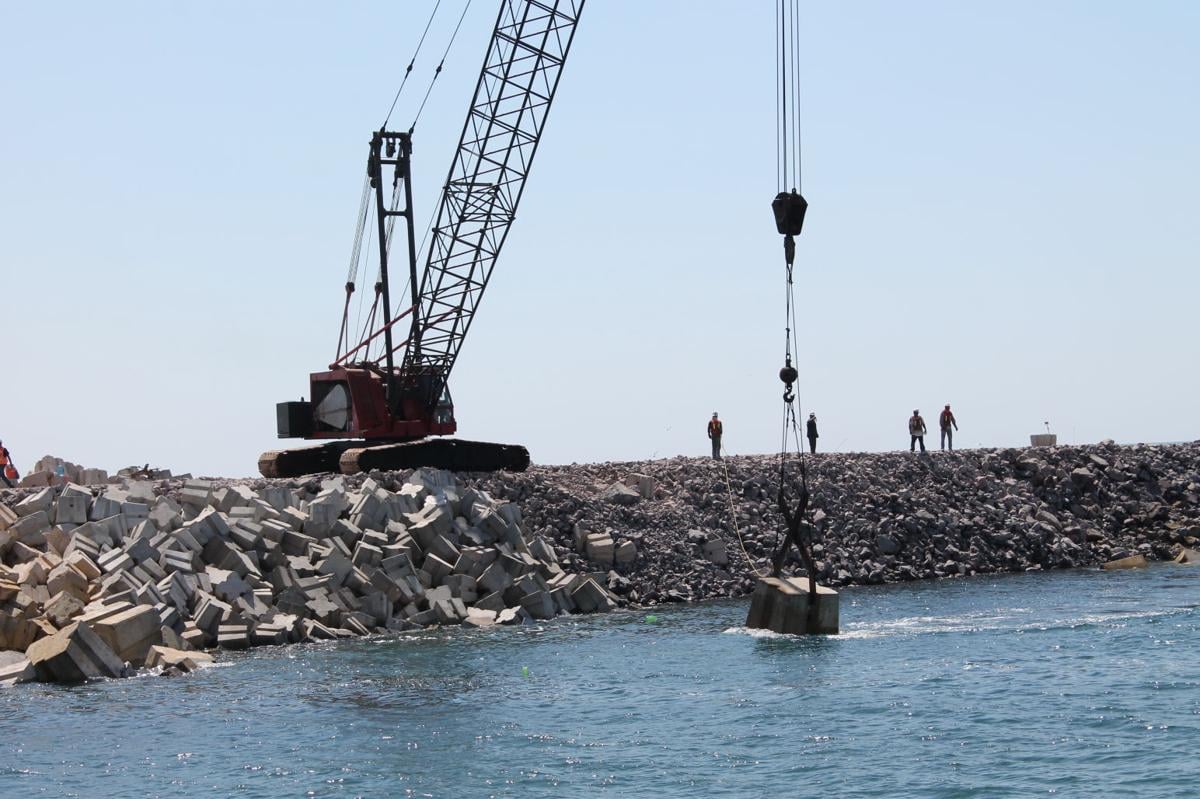 PARADISE VALLEY — It's not exactly ocean-front property for Arizona.
But a new agreement signed here Friday at the annual summit of the Arizona-Mexico Commission is meant to lead to easy cruise-trip access for residents of the region — easier, at least, than now having to drive to Southern California or Texas.
The deal inked between Arizona Gov. Doug Ducey and Claudia Pavlovich, his Sonoran counterpart, would have Arizona firms service cruise ships that the Mexican government hopes will soon be docking in Puerto Peñasco, Sonora.
Construction of the necessary pier and terminal, which has been stalled at about 50 percent completion, is now expected to resume, said Hector Platt Mazón, Sonora's tourism director.
And Pavlovich said the agreement she signed with Ducey, assuring the cruise companies they will have access to needed services, should help loosen up Mexican federal dollars.
"I think it will make it easier," she said, predicting that Puerto Peñasco, known as Rocky Point on this side of the border, will become "the port of Arizona."
Platt Mazón said he intends to deliver the signed "memorandum of understanding" to Mexican federal officials on Monday.
Pavlovich said the idea has everything going for it.
She said Hermosillo, Sonora's largest city and its capital, is six hours from Puerto Peñasco, too far to be a steady source of everything from linens to flowers for cruise ships that routinely need supplies for 3,000 passengers at a pop. She said Phoenix is just half as far away in driving time.
Platt Mazón said he, too, sees Puerto Peñasco as becoming "the home port of Arizona."
He cited figures that about 1.2 million Arizonans take a cruise each year. Add to that New Mexico, Nevada and California, and the potential cruise audience approaches 7 million.
"This is within driving range of Rocky Point," Platt Mazón said. "This causes a very interesting market for it."
He said talks are already under way with Carnival Cruise Line, which operates ships under several banners. The timing is excellent, he said, because cruise companies are planning voyages that far out.
Platt Mazón said the assurance that goods and services will be available from Arizona is crucial to making the port a success. He said the cruise companies already have relationships with U.S. suppliers.
"So it will be easier for them to continue making business with the ones they already have business," he said.
Still, he acknowledged, there are other potential hurdles. One is the time it can take for people to cross back into the United States.
Platt Mazón said some of that is within the control of Sonora, like widening the road between Puerto Peñasco and the border. The rest, however, may require the cooperation of — and funding from — federal governments in both countries.
Ducey said he sees having a cruise port within three hours of the state's largest city as a new — and what might be unexpected — economic benefit.
"We talk about the quality of life here," he told Capitol Media Services. "We think our geographic location to a port like Puerto Peñasco ... just provides another tourism opportunity for people in our state."
Ducey called it "a big win" for the state. Even for those who may not be interested in cruises, the promise of improved roads and a better border crossing has benefits.
"As beautiful as it is here in the desert, we need an easy, convenient way to get to the beach," the governor said.
"There's tourism opportunities on both sides of the border," Ducey added. "And this is one that Angela (his wife) and I and our family will certainly take advantage of."
Still, there is no guarantee that the port will be completed. Plans and construction began four years ago, with progress in fits and starts.