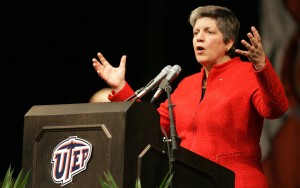 Napolitano has been saying this for some time, and every time she says it, it brings out outspoken critics that cite drug violence in Mexico or the still unsolved March 2009 killing of Cochise County rancher Robert Krentz or the Dec. 14 fatal shooting of Border Patrol agent Brian Terry, which is also unsolved.
But, Napolitano and Homeland Security don't seem deterred by the critics and continue to make the point. Today, Homeland Security sent out a press release to hammer home that point.
In the memo (see full text below), officials point out increases in staffing for the Border Patrol and other federal agents working on border issues and metrics such as decreasing Border Patrol apprehensions and increasing drug seizures that show that "these efforts are producing major results," the press release says.
And repeating what she said during her speech, the press release says ignoring these statistics is political maneuvering: "Unfortunately, it has proven easy to score cheap political point by providing misinformation about the border, misinformation which many border mayors and Sheriffs say inaccurately portrays their communities as dangerous places to live and do business."
One of Napolitano's most vocal critics has been the Arizona Cattlemen's Association, which has made border security a signature issue after the Krentz killing in March 2009. The Association sent out a press release today entitled, "Napolitano Can't Handle the Truth." In it, they take exception to her accusation that they and others who say the border isn't secure are only trying to score political points.
"The Secretary fails to recognize that Mexican cartels don't really care if their targets or their victims are Democrats or Republicans," says ACGA President Steve Brophy in the press release.
Secretary Napolitano also says that calling attention to the border security situation in southern Arizona is bad for business on the Border. Is a cry from for help to the Department of Homeland Security bad for business? Would it be better for business that we not speak of the problem, the threat and the dangers, and just hope it goes away?
Is hope a strategy to secure the border?
Even though Secretary Napolitano has warned the cartels not to bring their violence and tactics across the line the warning has come too late. The truth is Southern Arizona's border is not secure and citizens in rural Arizona, including, ranchers deal with the continued movement of drug and human trafficking with no end in sight.  Secretary Napolitano the Mexican drug cartels have crossed the line!"
The root of the debate — whether the U.S. side of the U.S.-Mexico border is safe — is one of the issues I wrote about in this pre-2010 election piece, called Border 101.
Here is what I wrote in response to the question, "Is the border more dangerous than ever?"
"Answer: For people illegally crossing it, yes. For people living near it in Mexico, probably. For people living on the U.S. side of the border, probably not.
Some will vehemently disagree with that last statement, pointing to the March killing of Cochise County rancher Robert Krentz and an increase in burglaries in the Portal area as evidence that the level of danger on the U.S. side of the border has increased. But while Cochise County investigators say they tracked footprints back to Mexico, the Krentz crime is unsolved.
The FBI's uniform crime reports show violent crime is no more prevalent in border cities than in nonborder cities.
Since 2001, the average violent-crime rate in eight border cities declined, and it has remained below the national violent-crime rate since 2005, said an August 2010 report by the Congressional Research Center, which reviewed FBI crime reports from 1998 to 2008.
In Tucson and Phoenix - the two largest cities on the smuggling route through Arizona - murder and violent crime decreased from 2005 to 2009, FBI data show.
The ratio of assaults on Border Patrol agents dipped 36 percent across the Southwest border from 2007 to 2010. But that ratio increased by 70 percent in the Tucson Sector over the same period. Most of the reported assaults are when rocks are thrown at agents.
The danger of crossing the border illegally has increased, though. Illegal immigrants are dying at greater rates than ever in Arizona, likely because the border buildup has prompted smugglers to lead crossers into more remote and dangerous areas.
The 252 illegal border crossers found dead along Arizona's stretch of the U.S.-Mexico border excluding Yuma in fiscal 2010 broke the previous record of 234, set in 2007."
Here's the full DHS press release sent out this afternoon:
"TO: Interested Members of the Media
FR: DHS Office of Public Affairs
RE: Representing the Facts on Border Security
This past Monday, during a speech at the University of Texas, El Paso, Secretary Napolitano spoke in clear terms about the Department's unprecedented efforts to secure the Southwest border and the need for an honest, accurate dialogue about what is and what isn't happening in the region.
After nearly two years, the verdict is in: our approach is working - illegal immigration is decreasing, deportations are increasing, and crime rates have remained flat or gone down. We have strengthened the Southwest border in ways that many did not think possible. But, as the Secretary has often said, we know that challenges remain and that there is still work to be done.
To date, the Obama Administration has:
• Increased Personnel - the Border Patrol has more than 20,700 agents today, which is more than double the size it was in 2004.
- quintupled deployments of Border Liaison Officers to work with their Mexican counterparts;
- doubled personnel on Border Enforcement Security Task Forces;
- increased intelligence analysts focused on cartel violence;
- begun screening 100 percent of southbound rail shipments for the first time ever;
- and expanded unmanned aircraft system coverage to the entire Southwest border.
• Deployed 1,200 National Guard troops to the border to actively assist law enforcement agencies.
• Provided over $123 million in grants to southwest states to support border law enforcement.
• And we're deploying more technology, manpower, and infrastructure as part of the $600 million supplemental requested by the administration and passed by Congress last year.
Every key metric shows that these efforts are producing major results:
• Border Patrol apprehensions—a key indicator of illegal immigration—have decreased 36 percent in the last two years and are less than one third   of what they were at their peak;
• At the same time, we have seized more contraband across the board – illegal bulk cash, weapons, and drugs;
• Violent crime in border communities has remained flat or fallen over the past two decades. And studies and statistics repeatedly show that some of the safest cities and communities in America are in our border states.
It is simply inaccurate to state, as too many have, that the border is overrun with violence and out of control. Not only does this ignore all of the statistical evidence to the contrary, but it also belittles the significant progress that effective law enforcement has made to protect this border and the people who live alongside it.
The Secretary's recent speech clearly articulates our strategy, results and commitment to continue addressing remaining challenges at the border in ways that are smart, effective and utilize key partnerships at the federal, state, local, and tribal levels. Unfortunately, it has proven easy to score cheap political point by providing misinformation about the border, misinformation which many border mayors and Sheriffs say inaccurately portrays their communities as dangerous places to live and do business. As you continue to report on border and immigration related issues, please use us as a resource."