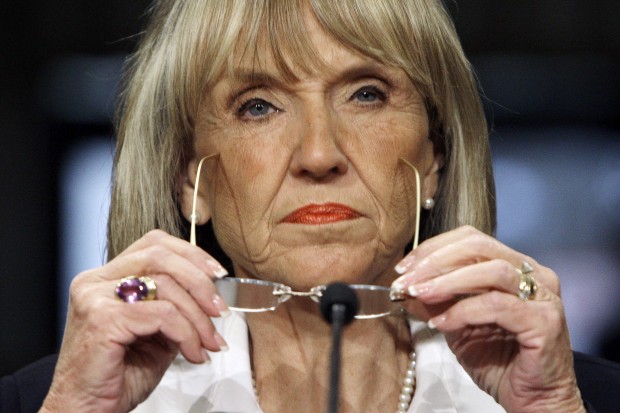 PHOENIX - A fight is developing over the unilateral decision by Gov. Jan Brewer to cancel next month's meeting of 10 border governors, which had been scheduled for Arizona.
The governors of two other U.S. states said they want the annual meeting to go on, but not in Arizona. Aides to both Republican Arnold Schwarzenegger and Democrat Bill Richardson said the conferences are too important to be disrupted by political fallout from Arizona's new law aimed at illegal immigrants.
Texas Gov. Rick Perry said through a press aide that he would be willing to attend a relocated border governors conference.
The move left Brewer disappointed.
"I would have liked to believe that they would have shown support for the governor of Arizona and for the people of Arizona," Brewer said, adding that she wasn't sure if she would attend a relocated conference. "I'd have to look at my schedule," she said.
And if it goes on as planned during the second week of September? "Well, you know, a lot has happened since we've cleared off those dates," the governor responded.
Brewer pulled the plug last week after the six Mexican governors who are part of the 10-member organization refused to come to Arizona after state passage of the SB 1070 immigration law.
"SB 1070 is discriminatory, racist and violates the International Civil Rights Agreement established in 1976," Chihuahua Gov. Jose Reyes Baeza Terrazas wrote in one of the letters sent to Brewer.
Brewer, however, said she believes each did not make the decision on his own. She said they were "acting under the direction, I believe, of President (Felipe) Calderón that they ought not to participate."
The location of the annual event of both government and business leaders rotates from year to year, and this year it was supposed to be Arizona's turn. But with the Mexican governors decision not to attend, Brewer notified them that "I find no appropriate alternative to cancellation."
New Mexico's Richardson made the first move by proposing that the conference be moved. He said Brewer has no authority to pull the plug on the meeting.
"She may not want to host it for political reasons," said Richardson press coordinator Caitlin Kelleher.
"But that's not a reason to sidestep the tough issues that border governors must address, including migration and border violence," Kelleher continued. She said Richardson "will look for alternative sites to host the conference, with or without Arizona's participation."
Schwarzenegger said he felt Brewer made a bad move. "He definitely believes that the conference is a valuable forum," said his spokesman, Francisco Castillo.
Brewer responded: "We were ready to host it; we were ready to go. And for them to determine at the last minute that they're not going to come, I think, would not be fair." And while she agreed the annual conference is important, Brewer is offering no apology for signing the legislation.
Brewer said she has worked for years for a solution to border security problems "always with an eye toward civility, and always with the greatest respect for the rule of law." But she said federal enforcement of immigration laws has been lacking.
"Arizonans have a right to know that illegal activities - including illegal immigration - will be handled firmly and effectively by law enforcement," Brewer wrote. "Law enforcement, in turn, needs to have the tools necessary to address illegal conduct, protect the communities they serve, and defend themselves and other officers."
That stance has put her at odds with the other three border governors on the U.S. side.
Perry said he recognizes and supports a state's right and obligation to protect its citizens, "but I have concerns with portions of the law," including turning law enforcement officers into immigration officials, he said in a statement.
Richardson issued a statement after the law was signed calling it "a reprehensible law that's going to lead to racial profiling."
Castillo said Schwarzenegger, of California, does not support the Arizona law and believes the only real solution is a comprehensive federal immigration policy.
The responses from the Mexican governors occurred even though Brewer told them she was willing to put the new Arizona law on the table for discussion.
"I sincerely believe a gathering of the governors in Arizona would have presented a great platform to initiate dialog about the legislation and other topics of great importance to the border region," Brewer wrote to them.
Get local news delivered to your inbox!
Subscribe to our Daily Headlines newsletter.