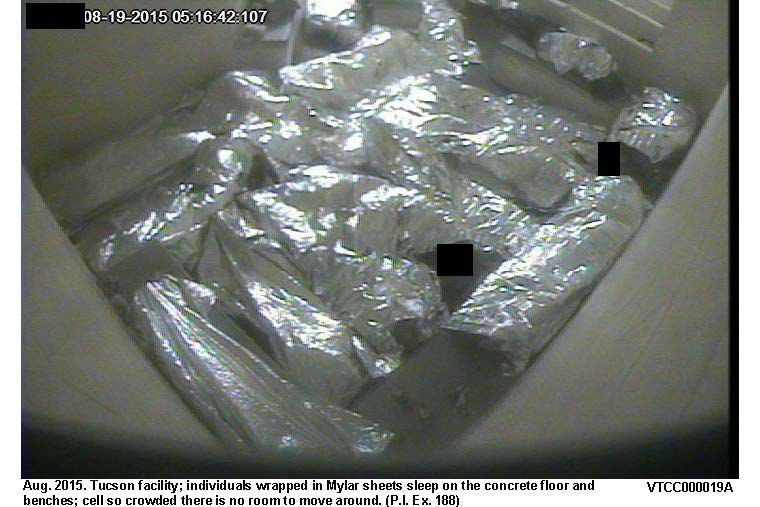 A green sleeping mat was propped up next to the witness stand Monday afternoon as civil-rights advocates and federal prosecutors argued about conditions inside Border Patrol detention centers.
The mats lie at the heart of a lawsuit that claims the Border Patrol violates its own policies as well as detainees' constitutional rights by forcing them to sleep on concrete floors in conditions cold enough to earn them the nickname "hieleras," or iceboxes, among undocumented immigrants.
U.S. District Court Judge David C. Bury began Monday's hearing by pointing to his "concerns" about court filings in recent months, such as the radically different views expressed by experts who inspected the detention centers.
He also pointed to Border Patrol statistics obtained by civil-rights advocates that show most detainees stay in the centers twice as long as the agency's recommended 12 hours or less.
The Border Patrol, represented by the Department of Justice, claims it is doing the best it can with its budgetary restrictions, Bury said.
"But this court can't be concerned with budgetary issues," he said.
Bury noted the detainees had not been formally charged with an offense and many would face civil, rather than criminal, charges.
"Can they be denied sleep?" Bury asked, noting cameras in the centers showed overcrowding in facilities that did not appear to be designed for sleeping.
Monday's hearing dealt with a motion for a preliminary injunction that would force the Border Patrol to improve conditions at the eight detention centers in the Tucson Sector.
Bury heard testimony from an expert on incarceration and an expert on health care in detention.
The Department of Justice is to present its side on Tuesday.
During Monday's hearing, Sarah Fabian, an attorney with the Department of Justice, questioned the court's interpretation of agency guidelines and pointed to issues with transferring minor detainees.
The lawsuit was filed in June 2015 on behalf of three former detainees by the Morrison and Foerster law firm and several immigrant-rights groups.