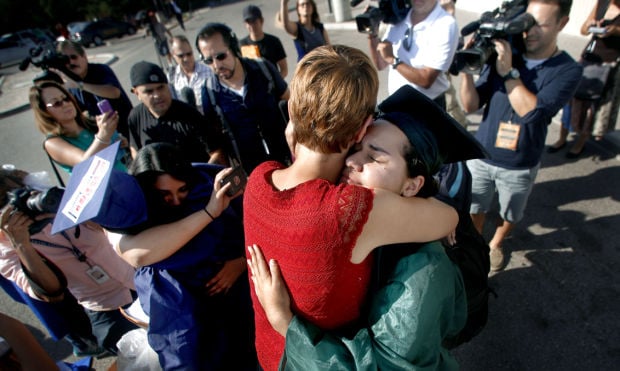 Surrounded by supporters, the "Dream 9" wore their caps and gowns and big smiles - just as they did 17 days before in Nogales, Sonora.
But this time they were on the U.S. side.
The young people from across the country - who came to the United States illegally as children - staged a risky protest as a challenge to immigration policy by turning themselves in at the port of entry in Nogales.
They were released from the Eloy Detention Center Wednesday and were granted temporary parole into the United States, pending their asylum claims, which can take years, said the group's attorney, Margo Cowan.
The government can grant parole to those found to have a credible fear of persecution or torture in their birth country for "urgent humanitarian reasons" or "significant public benefit," if they don't present a security or flight risk, according to Immigration and Customs Enforcement.
Most of the group members had returned to Mexico within the last couple of years for various reasons, but another three went back specifically to show their support.
All nine advocate for a more inclusive immigration reform and want to bring attention to the 1.7 million people who have been deported during the Obama administration.
"We are trying to get some type of message to the community and the government that something has to change," said Adriana Diaz, who lived in Phoenix since she was 4 months old.
She left the country to try to pursue her dream of studying graphic design four months before the Obama administration announced a program last year that could have helped her stay in the U.S. and apply for a work permit.
But after not being able to enroll in Mexico City, she moved with her mother to Nogales, where they lived and volunteered in an immigrant shelter for seven months.
"I was just trying to be successful and work my way through life, because I had finished high school, and to fix my legal status from Mexico, but I couldn't," she said from the detention center before she knew they were going to be released.
"There are so many people in similar situations like ours, and they don't get any help," she said.
While in detention, the group staged hunger strikes and tried to make information about legal aid available to detainees.
"Only while you are in here, as a detainee, can you see all the stuff that goes on," Diaz said from Eloy. "You can see it in most women's eyes that they are so desperate, they just want to get back home."
Hours later, speaking from the bus station in Tucson and surrounded by members of the media and supporters, Diaz couldn't believe she was free.
"Even though it's the first step, we are aware of that, it just takes this ... oh my God ... it takes this weight off your shoulders," she said.
The first things she wanted to do when she got out were buy makeup, eat a Hawaiian pizza and call her mother in Nogales, Sonora.
Not seeing her mother's face or getting a hug from her has been the hardest part. "I know she's strong. I know she's rooting for me and all of us. I know she believes in what we are doing," Diaz said.
"But when I'm by myself, just thinking ... I remember her," she said. "I don't want her to miss out on all the things I want to accomplish."
Now, neither of them can cross the border.
Cowan said the group of young people is redefining what a dream is.
"Through their actions, they are opening the door for a lot of other Dreamers," she said, referring to the proposed Dream (Development, Relief, and Education for Alien Minors) Act, which would offer them a conditional pathway to citizenship.
Asylum applications from Mexico have a very low approval rate, but Cowan said all options are still on the table, and she still is hopeful Congress will pass comprehensive immigration reform.
But, she added, "this is not about asylum or humanitarian parole; this is about these young people taking a stand for those who are excluded in immigration reform."
For Ceferino Santiago, 21, this is only the beginning.
He went to Kentucky when he was 13 to live with his brothers but returned to his native Oaxaca last year to receive a surgery he couldn't afford otherwise.
He tried to cross illegally two months ago through Tijuana but he was apprehended by the Border Patrol.
"I still can't believe I'm here," he said with teary eyes after his release Wednesday with the other eight.
"I thought the American Dream was over for me."