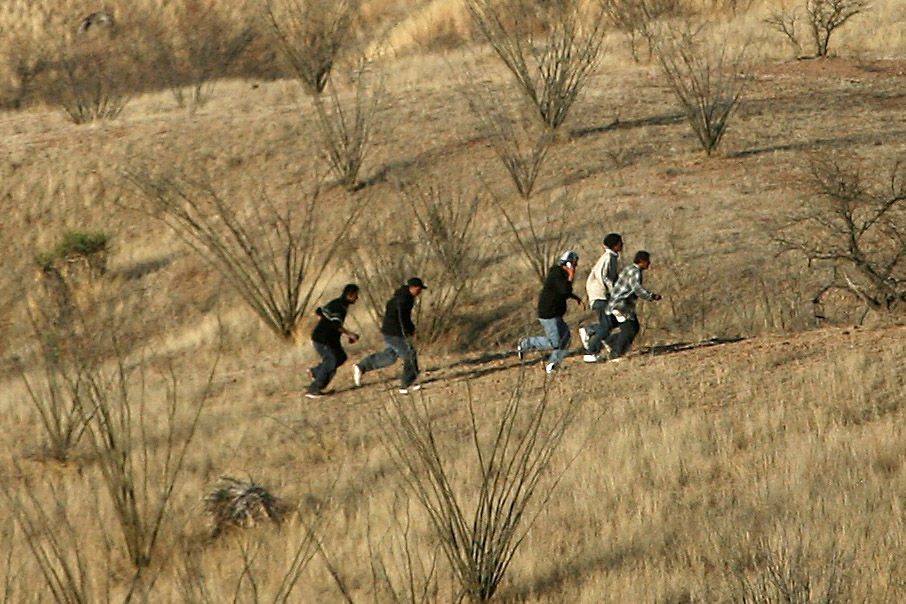 When four illegal immigrants walked up to a man running a carne asada cart in Sells on Jan. 25 they were seeking help.
Instead, they ended up locked in a room while their captors demanded thousands of dollars in ransom.
They had walked across the border illegally on the Tohono O'odham Reservation, and the man with the cart, later identified by authorities as Francisco Ruelas Peña, said he knew someone who could help them, documents filed in U.S. District Court in Tucson show.
Ruelas Peña called Rosanna Manuel, 42, who drove them to a house in nearby Cowlic and held them for two days in a room that did not have electricity, plumbing or a bathroom.
The captives — two women and a man from Guatemala and a Mexican woman — were fed through a gap at the bottom of a locked door while their captors demanded they have family members send $6,000 for each of them, according to court records. A relative of one of the captives wired $200 to Manuel's niece.
They begged to be released from the room and on Jan. 27 they broke down the door and escaped, court records show. Border Patrol agents arrested them walking in the desert east of Sells. They told the agents about their ordeal and identified Manuel's blue SUV.
Agents arrested Manuel, who said she picked up the migrants and took them to her residence in Cowlic, court records show. Homeland Security Investigations agents searched the room where the migrants were held and found the door broken, as the captives had described.
Manuel pleaded guilty on March 17 to a felony human smuggling conspiracy charge. Per the plea agreement, Manuel will be sentenced to five years in prison. Ruelas Peña also was charged with human smuggling. He has pleaded not guilty.
Erik Breitzke, assistant special agent in charge for the HSI office in Sells, said he could not comment on the case while the prosecution unfolds, but he spoke in general terms about migrants taken hostage in Southern Arizona.
While crossing the border, migrants can get lost or separated from their guide when pursued by Border Patrol agents or other law enforcement, Breitzke said.
"They're looking for civilization. They're looking for food and water, for people to help them," he said. But they can appear to hostage takers as "walking bags of money."
In a second recent incident, a Honduran man and a Mexican man were walking through the desert near Sells when they were "intercepted by the same armed 'mafia' men who had demanded the payment in order for them to cross into the United States," according to a criminal complaint filed April 14 in federal court.
They were forced into a car and taken to a gray cinderblock house in Sells where they were tied to a chair and held at gunpoint inside the back room of the house until they paid $1,000 each.
The captives told authorities they were held by three men and a woman until one of the captives called his family and arranged their release through three $500 money orders that were cashed in Tucson, records show.
The captives were taken to a bus stop and their captors watched them get on a shuttle to Tucson. One of their captors took photos of them and threatened to kill their families if they reported the kidnapping to law enforcement, records show.
In a lineup, the captives identified Melissa Marquez, 30, and Rosa Marquez Duran, 26, as two of their captors. Marquez and Marquez Duran each were charged with one count of kidnapping and one count of transporting illegal immigrants.
The kidnapping charges against Marquez and Marquez Duran were dismissed April 27, court records show. The charges of transporting illegal immigrants will proceed. 
Kidnapping migrants often is a crime of opportunity committed by people who are not professional smugglers, Breitzke said. Professionals depend on word-of-mouth referrals and must do a good job for their clients.
Authorities find out about kidnapping cases only when the illegal immigrants report the incidents, which means kidnappings near the border likely occur more often than authorities know, Breitzke said.
"Aliens break laws, but in some ways that makes them more prone to victimization," he said.
Illegal immigrants may hesitate to contact law enforcement, which makes it easier for them to be extorted, he said. They are "close to their goal" and their relatives will pay to get them to their destination.
After escaping their captors, migrants sometimes flag down police, Brietzke said, or they will decide to go back home.
"Sometimes they will just continue on their journey," he said.
In the past 10 years, migrants have faced more kidnapping, violence, and extortion as border enforcement ramped up, said Maryada Vallet, spokeswoman for Tucson-based humanitarian aid group No More Deaths.
With tougher border enforcement, the cost of crossing rose and cartels moved into the business of smuggling migrants, leading to harsher treatment of migrants, she said.
With the increase in Central Americans arriving at the border in recent years, volunteers heard stories from migrants about kidnappings south of the border, Vallet said.
Mexican news reports regularly show migrants, particularly those from Central America, reporting kidnappings as they travel toward the United States.
In November, a woman from the Mexican state of Nayarit broke her ankle when she leaped from a second-story window in Nogales, Sonora, to escape kidnappers who demanded $30,000 for her release, the Hermosillo newspaper El Imparcial reported.