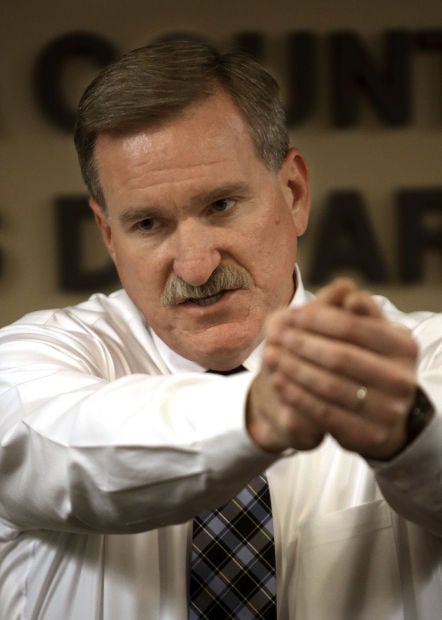 The Border Patrol agent who killed a man during a foot chase last week fired nine times, striking him once in the head, officials said Monday.
Jose Luis Arambula, 31, was chased by two Border Patrol agents for about a quarter of a mile, across a wash and into pecan groves, when the agents said he turned towards them and appeared to be "punching out." That's a term Lt. David Theel, commander of the Pima County Sheriff's Department violent crimes and targeted offenders sector, described as a motion someone would make if they were holding a gun with two hands.
No weapon was found on Arambula or in the area, Theel said Monday during a news conference.
This is the second Border Patrol fatal shooting of the year in the Tucson sector. Shootings involving Border Patrol agents in the nation have resulted in nearly 30 deaths since 2010.
Usually the FBI investigates these cases, but the local sheriff's departments are leading the investigation this year in both Cochise and Pima counties. The Cochise County Attorney's Office recently declined to prosecute.
Dan Musser, a special agent with the FBI in Phoenix, said it is not unusual for the local jurisdiction to investigate a case involving death. Some exceptions include a violation of federal law such as an assault on a federal officer or if additional assistance is requested by the local agency.
Last week's incident began at about 2:30 p.m. Friday, when the two agents tried to pull over a suspicious vehicle on Interstate 19 near Green Valley. The car chase went onto the course at the Torres Blancas Golf Club east of the interstate, where Arambula ran away.
Border Patrol agent Daniel Marquez fired from about 60 to 70 feet from Arambula, who was pronounced dead at the scene, Theel said. After the shooting officers found 21 bales of marijuana weighing nearly 500 pounds inside the vehicle he drove.
Arambula was arrested on April 4 during a similar incident where he tried to flee away from Pima County deputies. In that case, officers found 300 pounds of marijuana in his vehicle. He was charged with eight felony counts, including transportation of marijuana for sale, and released on a $2,500-bond on May 1, court documents show.
On the same day of the shooting, U.S. Customs and Border Protection after months of public pressure released its revised use-of-force policy.
The revised handbook requires additional training in the use of safe tactics and institutes the requirement to carry less-lethal devices. Theel didn't know if the agent had a less-than lethal device on him.
The Pima County Sheriff's department identified the agent involved in the shooting over the weekend, an unusual move that has been criticized by the local Border Patrol union.
Art del Cueto, president of the local union, said doing so puts the agent's life at risk. That's because agents deal with large criminal organizations, he said.
Theel said the department is treating this homicide investigation as it would any officer-involved shooting. "We thought it would be appropriate for the department to act consistent and impartial based on our past actions," he said.