ALTAR, Sonora - Illegal drugs. Illegal migration. In Altar, there's no separating the two.
The small cattle-ranching town about 170 miles southwest of Tucson became a hotbed for human smuggling in the late 1990s and early 2000s. Town families who knew the land well would lead migrants through the desert for a fee. If someone couldn't keep up, a guide would stay behind to help.
That all changed by 2004, when the drug cartels saw the money-making potential and took over. Fewer people cross now, but those who do face greater risks.
They can't make a move without the cartel's blessing. They may be held captive if they can't meet smugglers' demands for more money. If they fall behind during the journey, they're left to die in the desert.
Prisciliano Peraza, the town's priest, is the bridge between the two worlds.
In the small town of Rayón, where he used to minister, a typical confession was from someone feeling bad about keeping a calf that had wandered onto his property. "It happened 10 years ago," the guilt-ridden confessor would say, "but it's still bothering me."
In Altar, women ask Peraza to say Mass for their husbands or sons who have been killed by the cartels. They beg him to help find their loved ones who have been taken and never heard from again.
Between baptizing babies and visiting shut-ins, Peraza counsels would-be border crossers on the dangers that await them.
He negotiates with cartels to release migrants who are extorted or kidnapped.
Where outsiders see a tired laborer beside a broken-down truck, Peraza sees a drug smuggler watching who is coming and going.
Every person, good or bad, in this small town is his parishioner. But on every migrant he sees the face of the suffering Jesus Christ.
His biggest challenge - his biggest dream - is to reach a point where migrants are at last treated with dignity.
Peraza's mother, who lives in neighboring Caborca, asks him why he does what he does, why he puts himself in danger every day.
"But she knows my mission is to serve, and my mission is above anything else," he says. "Even fear."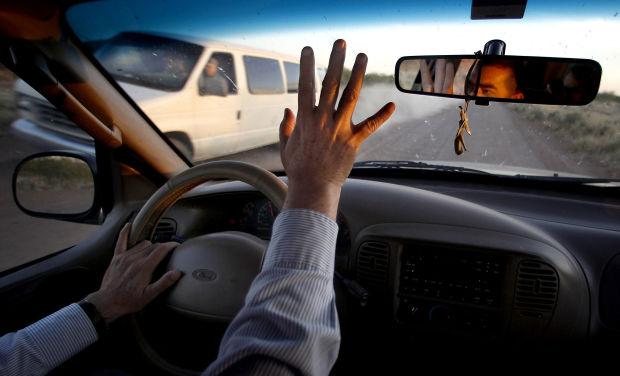 Behind the wheel of his dual-cab Ford F-150, the stocky, 45-year-old priest looks like any rancher in the area as he stops at a military checkpoint on his way to the border town of Sasabe - the final staging area for migrants.
"I'm the town's priest," he tells a young soldier in desert camouflage. "How are things going?"
The soldier looks him over - cowboy hat, boots and gold-framed Ray-Ban sunglasses but no clerical collar- and waves him through.
"If I don't come back in two hours," he jokes, "go look for me."
He kids around a lot, but a hard truth is always present: The region is fully controlled by the cartels.
During Altar's most violent days, when gangs competed for drug and migration routes, it was common to find bodies in the town's outskirts. Even now, kidnappings in the region happen every week.
There are only two routes from Altar to Sasabe - each one controlled by a different group of the Sinaloa Cartel, which has claimed most of the drug corridors between Mexico and Arizona, including the Tohono O'odham Nation and the Nogales route.
Today, Peraza takes visitors to see La Ruta de las Misiones, or the missions' route.
Halfway there, he slows down. Stay quiet, he warns his passengers. Say 'yes' when I do.
He stops next to a pickup truck with its hood open and asks if everything is OK.
"It was overheating, and the battery died," a man tells him.
Peraza has no battery cables. But if he runs into anyone on the road, he says, he'll send help.
The men wave at each other and Peraza drives on.
That truck was fine, Peraza confides. The man is a falcon, a lookout appointed by the cartel to keep track of who comes to Sasabe, and who leaves.
Business is slow today because of a military and state police presence. A few days earlier authorities confiscated more than a ton of marijuana southeast of town, but no one was arrested, the newspaper El Imparcial reported.
Migrants travel the other road, a bumpier but shorter 60-mile ride straight to the border. They pay $10 for a van drive from Altar. But in order to pass through Sasabe, they also have to pay the mafia - as the cartels are known - $200 to $500, depending where they are from. That's in addition to several thousand dollars for the smuggler's fee, which averages about $3,500 but might include more than one attempt to cross.
Because business is slow, they've dropped the price to $2,500.
"They are very generous," Peraza says wryly.
Even if they come up with the money, migrants face the constant threat of kidnapping, extortion and rape. Women often start their journey by stocking up on birth control to prevent pregnancy in case of an attack.
Twelve percent of migrants surveyed in a recent University of Arizona study said they were robbed by bandits during their last crossing. Seven percent said they had been kidnapped - almost half of them by their coyote or guide.
But sometimes, staying in Altar is as dangerous as leaving.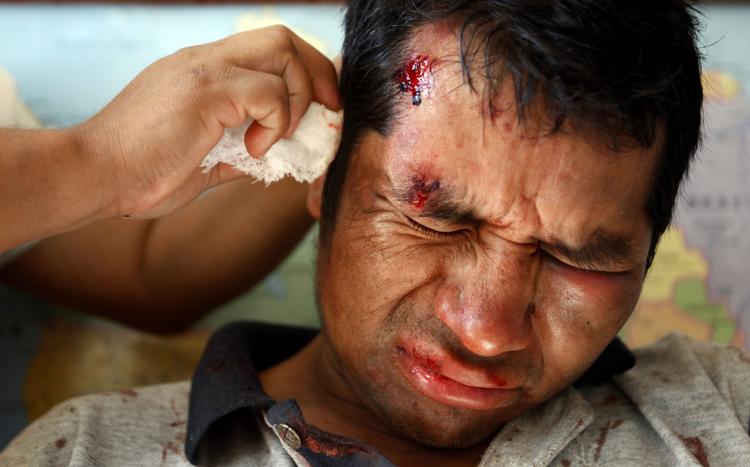 Shortly after sunup one recent morning, Mercedes Aguilar arrives at the migrant shelter in Altar to help fix breakfast. At the entrance, covered in blood, is a migrant from Durango.
The nun offers José Bolaños a shower and a warm meal, then she starts to clean his wounds.
"They left him for dead," she says as she scrubs dried blood from his face. "But luckily someone picked him up and brought him here."
"Did they hit your head with a rock or something?" she asks Bolaños as she pushes back his dark hair to see the extent of his injuries.
Half of his face is swollen, his nose is bleeding and he has several open cuts on his head.
Bolaños arrived in Altar two months ago but has failed repeatedly to cross into the United States.
He started selling popsicles to earn some money, but the mafia demanded $2,000. He couldn't pay.
"He's lucky," Aguilar says, "A lot of times they pick them up, and you never see them again."
Bolaños begged for his life, he says, and was spared. Although bloody and bruised, he's happy.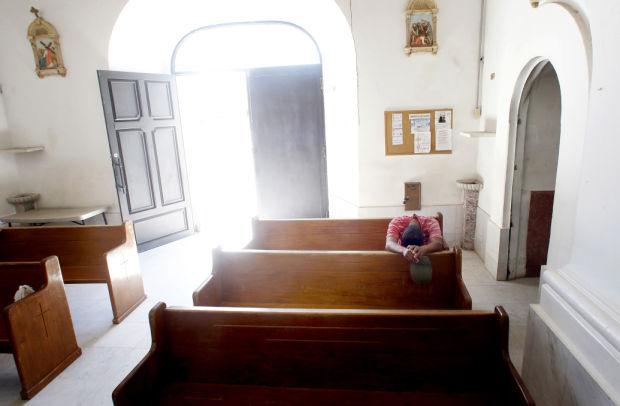 Peraza spends a good chunk of his time negotiating with the cartels on behalf of migrants.
At first, he tried to approach the drug lords as a Christian, reasoning about what was right and wrong.
They just laughed at him.
Now there's an unwritten agreement between him and the cartels.
While bargaining, he emphasizes that he won't benefit from releasing the migrant: He simply wants to send him or her home.
He tells them he would do the same if it was their son or brother being held captive.
It helps if there's a baptism or first communion coming up involving someone in a cartel member's family. Criminals or not, they want the priest's blessing.
"They don't want to jinx themselves," Peraza says.
Still, he knows when to talk and when to keep quiet.
"They say the fish dies by its mouth," he says as he waves at the vans loaded with migrants heading for the border, plumes of dust behind them.
"That's why people don't talk. That's why we don't talk."
After taking Bolaños to the public hospital to get stitches, Peraza wants to talk with whomever is responsible.
He needs to figure out if the migrant's safety can be negotiated - or if it's time for Bolaños to give up and go home.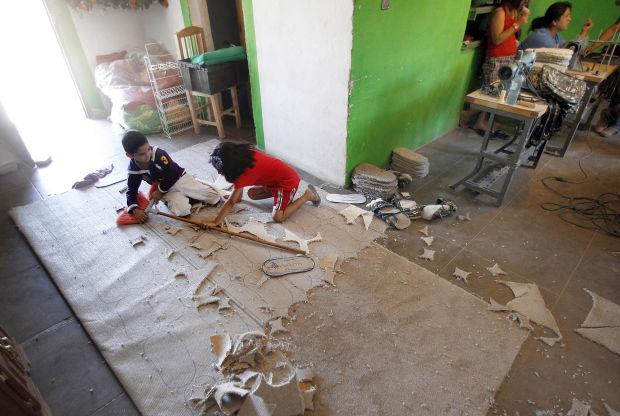 Designated crossing points
Before, people would cross into Arizona wherever and whenever. Now they can do so only at points designated by the cartels.
More fear the mafia more than they fear the 4,000 Border Patrol agents guarding the Tucson Sector, immigrants and residents in Altar say.
Peraza estimates that 70 percent of those who cross through town have their human rights violated in one way or another. As soon as migrants arrive in Altar they lose their freedom: Smugglers tell them where to go, how to dress and when to leave.
Some of the boarding houses have locks on the outside to keep would-be crossers from leaving to find another smuggler.
In Sasabe, Peraza stops by a pink house with a large, fenced front patio. Townspeople call it Big Brother, named after the television show in which a bunch of strangers live in a house, their every move caught on camera.
"I'm the town's priest," he tells about 100 migrants crammed in the patio, waiting for instructions on when to cross.
"I came to bless you," he tells them as they gather around.
He takes off his cowboy hat and holds it with his left hand while making the sign of the cross with his right.
"May God be with you, always," he says.
"And with your spirit," the group answers in unison.
"May God guide you, my children," he tells them, "as long as you don't die in the desert."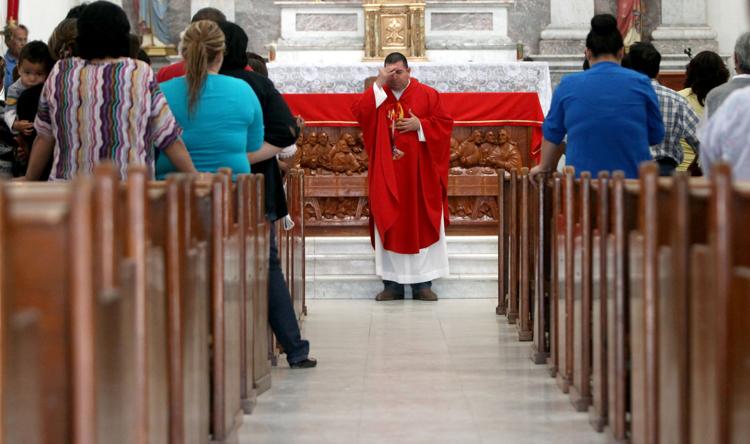 Padre Priscy, as the locals know him, has become part of this town.
His strong ties to the community have kept him - and hundreds of immigrants - alive. That and the Blackberry smartphone he keeps strapped to his belt.
In his office behind Our Lady of Guadalupe Church are photos of migrants and the children of Altar, which he considers to be like his nieces and nephews.
There's not a household in town where he's not offered a cup of coffee.
He has access to places other people don't, and he's worked hard to win the trust that makes that possible.
"If you know there's a forbidden place," he says, "you have to be very astute to learn how to get there."
He got there by getting to know each family, remembering their birthdays, visiting when someone is sick and counseling them during rough times.
He can point out every boarding house for migrants waiting to cross the border, even those that aren't labeled. He knows the vehicles used by the cartels.
Peraza describes himself as a cowboy and a lover of horses. But he's known since he was a boy that he wanted to be a priest.
After high school, he attended the local university to study law, a popular degree back then.
He thought his calling to the priesthood was just a phase. But it was always in the back of his mind. Eventually he dropped out of college and enrolled in the seminary.
In his first assignment as priest in Rayón, a small town near Hermosillo, Peraza saw migrants from southern Mexico working in the vineyards and squash fields. He watched as they were cheated out of promised pay, housed in deplorable conditions, shuttled to work in dangerous vehicles and forced to work to exhaustion.
"Migration is a form of slavery," he says.
He began to advise them. You have rights, he would tell them. Even when you're far from home.
After seven years in Rayón, the church asked Peraza to move to Altar and take the place of the priest there, who was moving on.
Why go to a town that exists largely to support illegal activity?
He was the only priest who didn't say no, he jokes.
He quickly discovered Altar was different than his last assignment. "Before I knew it I was already at sea and had to figure out my own way to navigate it," he said.
Faced with so much impunity, he couldn't keep his arms crossed.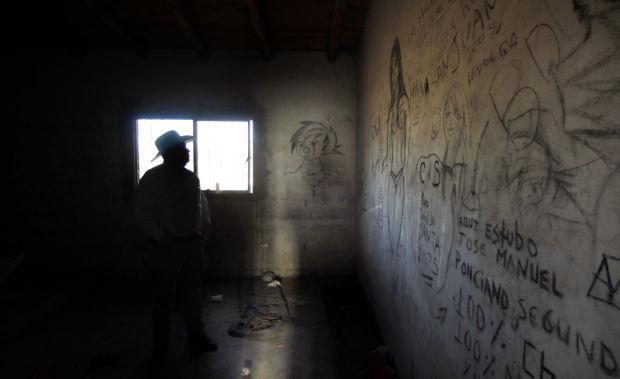 Almost 10 years later, Peraza negotiates for someone's release a couple of times a week instead of almost daily. He doesn't hear of as many cases of extortion as before.
Fewer stores cater to illegal border crossers with camouflage sweat pants, backpacks and locally made slippers that go over shoes to avoid leaving footprints in the desert. Fewer vans line up along the sidewalk.
Instead of 200 flophouses for crossers there are roughly 90.
But the danger is still here.
And Peraza's dream is to change that.
He wants the residents of Altar and neighboring towns to have their lives back - the lives they led before the cartels took over. He wants a return to a time when "what moved man and woman was the heart and not self-interest."
The dirt road to Sasabe, where cotton once grew, is now spotted with small concrete shrines in honor of the departed.
If there was a shrine for every migrant who has died while crossing the border, Peraza says, the desert would be covered with them, stacked one on top of the other.
Each time he hears of another dead migrant, it infuriates him.
"I think to myself, nothing we are doing is helping … what use is any of it if people keep dying?"
He calls migrant deaths a sin that cries out to heaven.
His concern is so intense it can look something like an obsession. Even in his church he hangs posters that warn migrants about the dangers of crossing the desert through Sasabe and how sexual exploitation is a crime.
Sometimes his parishioners tell him they are going to become migrants just so they can get his attention.
When he slips his vestments over his buttoned-down shirt and jeans and stands facing his parishioners, his voice is solemn. He reminds them of their migrant brothers and sisters - and how important it is to lend them a hand and not turn a blind eye.
As he always does, he ends Mass with "A Prayer for my Migrant Brothers," written by the Catholic Diocese in Hermosillo.
"Have mercy and protect them as they are mistreated and humiliated in their journey, they are seen by most as dangerous and marginalized for being foreigners …
"Take care of their families until they return home, not with a broken heart but with their dreams realized.