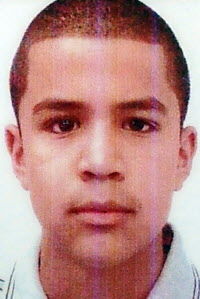 The first official statement made by a Border Patrol agent after a 2012 cross-border fatal shooting in Nogales might not be heard in federal court, documents show.
But other statements reportedly made by Agent Lonnie Ray Swartz to a supervisor, such as "I shot and there's someone dead in Mexico," were entered into the public record July 22 in U.S. District Court in Tucson, marking the first public account of the shooting from the agent's perspective.
A grand jury indicted Swartz on a second-degree murder charge in September for shooting through gaps in the border fence and killing 16-year-old Jose Antonio Elena Rodriguez in October 2012.
An autopsy report by the government of Sonora, Mexico, showed Elena Rodriguez was struck as many as 10 times.
Border Patrol officials said the shooting occurred during a rock-throwing incident. U.S. Customs and Border Protection has refused to release footage of the shooting taken by a border surveillance camera.
Swartz's trial is to begin in November, and defense lawyer Sean Chapman made a motion, which is not available through the online federal court record system, to suppress Swartz's answers to the "eight questions" asked of agents following a serious use-of-force incident.
Chapman argued Swartz's comments were coerced because Swartz feared he would be fired if he did not answer them, federal prosecutors said in their response to Chapman's motion.
Prosecutors cited grand jury testimony from Supervisory Border Patrol Agent Leo Cruz Mendez, who oversaw the aftermath of the shooting, to show Cruz Mendez's questions were "akin to Swartz being asked to make a routine report" so his superiors could respond to the incident.
Cruz Mendez testified he was surprised to see Swartz at the border fence because Swartz was assigned to the Dennis DeConcini Port of Entry that night. The port of entry is located several hundred yards from the site of the shooting.
Cruz Mendez approached Swartz and told him "everything was OK." He then asked Swartz if he "was OK," and Swartz began to vomit.
Cruz Mendez said prior to asking the "eight questions," Swartz told him "they were throwing rocks," "they hit the (K-9) dog," and "I shot and there's someone dead in Mexico."
Cruz Mendez asked Swartz how many shots he fired, and Swartz said he could not recall. Swartz handed over his P2000 semi-automatic pistol and an empty magazine.
Prosecutors said Chapman did not object to those comments being used at trial.
Instead, his objection dealt solely with the responses to the "eight questions."
With regard to those responses, prosecutors said Cruz Mendez's testimony shows Swartz knew the questions were routine and not meant to incriminate him.
Cruz Mendez testified that he told Swartz "Hey, per policy, I have to ask you eight questions. These eight questions are not incriminatory. They're just basic — basic information that I need so I can pass on to my supervisors. ...
"I assured him he wasn't in trouble. I go, 'You're not in trouble.'"
A ruling has not been made on whether Swartz's answers can be used at trial.
In a separate motion July 1, Chapman argued the murder charge should be dismissed because the shooting did not take place on federal land and therefore was not within federal jurisdiction.
In their July 22 response, prosecutors said the shooting occurred on the Roosevelt Easement, a 60-foot wide strip of federal land that runs along the border fence in Nogales.