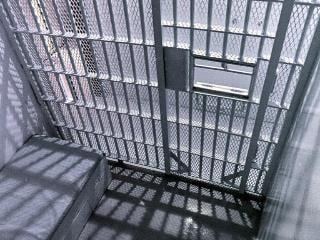 A medium-security unit of a prison in Douglas was on lockdown Monday after a huge brawl that injured 17 inmates, with one group of prisoners trying to escape attackers by climbing up onto a building and throwing objects down at them.
Six corrections officers who were assaulted in the melee suffered minor wounds.
Movement was restricted and visits were canceled at the state prison complex's 950-inmate Mohave Unit in Douglas while authorities investigate the disturbance that began Sunday night in the prison yard, Arizona Corrections Department spokesman Andrew Wilder said. The inmates in that unit are housed in dormitories rather than cells and under normal conditions are allowed free access to the yard into the evening, he said.
Some of the unit's yard privileges will probably be suspended to some extent, with the inmates confined to housing at least initially and meals brought to them, said Wilder. "It's likely to be lockdown for them through the week, suspended programing" for things such as job training and substance abuse counseling and no visits by family and friends allowed, he said.
The Cochise County Sheriff's Office said it was alerted to the riot before 8 p.m. Sunday and the U.S. Border Patrol and the Arizona Department of Public Safety were called in to help secure the perimeter around the complex.
Wilder said the fighting lasted about an hour before corrections officials brought the situation under control. "It was just between the inmates, no breach of the perimeter, no attempt to escape," he said.
The prison complex is located about three miles north of the Mexico border, but Wilder said its proximity to the international line was not an added concern.
The corrections department spokesman said preliminary information indicates the disturbance began when a group of Hispanic inmates and a group of non-Hispanic whites began fighting in the unit's yard. Prisoners from one side clambered up onto a building to escape their attackers and began hurling things down at them. He said it was not immediately clear if the dispute was racially motivated.
"The reasons behind the fighting remain under investigation," said Wilder.
In the coming days, he said, authorities will attempt to identify the instigators and reassign them to other units if deemed necessary.
Wilder said the most seriously wounded prisoner was airlifted to a hospital for treatment of head injuries while the other injured inmates were taken to hospitals by ground ambulances and helicopters for evaluation and treatment. He said 12 of the injured inmates were back at the prison by midday Monday.
The six officers who were hurt suffered only minor injuries and were treated at the prison, Wilder said.