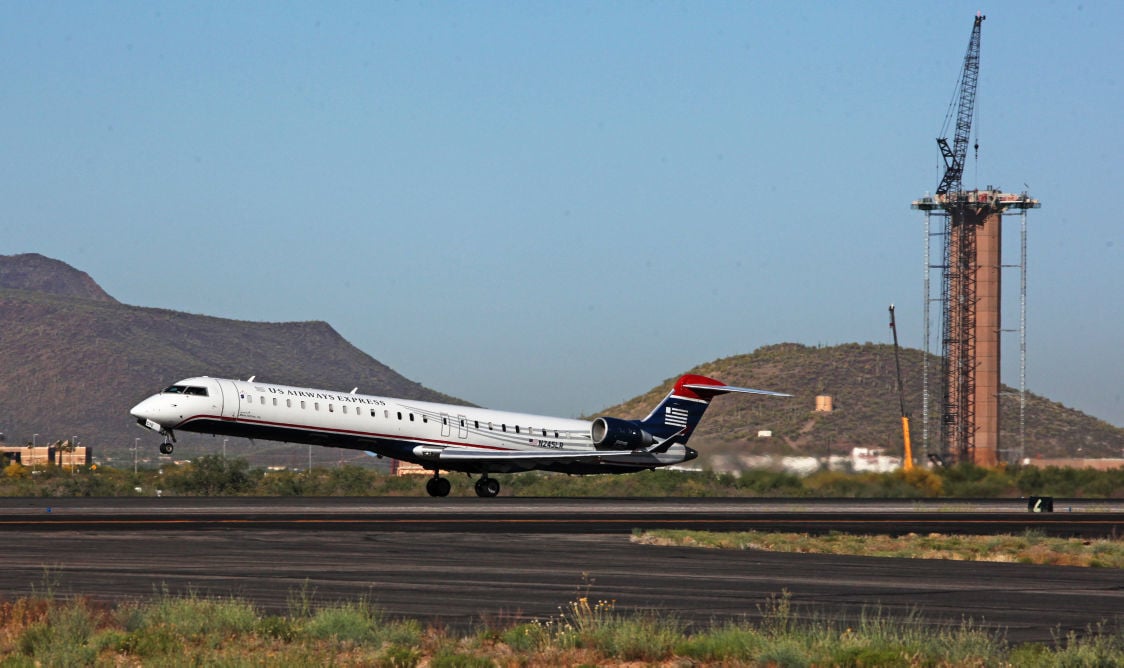 Six months after a federal agent seized cash from a man at the Tucson airport, authorities agreed to shell out $10,000 to settle the man's lawsuit.
The lawsuit stemmed from the Sept. 22 seizure of $41,870 in cash from Majdi Khaleq at the Tucson International Airport. Khaleq was not charged with a crime, but his money was taken into custody by the Counter Narcotics Alliance, a multi-agency task force.
Court documents show Khaleq told the Drug Enforcement Administration agent who seized the money that he owned a convenience store and check-cashing business in Denver, as well as a wholesale electronics distributorship in California. He said he came to Tucson to buy a smoke shop on South 12th Avenue, but the deal fell through.
Khaleq challenged the seizure in Pima County Superior Court and the Pima County Attorney's Office withdrew its request for forfeiture of the money in November.
Superior Court Judge Gus Aragon then ordered the county attorney's office to "do everything it can to expedite the return of this money," according to court documents.
The money was returned within days of the hearing. Khaleq's attorney Michael Harwin then asked the judge on Dec. 18 to award $20,000 in attorney's fees to Khaleq.
The state seized the funds, filed a notice of impending forfeiture, and indicated that the state would file a forfeiture complaint "even after release of funds," Harwin wrote.
"In short, the State initiated and persisted in maintaining forfeiture proceedings, without substantial justification, causing Petitioner to engage in protracted efforts," Harwin wrote.
In the judge's March 14 order, the County Attorney's Office agreed to pay Khaleq $2,500. The Pima County/Tucson Metropolitan Counter Narcotics Alliance agreed to pay the remaining $7,500.
When asked if he was satisfied with the outcome of the case, Harwin said: "Mr. Khaleq placed his trust in the advocacy system and the system worked."
In the March 10 stipulation of dismissal, Deputy County Attorney Edward Russo said the $10,000 is not an admission that Khaleq has shown he is "entitled to an award of attorney's fees, costs or damages in this action."
Russo did not say in the court filing why the County Attorney's Office agreed to pay the $10,000.
Chief Criminal Deputy County Attorney Kellie Johnson said the settlement was similar to a plea deal in a criminal case.
"We recognized that there was a risk we would be assessed the $20,000 they were asking for," Johnson said. For its part, the defense was "worried they would not get anything."
In the March 10 filing, Russo wrote that numerous issues in the case "remain in dispute," such as the legal authority for awarding attorneys fees in forfeiture cases, interpretation of state law, and "various aspects of the State's request to admit a certain law enforcement report into evidence ... ."
Russo had asked Aragon on Jan. 11 if the county could present a report on a federal investigation purportedly of Khaleq without Khaleq or his attorney present.
Aragon denied the request, saying that to grant the request "would violate basic concepts of fairness and due process."
Authorities paying anything beyond the return of the seized cash is uncommon, said Tucson-based defense attorney and former U.S. Attorney A. Bates Butler.
"You would hope they would get the money back they spent on attorney fees, but it rarely happens," Butler said.
"I'm just glad they stood up for what's right," he said of Khaleq.
Khaleq does not have a record of money laundering or drug trafficking offenses in Arizona or Colorado, court records show.
When asked if the County Attorney's Office still suspected Khaleq of being involved in illicit activity, Johnson said: "Yes, we don't just take money from people for no reason."
Authorities have not charged Khaleq with a crime as of March 16.