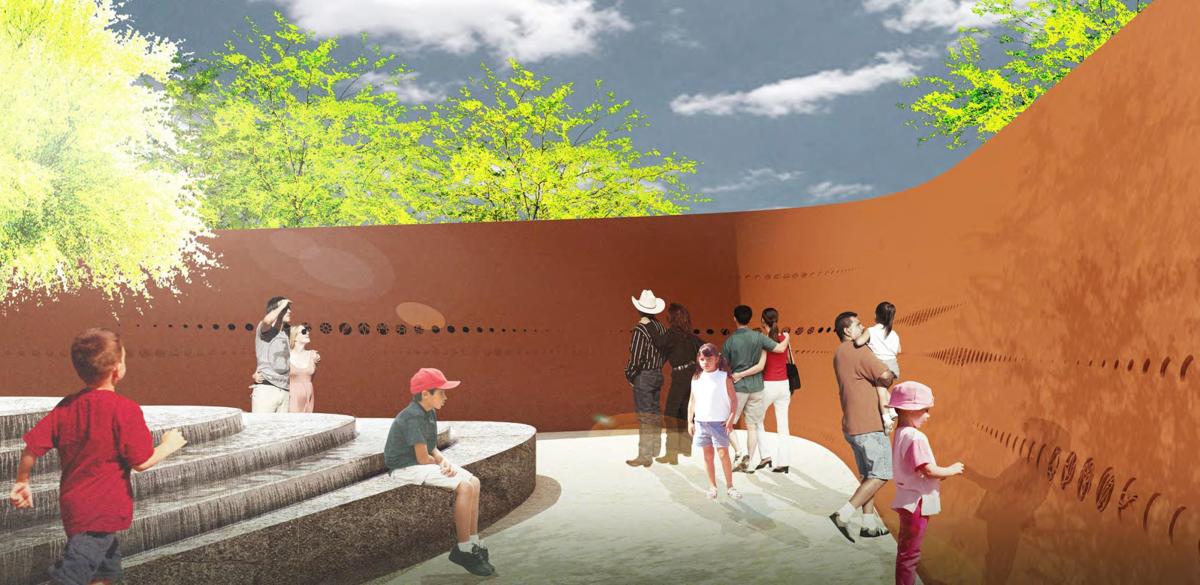 The public is invited to the ninth-anniversary ceremony marking the Jan. 8, 2011, mass shooting in which six people were killed and 13 wounded while attending a constituents event hosted by then-U.S. Rep. Gabrielle Giffords.
The commemoration is Wednesday with a bell-ringing adjacent to the downtown construction site where a permanent memorial is being built in El Presidio Park on the west side of the Old Pima County Courthouse.
The observance takes place in the courthouse courtyard at 115 N. Church Ave., and access to the event will be from Church on the east-side of the building. Those attending the 10 a.m. event include survivors, relatives of those who were killed and Tucson's January 8th Memorial Foundation board members.
"At 10:10 a.m. — the moment of the 2011 shooting — a multi-agency honor guard will ring a bell for each of those who were killed and those who were shot and survived," said Mark Kimble, a foundation spokesman.
"The honor guard will include members from local fire departments who provided medical aid at the shooting," Kimble said.
In 2012, Jared Lee Loughner was sentenced to life in federal prison without the possibility of parole for the shooting.
The shooting occurred when Giffords was meeting with her constituents at a Congress on Your Corner event.
The memorial is dedicated to the victims and first responders of the shooting.
Those killed were Christina-Taylor Green, Dorothy Morris, U.S. District Judge John Roll, Phyllis Schneck, Dorwan Stoddard and Gabe Zimmerman.
Those injured were Giffords, who was shot in the head and resigned in 2012 to focus on her recovery, and Ron Barber, Giffords' district director and later elected to succeed her in Congress. Barber is president of the memorial foundation.
Others wounded were Bill Badger, Ken Dorushka, Eric Fuller, Randy Gardner, Suzi Hileman, George Morris, Mary Reed, Pam Simon, Mavanell "Mavy" Stoddard, Jim Tucker and Kenneth Veeder.
Among the speakers are Barber, Tucson Mayor Regina Romero and Pima County Administrator Chuck Huckelberry.
The foundation raised $2.7 million in pledges and also received in-kind contributions to pay for construction of the memorial, said Kimble.
The original goal was $4 million.
Pima County is managing ongoing construction and the memorial is expected to officially open and be dedicated on Jan. 8, 2021, the 10th anniversary of the tragedy, Kimble said.
Contact reporter Carmen Duarte at cduarte@tucson.com or 573-4104. On Twitter: @cduartestar
Get local news delivered to your inbox!
Subscribe to our Daily Headlines newsletter.