Just days after a chaplain of infantry arrived on the Western Front on Sept. 21, 1918, he was thrust into the trench warfare of the Meuse-Argonne offensive.
As he shipped out the month before from the United States to France, 1st Lt. Chaplain Elzer DesJardins Tetreau wrote: "Life is simple and clear cut today — my family, my country, my God."
On Thursday, Sept. 26, at 4 a.m., the former Michigan farm boy moved into the thick of the battle with his unit, the 3rd Battalion, 109th Infantry, 28th Division.
In the ensuing hours that day, he consoled a dying man, buried two men, and finally slept in what he called "Jerry's dugout" — Jerry was a nickname Allied soldiers had for the Germans — from 10 p.m. until 1 a.m.
Through diary notes and pen sketches, Tetreau described the actions of his unit, his men and himself during the 47 days of the Battle of the Meuse-Argonne, the deadliest of the war for the Americans, who lost more than 26,000 men there.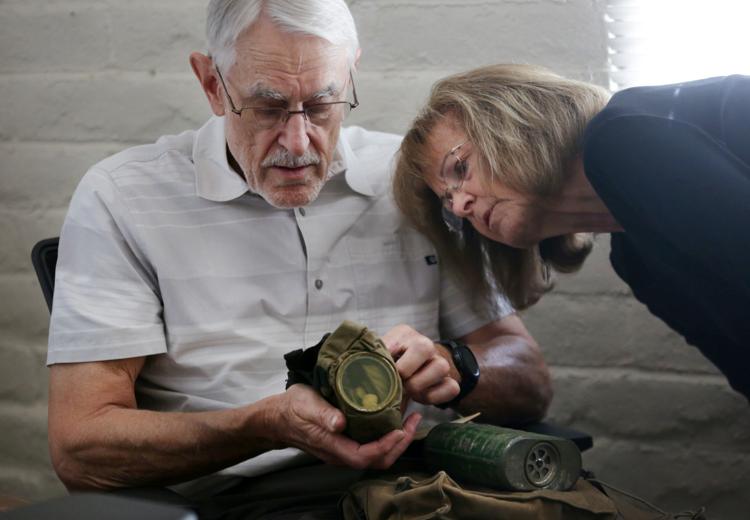 "I found that the orderly burial of men in battle was even more important than I anticipated," he wrote. "My ideas took shape after 14 days in action in the Argonne Forest. Always, and I remember no exceptions, one or more of the burial detail came and stood beside me while often a 'buddy' was there, also standing uncovered.
"Once in the orchard at Apremont, 'Jerry' came over by plane and machine-gunned my burial detail while at work. Fortunately, every man obeyed my order to remain perfectly still and not to look up. Not a man was touched. 'Jerry' circled and came back, this time down the street past the first aid station. A lone soldier, standing and gazing upward at the plane 'got his' right in the middle of the forehead.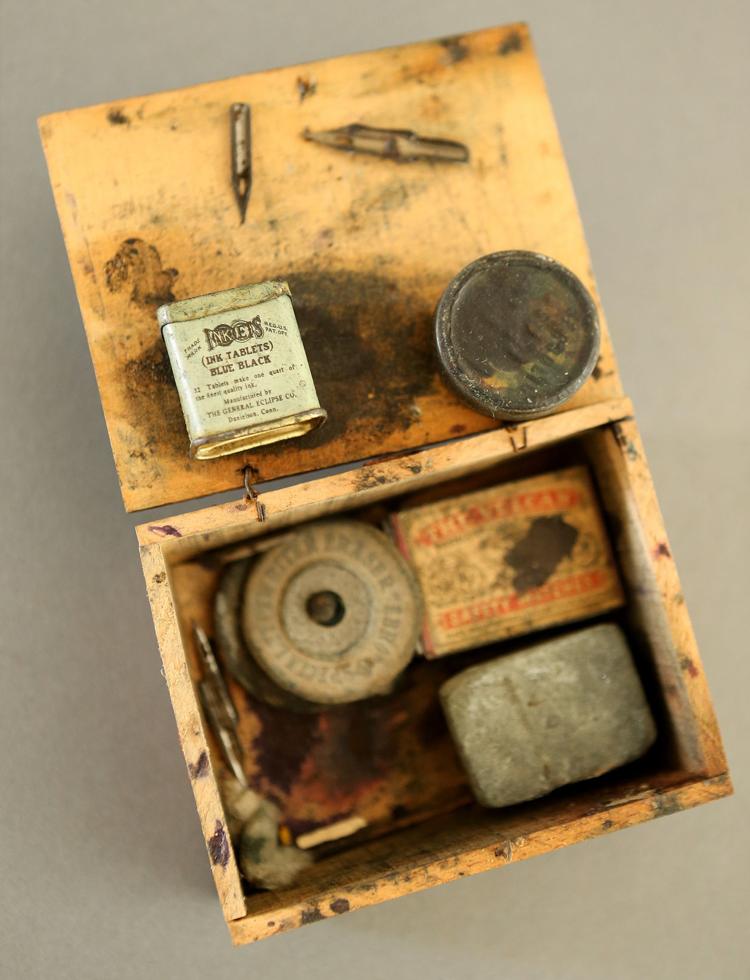 "For just a few rods over the embankment, bayonet fighting a few minutes before had determined, for the night at least, the location of our front line. In the light of a flare, one of the men caught sight of the chaplain's insignia on my shoulder straps. Suddenly, something dawned on him. 'Don't you even carry a stick?' he asked. I was obliged to admit that I did not. 'Hell,' said he, 'I guess we stay if you can.'"
One of his longer and more touching sketches was of a Lt. Otto, commander of Strong Point No. 1, guarding part of the Apremont salient during the days of late September and early October when the Battle of Meusse-Argonne was at its fiercest.
Tetreau had just moved on from a discussion with Otto about his infant son and young wife in Philadelphia when the chaplain was approached by one of Otto's men: "There isn't a mark on him, but our lieutenant is dead!"
Otto died of shell shock, a not uncommon occurrence in war, Tetreau wrote.
Among his papers, the chaplain kept a copy of his letter to Otto's wife and hers to him.
He wrote this about the final hours of the battle and the war:
"After midnight the 10th, our Battalion was put on alert. Heard there were orders to attack. That meant going through the wire. Delay. About nine o'clock saw Captain Noble suddenly throw his arms around shoulders of a runner who had just come up.
"'The Armistice has been signed! Firing ceases at 11:00.' Attack called off. Hold steady until 11:00. Just before 11:00, every gun broke loose on both sides. Suddenly, dead calm. Then one shot, a few seconds late, then quiet again.
"No shouting! No laughter! Just tired men eating, drinking coffee, and sleeping if duties permitted."
One hundred years after that Armistice of Nov. 11, 1918, two of Tetreau's grandchildren — Jeanne Ellen "Pixi" Lewis and Dirck Schou, both of Tucson — are sharing his diary entries in his honor.
Lewis is a retired museum archivist and Virginia homebuilder. Schou is CEO and president of Tucson's H.F. Coors dinnerware factory.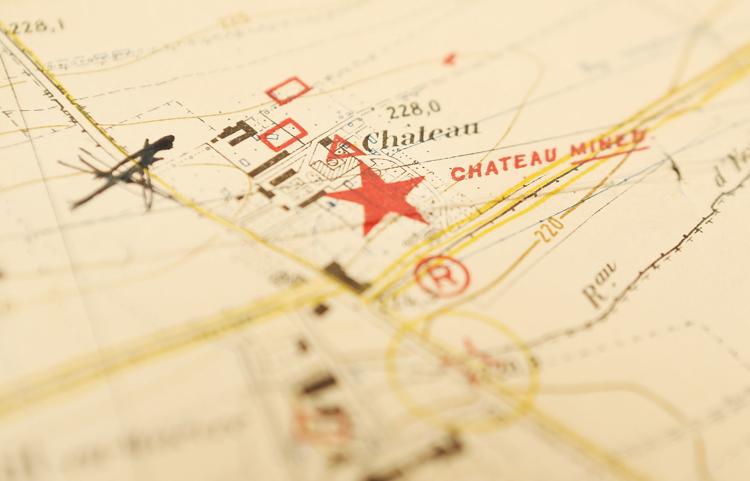 "Our memories of this remarkable man, our grandfather, are entirely word of mouth from his wife, Elsie, our grandmother, and his daughter, Beatrice, our mother," as well as from his documents the family has preserved, Lewis and Schou wrote to the Arizona Daily Star. "He died while we were still infants."
After the war, Tetreau earned his Ph.D. at the University of Wisconsin and became a prominent professor of rural sociology and an authority on Arizona rural life, according to his obituary in the Tucson Citizen.
He died in a car crash in Holbrook in 1945, at age 60, while on his way to an academic meeting in Denver.
His service in the First World War had remained immensely important to him through the years, his UA obituary noted.
"He kept up a personal correspondence with the men of his division until his death."
"In the light of a flare, one of the men caught site of the chaplain's insignia on my shoulder straps.
Suddenly, something dawned on him. 'Don't you even carry a stick?' he asked.
I was obliged to admit that I did not. 'Hell,' said he. 'I guess we stay if you can.'" From the writings of 1st Lt. Chaplain Elzer DesJardin Tetreau