From a strict, geographic point of view, the center of Tucson sits in an unremarkable patch of desert surrounded by a fence topped with barbed wire.
The spot is strictly off limits, and for good reason. If you try to go there, you can expect to get tackled by military police officers or run over by a fighter jet.
As you might imagine, the geographic center of the city limits hasn't always been sealed away inside Davis-Monthan Air Force Base.
When Tucson first incorporated in 1877, its centroid — as mathematicians and geographers know it — was right where you would expect it to be: smack in the heart of downtown.
Since then, Tucson's mathematical midpoint has gradually meandered east and south, as the city gobbled up more and more land.
Seven miles now separate where the center point started and where it is today. Its arching, sometimes erratic journey over the past 142 years tells the story of the city.
"It makes very vivid the direction of annexation," said local author and historian John Warnock as he looked at the Star's map charting the center point's path. "If you thought about it for a second, it might occur to you that that's the direction annexation would go in, because that's the direction it can go in."
Blocked to the west by the Santa Cruz River and the Tucson Mountains, the city simply followed the path of least resistance.
"It's not surprising that it would go north and then out east and south," said Warnock, a professor emeritus of English at the University of Arizona whose new history book, "Tucson: A Drama in Time," is set for release in October. "There's just a whole lot of space out there to be taken, isn't there."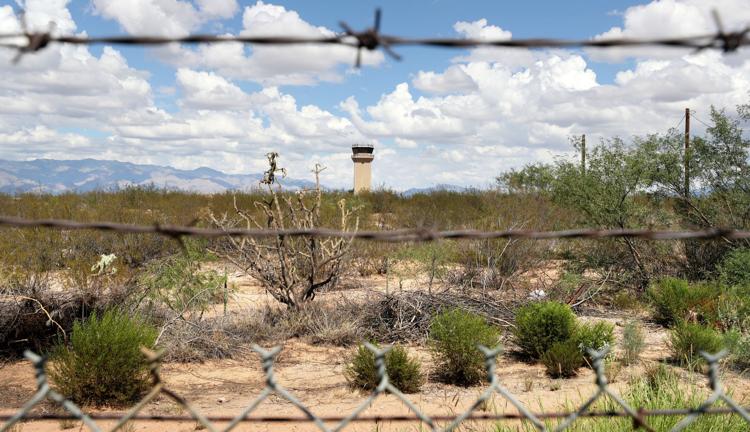 Annexing the 'regions of the unknown'
What is surprising, even for an Old Pueblo native like him, is how far the city's midpoint has traveled. Warnock knew it had moved and in what general direction; he had no idea it had made it all the way to the Air Force base.
"I think a lot of people would be very surprised that that's the geographic center of the town," he said.
Geographer Laura Sharp works as a GIS data analyst for the city, a job that requires her to "look at maps of Tucson all day."
She said the average resident can be forgiven for not knowing exactly where the city limits are, let alone some obscure center point. The boundaries are jig-sawed and confusing, and they seem to change every year. "We have to redo our maps every time an annexation happens," Sharp said.
She has trouble keeping it all straight herself, in part because so much of the land added to the city in the last two decades has been largely vacant — or seemingly so, at least.
"Everything south of Monthan, I'm just like, 'That's a big, vacant polygon with nothing in it.' I have a map in my cubicle, and it's just empty down there," Sharp said. "In my mind, I lop that off."
That helps explain her slightly off-center midpoint prediction: "I would have put the center of Tucson somewhere around, like, Craycroft and Speedway," she said.
Chris Lukinbeal is the director of Geographic Information System Technology Programs at the University of Arizona, where he researches the intersection of cultural geography with cartography, landscape, media and visual culture.
He agreed with Sharp, and not just because he's married to her.
"It's interesting to me that the centroid is on (Davis-Monthan Air Force Base), because it would seem to me that a majority of your readers — and the city's population in general — would live north of that point," Lukinbeal said in an email.
To a lot of people, himself included, that leaves a huge portion of the city's south side as "terra incognita," he said. "On older maps, this is where we would add dragons and other oddities expressing the regions of the unknown."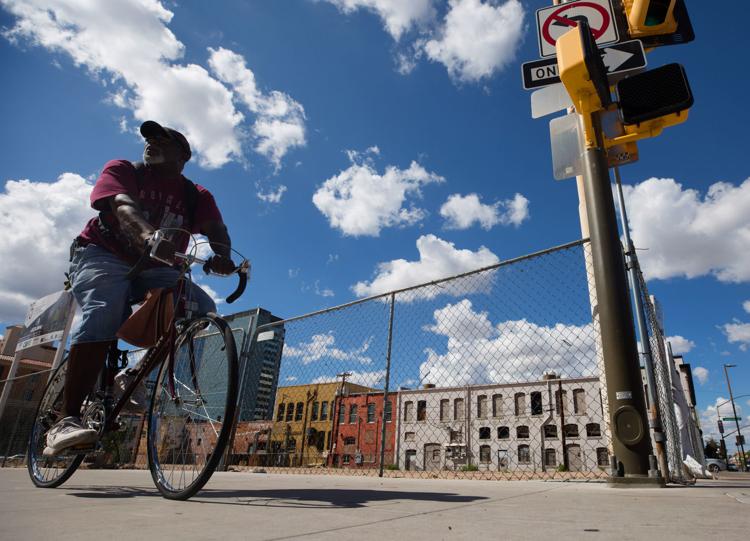 Tucson's original center point also fenced off
The Star used the city's own geographic data and public records for more than 250 annexations dating to the early 1900s to plot the center point for every year since incorporation.
The map coordinates that form the backbone of this story were found by calculating the average intersection of the many angles in the city's now-ragged outline.
By comparison, Tucson's original geographic center is much easier to calculate.
At the time of incorporation in 1877, with a population of less than 7,000, the city formed a 2-square-mile rectangle hemmed in by present-day Main and First Avenues, Speedway and 22nd Street.
With a map and a ruler, you can locate the center point of that area with two strokes of a pencil. The diagonal lines intersect downtown in an empty lot between Broadway and Congress, right behind the old Chicago Music Store.
At the moment, though, you're not welcome there, either.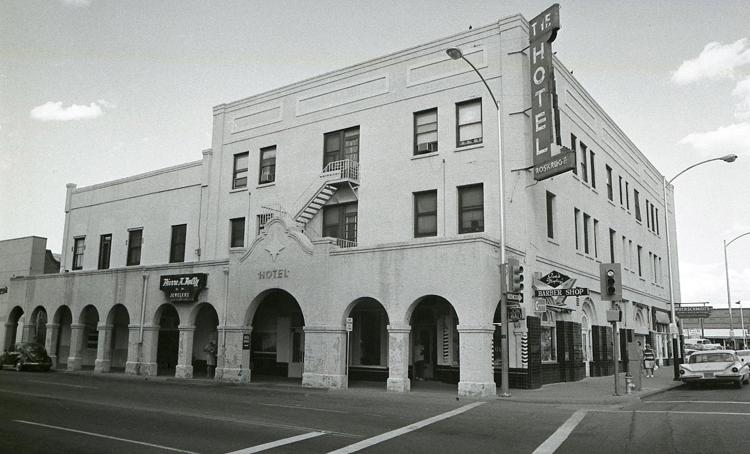 A construction fence surrounds the county-owned parcel, where a developer with $1.1 million in Rio Nuevo tax incentives plans to break ground before the end of the year on a high-rise retail and office building.
David Volk from the commercial real estate firm CBRE is the leasing agent for the project, which is slated for completion by the end of 2021. As soon as he heard about the property's 142-year-old claim to fame, he knew just how to spin it to promote the new building.
"We would like this to become the new center point of development in downtown," Volk said with a wink you could practically hear over the phone.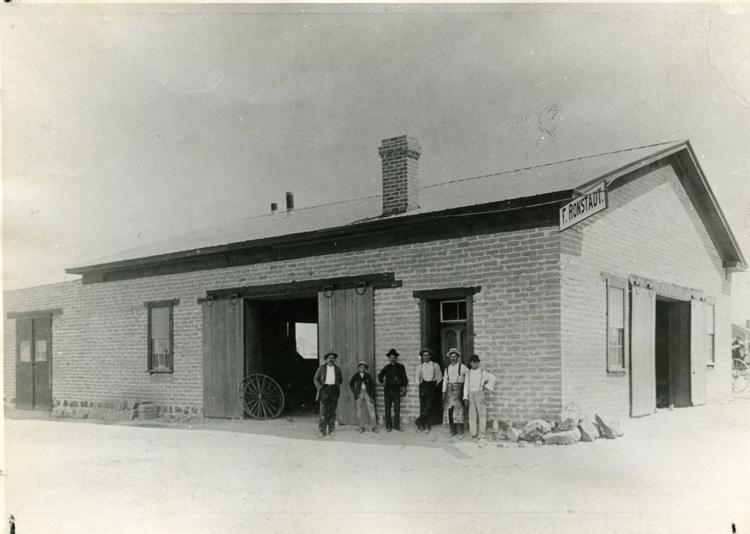 City's boom puts midpoint in motion
Tucson's midpoint didn't budge until 1905, when it shifted slightly to the south with the first addition of new land to the city's original rectangle.
The first big center point shift came in 1919, when the city limits pushed out to present-day Campbell Avenue, moving the middle eastward by about a third of a mile.
From there, it crept northeast, pausing briefly on the campus of Tucson High School in 1940 and '41 before drifting east along Seventh Street for the next 10 years or so.
A flurry of major annexations during Tucson's post-World War II boom in the mid 1950s sent the center point leapfrogging eastward across Campbell Avenue, culminating at the end of that decade with two of the largest jumps in the city's history.
"The population was just increasing like crazy after the war, and that's no doubt why the big annexations happened at that time," Warnock said.
Driving that boom was the popularization of a crucial accessory for desert living, he said. "Because of air conditioning, the city was exploding."
Between 1958 and 1959, Tucson's center point shifted northeast by just over a mile — from the grounds of St. Ambrose Catholic Church near Broadway and Tucson Boulevard to the parking lot of the Christian Science church at Country Club and Fifth Street — as the city ballooned east to Kolb and north to Roger.
That Christian Science church has since been leveled to make way for a 12-home gated community, which seems like its own kind of parable about urban growth and development.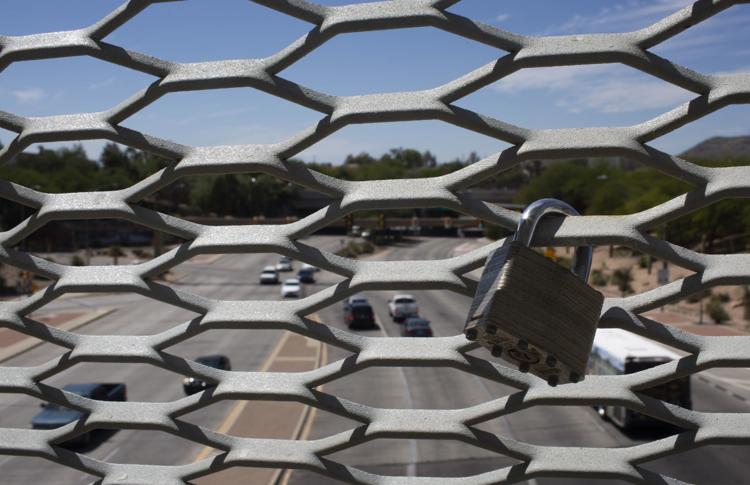 Air Force base has been central to Tucson since 1988
The 1959 center point marks the farthest north the middle of the city has ventured, at least so far.
The following year, Tucson's geographic center ping-ponged a mile and a half to the southwest again, chasing the city limits as they marched to the airport, across the Santa Cruz River and over Sentinel Peak.
The center generally moved east and south from there. It found its way inside the fence at Davis-Monthan for the first time in 1988, about two years after the city annexed the Air Force base and surrounding property.
It jumped south to the middle of the base in 1995, with a large annexation south of Interstate 10 near the Pima County Fairgrounds, then jumped south again in 2000 — a whopping 1.3-mile leap that carried the center point to the opposite side of the runways at Davis-Monthan.
It's been creeping southwest toward the base's fence line ever since.
By way of comparison, the geographic center point for the greater Tucson metropolitan area presently sits somewhere near Oracle and Prince, depending on which neighborhoods and suburbs you decide to include outside the city limits. (We opted to include Catalina almost to Oracle Junction but leave out Sahuarita, because we wanted to capture the contiguous metro area. Also someone on staff is allergic to pecans.)
If you prefer to think of the community in terms of people instead of polygons, our calculations place the median population center of the incorporated city just over the left field fence in foul territory at Hi Corbett Field. When you add in those same suburbs, the population center of the larger metro area lands at the University of Arizona, directly on top of Steward Observatory.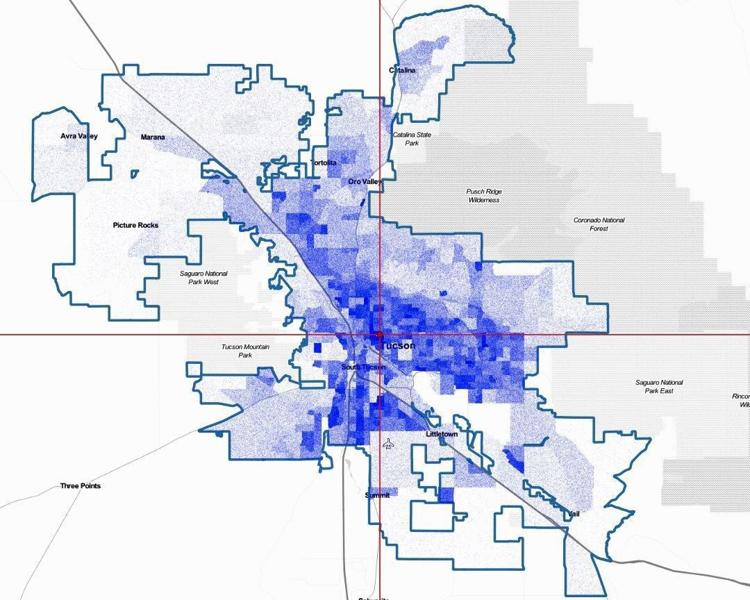 Man in the middle: "Everybody leaves us alone out here"
Even to those closest to it, the city's geographic center doesn't feel like the middle of anywhere.
Lt. Casey Bell, a spokeswoman for Davis-Monthan, said the patch of desert in question is used as a buffer around the flight line and not much else.
The nearest private property is about 500 feet away, in an industrial area bordered by the base and dotted with towing companies, wrecking yards and a machine shop called Mountain States Inc.
"I'll be damned," said shop owner Dave Phillips, when he learned how close his business is to the center of it all. "It doesn't really make a difference to me," he added with a laugh.
Mountain States specializes in the fabrication and repair of specialty parts, mostly for mines and printing presses. The family-owned business opened in Tucson in 1974 and moved to its current location in 1980, in part because the property wasn't close to anything.
Technically, Phillips' shop isn't even in the city of Tucson. It sits on an island of unincorporated Pima County land, where traffic is light and government services are few and far between. He said he and his neighbors take turns grading the dirt road in front of their businesses.
"I'm kind of glad to be in the county to be honest with you. Everybody leaves us alone out here," Phillips said. "We don't get a lot of visitors, and that's all right with me."
The distance between center and the heart
Of course, there are limits to what you can learn about a place based on some math-driven point on a map.
The difference between the heart of a city and its geographic center can be like the difference between your own heart and your belly button.
One is the pulsing engine that keeps you alive.
The other just sits there, marking a spot in your midsection that points in the direction you are headed while suggesting something about where you came from.
So where can Tucson's heart be found if not at its geographic center?
For most people, "it's centered around work and home," Lukinbeal said. "Perceptually, it's reflective of where you live."
In other words, it's a matter of opinion.
Ask 10 people, get 10 different answers. El Presidio Park. Old Main. St. Augustine Cathedral. Maybe Sentinel Peak. Maybe midcourt at McKale.
That's the beauty of taking the math out of the equation, Warnock said. There are no wrong answers. Everyone gets to be right.
"I think Tucson is a place where you can go in different directions and find different hearts beating," he said. "It's the many-hearted city. I think it has many hearts."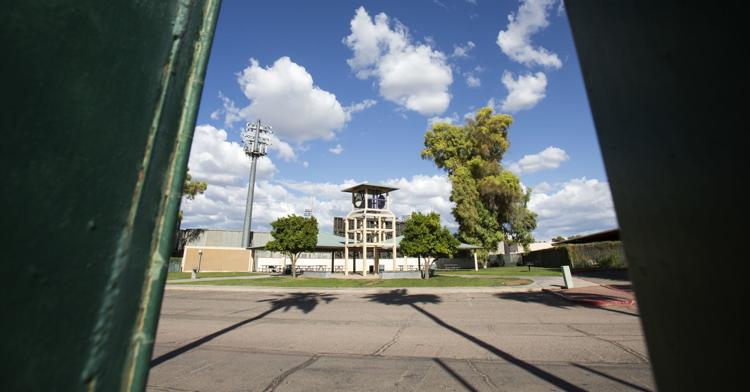 Contact reporter Henry Brean at hbrean@tucson.com or 520-573 4283. On Twitter: @RefriedBrean
Contact reporter Alex Devoid at adevoid@tucson.com or 573-4417. On Twitter: @DevoidAlex
Get local news delivered to your inbox!
Subscribe to our Daily Headlines newsletter.