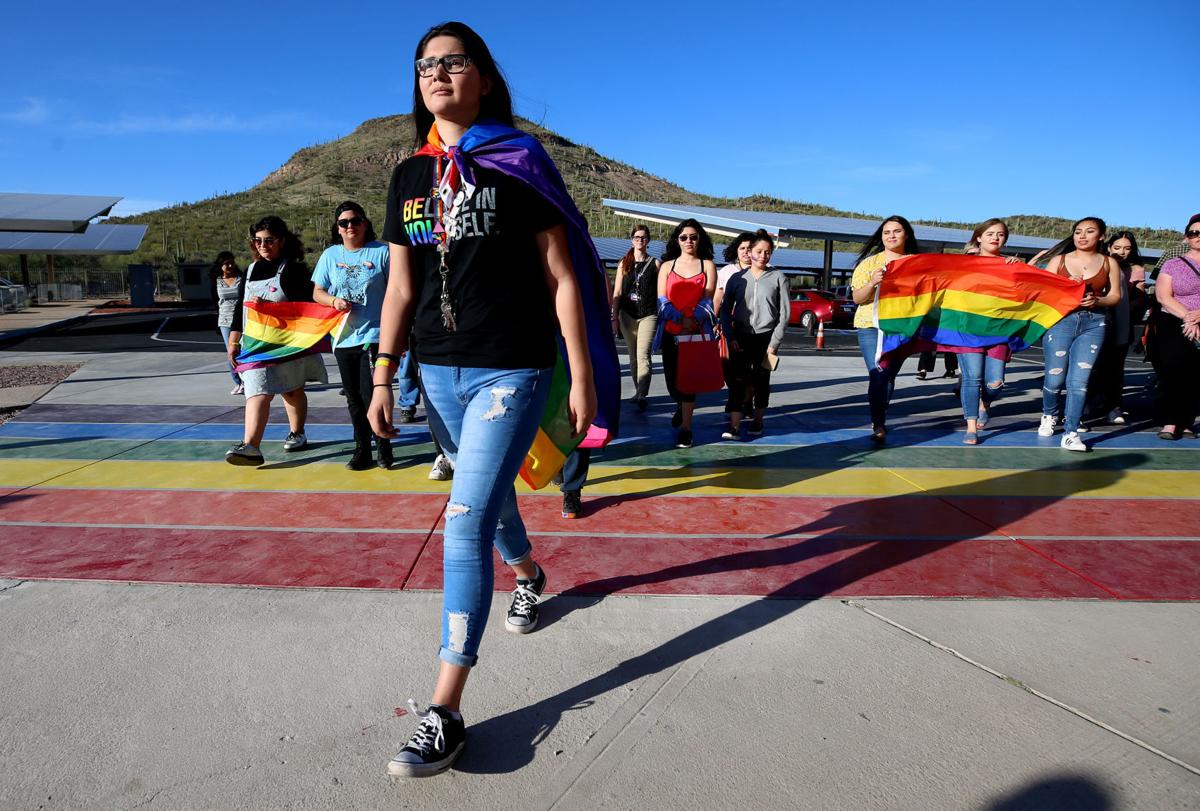 Yuvennice Caraveo, a 17-year-old senior at Cholla High School, wanted to "make a mark" before she graduated and left the school she loves, she told Cholla social worker and Gay Straight Alliance sponsor Craig Wunderlich.
Caraveo, the GSA president and a passionate activist for the LGBTQ+ community, wanted to push her school to show its support for and solidarity with queer-identifying students, she told Wunderlich.
She wanted every student who walked onto the Cholla campus to know that regardless of who they were or how they identified, they would find kinship and acceptance at school.
So she lobbied the Cholla administration to let her and her friends from the GSA paint a crosswalk in the front of the school in a rainbow of colors — like the one on Fourth Avenue and Sixth Street.
And after a little compromising with Cholla Principal Frank Armenta and his team of administrators, the students got the green light to paint a portion of the sidewalk near the school's entrance. (Painting the actual crosswalk was not possible because of construction, according to Cholla Assistant Principal Cathy Adams.)
"Everybody's going to interpret the rainbow a different way," Caraveo told the Star Tuesday night at Cholla's first LGBTQ+ Visibility Day and Rainbow Walk. "It's going to mean something for everybody."
Caraveo had the idea to commemorate the sidewalk and the message behind it through a community-wide event honoring queer-identifying youth shortly after the school OK'd the painting itself. She imagined the event having a solidarity walk, music, games, food and even a drag show.
Those dreams all became a reality Tuesday. Nearly 100 students, staff and community members descended on the southwest side campus at 2001 W. Starr Pass Blvd. to celebrate the sidewalk, which students spent four hours painting last Saturday.
A group of Cholla students played live music as attendees got rainbows, hearts and queer pride flags painted on their cheeks. GSA members handed out rainbow bracelets and socialized with guests to make sure they felt included.
Later in the evening, the group — largely comprised of students — filed into Cholla's small theater for a drag show. Three professional queens and one king performed.
Two students also performed in drag for the first times in their lives. Students threw dollar bills at one of them, Louis Lening, as he lip-synced and danced to Jessie J's "Price Tag" under his drag alias, Candy.
"You better work that, sis!" one student yelled during Lening's performance. His peers cheered him on with screams and claps.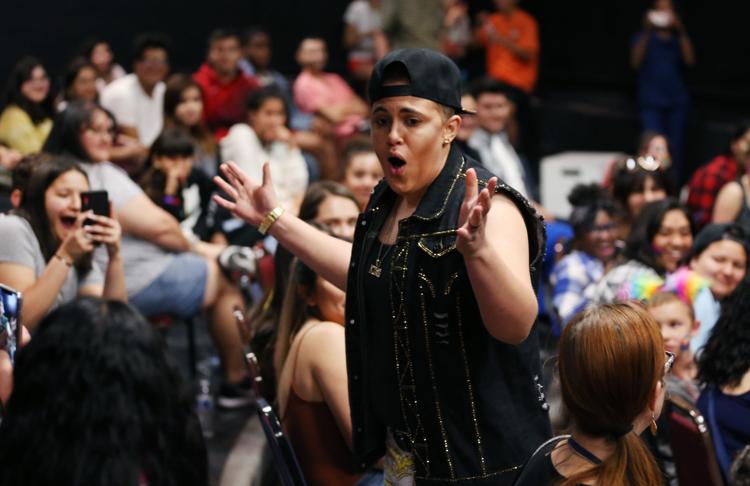 The Cholla community has been generally supportive of the GSA and queer students in her four years there, according to Caraveo, who identifies as a lesbian.
When Caraveo first proposed the rainbow sidewalk to administrators, she and the GSA polled the student body to see if it was also something they wanted on their campus. On the first day of polling, the group gathered 200 signatures in support of the project.
"That alone made me happy," Caraveo said.
Armenta said supporting students' needs is at the core of Cholla's mission, and allowing them to paint the sidewalk as a symbol of solidarity fulfilled that mission.
"As a public school, we have to support them," Armenta said. "This is what they wanted. … I'm very proud of them."
Sidian Watson, the vice president of the GSA and a junior at Cholla, said she will continue Caraveo's work and make sure the school hosts another Visibility Day next year.
"We're strong as a community," Watson, who identifies as bisexual, said. "We're not just a school community, we're an actual community."
Caraveo is moving to Flagstaff this fall to study gender and women's studies at Northern Arizona University. There, she plans to continue her work advocating and organizing for LGBTQ+ Arizonans.
She hopes the significance of the rainbow sidewalk she spearheaded lasts long after she leaves Cholla.
"I just want people to be educated and to be included. … I want them to be OK with who they are."