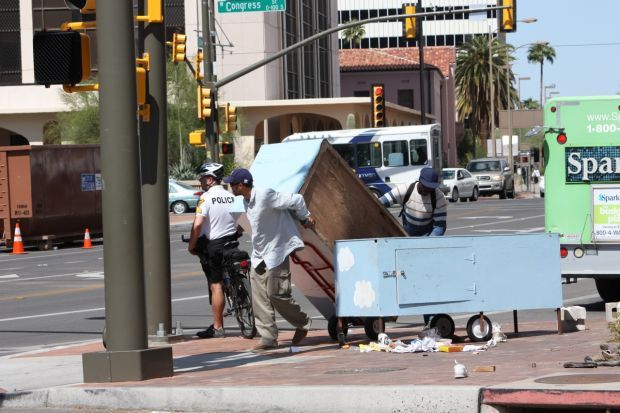 The oblong wooden boxes and personal possessions that lined the sidewalks in downtown Tucson as part of a homeless "safe park" are long gone, and now the remaining issues of the associated legal fight are over.
Tucson has settled a lawsuit with homeless advocates John Cooper and Jon McLane, giving them each $20,000 with no admission of fault from the city.
McLane and Cooper filed the lawsuit in federal court seeking millions in damages for harassment from city officials over the homeless encampment that sprang up at the downtown park.
The men won a court injunction that prevented the city from enforcing a policy of what possessions a person could have while sitting on the sidewalks in downtown.
The city eventually closed the park where homeless camp activists had set up sleeping pods in October 2013. And an appeals court in May 2016 sided with the city allowing it to enforce the rules over possessions.
The city also approved a new law, that went into effect in January 2016, which defined what possession may be kept on the sidewalk.
As part of the agreement with the two men, City Attorney Mike Rankin was required to talk with the Tucson police chief to identify how McLane and Cooper could provide input on homeless issues.
McLane said he is happy with the settlement but said the safe park movement isn't over — and more importantly, the people behind it are still actively involved with helping the homeless find shelter.
McLane said he recently became a nondenominational priest and is setting up a church to help homeless veterans.