Visitors to Tucson's Planned Parenthood clinic will soon have an advocate at their side, working to block out negative interactions with protesters that sometimes occur outside of the midtown property.
Starting in a few weeks, patients arriving for appointments on certain days at Tucson's Planned Parenthood will be greeted in the parking lot by a volunteer wearing a pink or rainbow-colored vest.
The volunteers are part of the AZ Clinic Defense Force, which escorts patients from their vehicles to the office, not engaging with protesters who regularly stake out Planned Parenthood properties and encouraging patients and their companions to avoid engaging, as well.
Already in place in the Phoenix area, the program is expanding to Tucson with potential escorts undergoing training now.
The Arizona Clinic Defense Force was started in 2016 by Serena Knierim, who was recently hired as organizing manager for Planned Parenthood of Arizona. Knierim said she decided to start the force after she was struck in the face with a baby doll covered in fake blood as she walked from her car into an abortion clinic. She went ahead with her abortion and says she vowed to find a way to prevent what happened to her from happening to other women.
During the force's first few years, Knierim worked a full-time job and volunteered between 40 and 60 hours a week, training and working as an escort herself at Planned Parenthood clinics in Tempe and Glendale. The main purpose of escorts, she said, is to provide safe, calm passage and shield patients from recording and amplified speech by protesters.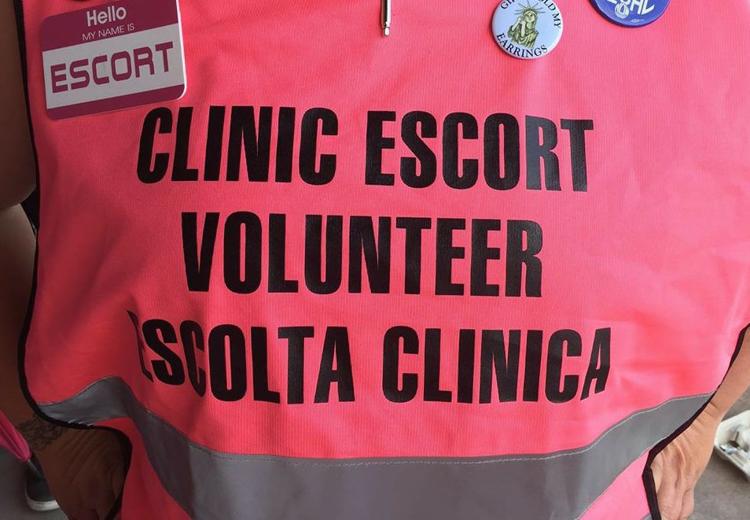 "We provide a safe and sane space from the time they arrive to when they leave," Knierim said.
Tucson hasn't seen an escalation in protest action and there was no precipitating event that brought the force to town. Knierim said that Planned Parenthood's physician, Dr. William Richardson, had been asking the group to head down south for quite some time, but that hadn't been feasible until Knierim was hired by Planned Parenthood.
With the addition of the Tucson clinic, force volunteers will escort an estimated 16,000 patients over the next year.
Being a clinic escort is not a pro-choice or pro-life issue, Knierim said.
"This is unbiased and neutral, this is about protecting the safety and sanity of someone going to the (expletive) doctor," she told the group of escorts-in-training.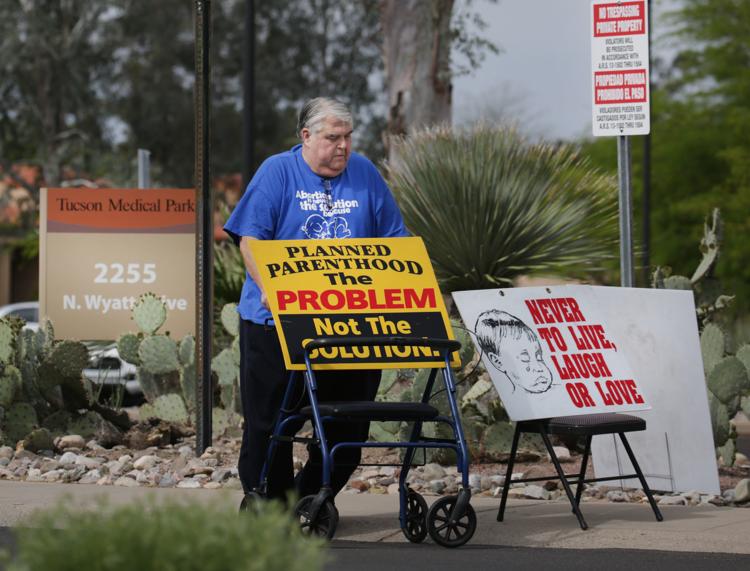 RULES OF ENGAGEMENT
During a recent Tucson training session, escorts were advised on how to conduct themselves and on potential pitfalls.
They were told not to use each other's name while at the clinic or while out as a group. Instead, they should refer to each other as "escort."
"When they know your name, they use it to taunt, terrorize and intimidate you," Knierim told the group before showing a several-minute-long video of a protester shouting into a loudspeaker, addressing Knierim by her first name and repeatedly calling her a murderer.
"My name is known to insulate all of you," Knierim said after the video. "I'm the one they pray for."
Since starting the force, Knierim has had knives wrapped in rosaries left on her doorstep and at one point had a $15,000 bounty put on her hands by a pro-life group called Operation Save America. She's been "doxxed" by protesters, who've published her address, phone number and the name of her child's school, and other escorts have also been doxxed after protesters obtained their license-plate information.
Guidelines about interacting with law enforcement were also discussed, and Knierim went over the pros and cons of filing charges against a protester should one become physical. The upside is that the volunteer would be able to get a protective order, but in filing a police report, the volunteer's name and personal information are also entered into a public record.
The Tucson Police Department has been informed that the escort program is starting in Tucson, with conversations occurring about laws and rights of escorts and clinic employees.
The protesters in Tucson are different than those in Tempe and Glendale, and the activity level is a "little sleepier," Knierim said.
A Planned Parenthood staffer attending the training laid out the schedule for a typical week: On Monday, the "ladies that pray" are outside; on Tuesday at 4 p.m., there's a person who stands outside and preaches. On Thursday, there are typically two women staked out in lawn chairs, and on Friday, a larger group of protesters gathers on the sidewalk with signs and a loudspeaker.
Knierim made it clear that not all protesters are bad, asking the group if anyone has ever been to a protest for a cause they believe in. Protesters who follow laws concerning not blocking sidewalks, staying off private property and keeping clear of traffic and the roadways are, for the most part "good," she said, despite the fact that they're there to harass patients, Knierim said.
In Tempe and Glendale, protesters block driveways and streets, post signs and approach patients on private property, typically trying to steer them to nearby crisis pregnancy centers, which often pose as abortion clinics to mislead women about their reproductive-health-care options, Knierim said.
In a Google search for abortion in Tucson, Planned Parenthood — the city's only provider — is at the bottom of the list. The first listings are all crisis pregnancy centers, one of which is located a block away from Planned Parenthood.
Hands of Hope crisis pregnancy center is affiliated with the group Pro Love Tucson, whose members try to pass along informational packets disguised as presents to patients on their way into Planned Parenthood. If a patient takes one, escorts are supposed to stop them, as the materials can be triggering to other patients in the waiting room, Knierim said.
"When they're lying to people and trying to get them into free clinics, or yelling, we need to intervene," Knierim said. "Our love needs to be super palpable (to patients.)"
Escorts are also trained to be on the lookout for coercion by those accompanying patients to the clinic, either discouraging or pushing the patient into getting an abortion. Knierim told the group to watch for leading or defensive behavior and to pay attention to body language. If coercion is suspected, an escort is advised to tell a staff member privately about the concern.
"Every person who comes through our doors should be a free human being," Knierim said.
On Friday morning, about a dozen protesters gathered near the sidewalks to the east and south of Planned Parenthood's Tucson clinic.
Some held signs, others sat in lawn chairs, asking to talk to patients as they walked into the clinic. Most didn't engage, but one patient yelled at the group before going inside.
Bill Kuder said he and his wife have been coming to Planned Parenthood on Fridays for the last five or six years.
While many of the protesters seemed to know one another, Kuder said they're not part of any one particular group.
"We basically come here to encourage the ladies not to get abortions, but to encourage them to go to places like Hands of Hope," Kuder said, adding that Hands of Hope provides free counseling and ultrasounds, and encourages patients to not get abortions by providing support.
Several other organizations in town distribute free baby clothes and diapers, free prenatal care and adoption services, Kuder said.
"We just have a heart to do this," Kuder said. "We're just trying to give the ladies alternatives and different directions to go."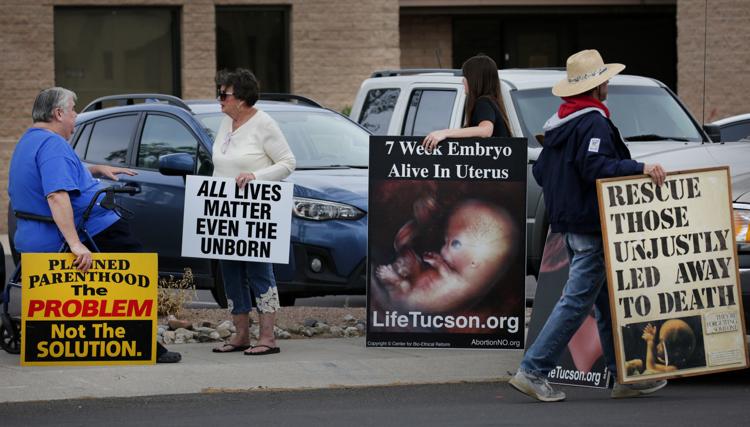 BUILDING THE PROGRAM, TRUST
Ideally, 10 to 12 escorts will be working each shift, which will likely last 2½ hours. But even in Glendale, where there are 100 volunteer escorts, staffing shifts can be difficult, Knierim said.
Since it will take time to train enough Tucson volunteers to fill those shifts, trained escorts will be traveling from Tempe and Glendale to help fill the gaps, as well as guide the Tucson escorts through their first few shifts.
Inclusivity is taken seriously by the Arizona Clinic Defense Force and Planned Parenthood, with patients at Planned Parenthood running the gamut, including people of all races, migrants, DACA recipients and, sometimes, undocumented individuals.
"Our doors are open to everybody," Knierim said. "We're here to serve the community, and the whole community."
As a result, the Arizona Clinic Defense Force will make a push to get Spanish-speaking escorts, with Knierim saying it's important for the organization to immerse itself in the community to let people know this opportunity is out there.
The force has provided de-escalation at Walk for Our Lives, political events and speaks on panels. The group has become part of an elite network of other clinics that do this work around the world, Knierim said.
"What we do is very strange. Your friends and family won't understand a lot about it," Knierim said. "They will see you change and become more confident in your values."
One escort-in-training asked if protesters have a physical reaction once escorts are put into place, to which Knierim said they typically "get amped" for a few weeks before diminishing. When the clinic in Tempe opened a year and a half ago, there were 50 to 100 protesters on a bad day. In the last eight months, the volume of protesters on such days has dropped to 10 to 12 people, Knierim said.
"They get bored and stop," she told the group, reminding them that escorts don't engage with protesters. "We're going to be so boring that they're going to get bored and leave in a few weeks or months."