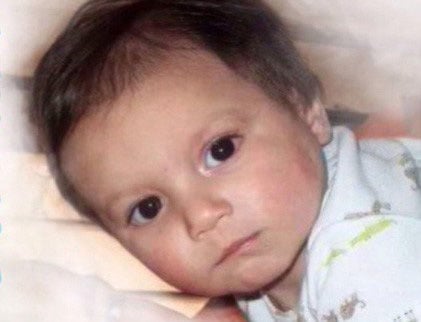 A balloon left as a memorial outside the home where Roman Barreras starved to death says it all, if unintentionally.
"It's all about you!" say big colorful letters on the cheerful silver balloon.
If one thing is clear about Roman's perhaps three-year life, it's that it wasn't all about him. The usual cadre of relatives, neighbors and officials worried about Roman but didn't do enough to protect him from the woman accused of starving him to death, his mother, Raquel.
I say "the usual" because we've been here so many times before. The current era of child killings by Tucson parents seems to start with Ariana and Tyler Payne, killed by their father Christopher in 2006. It runs through many other examples to Za' Naya Flores' death by starvation in 2012, goes through more cases last year, and now has brought us here, to another starved toddler.
Roman Barreras. Starved to death in an outdoor shed. Date of death unknown. The landlord found his bones.
A summary report released Friday by Child Protective Services makes clear there was, as there so often are in these cases, a moment when the authorities might have saved Roman, who was born in July 2010.
Child Protective Services had taken Roman away from his parents' custody soon after his birth, but about a year later, Roman was back in custody of his father, Martin. Then in October and November 2012, someone called CPS to report they had not seen the boy, who would have been almost 2½ years old then, for several weeks, and they worried that Raquel was living back in the home, against court orders.
CPS asked Tucson police to check on him, and an officer did that in November.
"The investigation determined that Roman was being adequately cared for by his father," says the new summary of the case by CPS. "Roman was observed and noted to be very small and thin for his age. The father reported that he was not previously diagnosed as Failure to Thrive. The case was closed and the allegations were unsubstantiated."
We haven't yet seen TPD's reports on this encounter, but what a sad, contradictory commentary these sentences are.
If there are concerns about the child's welfare, and he is "very small and thin for his age," and he had not been diagnosed as having a failure to thrive, then why was the case closed as unsubstantiated? And what about the mother? There's no indication from the new report whether anyone checked out if she was living with the family, as alleged.
This report does not make the official responders look good, said Richard Gelles, dean of the school of social policy and practice at the University of Pennsylvania and an expert-witness in several Arizona CPS lawsuits.
"There was a significant under-response here," said Gelles, who wrote the 1997 book "The Book of David: How Preserving Families Can Cost Children's Lives."
It's all about you, Roman.
When a person starts starving, initially there is, of course, hunger. Eventually it becomes terribly painful. Then a sort of lethargy settles over the person, like what you may have seen among starving African children who can't brush away the flies. Then unconsciousness and death come. It's unclear so far when Roman died, or whether he died in the shed where he was forced to spend time, but it seems likely he was on his way when the officer visited him that November.
"It's a terrible way for anyone to die, and it's horrific for a child to die that way," Dr. Mary Ellen Rimsza told me Friday.
She's a Tucson pediatrician who for years has authored an annual report called the Arizona Child Fatality Review. This isn't the first starvation case she's come across.
"It does happen, perhaps a few cases a year," Rimsza said. "It's usually a case where the family has been able to isolate themselves enough that people don't pick it up."
Isolation was also significant in the case of Fernando and Sophia Richter, accused of holding three daughters from different relationships as hostages for up to two years until the girls escaped in November on Tucson's north side. The Richters had told family members they had moved to San Diego. No one was looking for the girls.
Relatives of Martin and Raquel Barreras described the same dynamic — the parents had tried to keep their whereabouts unknown to relatives, going so far as to walk away when they saw relatives in a store. Some family members called CPS or police. They tried, but nobody went far enough to discover the truth.
It's all about you, Roman.
Another characteristic shared by the Richter case and the Barreras case is that the children had been taken away by authorities, then returned.
That's an infuriating aspect of our child-welfare system: It purports to place the child's well-being at the top of its priorities, but it sometimes returns children to the care of parents who are borderline or downright dangerous.
Realizing the dangers of too much emphasis on family reunification is what convinced Gelles to write his book. This case, Gelles said, looks so far like both a failure of family reunification and inadequate casework.
In this case, Raquel Barreras didn't legally take custody — her husband Martin did — but in practice she ended up with custody anyway. And when the allegation of her return was raised, nobody seems to have investigated deeply. Keep that in mind.
We already have taken so many lessons from these cases that I find it hard to see anything new from this one. We already know that relatives and neighbors must be nosy in defense of at-risk children. We know that employees of CPS — now known as the Division of Child Safety and Family Services — are overworked and in some cases incompetent, and that their agency must be revolutionized. We know that at-risk families need support services that were cut during the recession years. We know too many of the wrong grown-ups are having kids.
The only thing new this case highlights for me is the need to police some noncustodial parents as if they were criminals on the prowl. If the accusations against Raquel and Martin Barreras are true, that is what they were.
Only when we put these lessons into action can we honestly tell Tucson's children "It's all about you."
Be the first to know
Get local news delivered to your inbox!