In 1856, two years after the Gadsden Purchase, Mexican troops left Tucson and were replaced by U.S. soldiers. The same year John Burt, born about 1829 in Vermont, built an adobe structure, a little southwest of the old presidio walls in Tucson and set up a blacksmith shop. It is believed that his place was the first Anglo-owned blacksmith shop in town.
During the Civil War, Tucson became part of the Confederacy but then was retaken by Union forces. Maj. David Fergusson of the California Column was left in charge of Tucson and the surrounding area. Fergusson ordered a surveyor by the name of J.B. Mills Jr. to survey what is believed to be the first map of Tucson, in 1862. All the streets were in Spanish, including Callejon Del Herrero (Blacksmith Alley), which bordered Burt's blacksmith shop to the north.
The same year, Union forces confiscated property from Frederick Neville that was located just across the alley from Burt's blacksmith shop, under the claim that he was a Confederate sympathizer. The military blacksmith, farrier and wagon shop was set up there, and Pvt. Thomas Belknap plied his trade there from October 1862 to January 1863. He later returned to Tucson and is likely the namesake of the old Belknap Street downtown.
On Oct. 29, 1864, Burt sold his dwelling house and blacksmith shop to Louis Quesse for $1,500. Quesse was born about 1827 in Prussia and came to the U.S. at 5 years old. In 1845, he enlisted in the U.S. Army in New Orleans for a five-year term. His occupation was listed as blacksmith. He rose to the rank of corporal before being discharged at Taos, New Mexico Territory, in 1850. By 1858, he was residing in Tubac, and the same year married Manuela Otero. In 1861, with no military protection to stop Apache attacks, Quesse's family and others abandoned Tubac and moved to the farming and mining community of Los Reales, just north of San Xavier Mission. By April 1864, when U.S. Marshall Milton Duffield took the special territorial census, Quesse was a resident of Tucson. Quesse owned the blacksmith shop for a few months short of two years.
On June 1, 1866, Louis and Manuela Quesse sold the house and blacksmith shop to John W. Sweeney for $1,000. Sweeney, a blacksmith, was born in 1836 in St. Louis, Mo. He spent some time in California before arriving in 1859 in Tucson. It may have been that year that he went to work in Burt's shop.
On May 10, 1863, he wed Manuela Ramirez, the daughter of prominent merchant Teodoro Ramirez. He was the sole owner of the shop until 1869. That year he was a member of the Pima County Supervisors and also formed a partnership with blacksmith Charles T. Etchells. The partnership lasted until 1873 when it was dissolved, and Sweeney sold his interest to Etchells for $3,000, which included Sweeney's half of the blacksmith tools. Sweeney in time moved to Florence, and Etchells took over the blacksmith shop originally built by John Burt.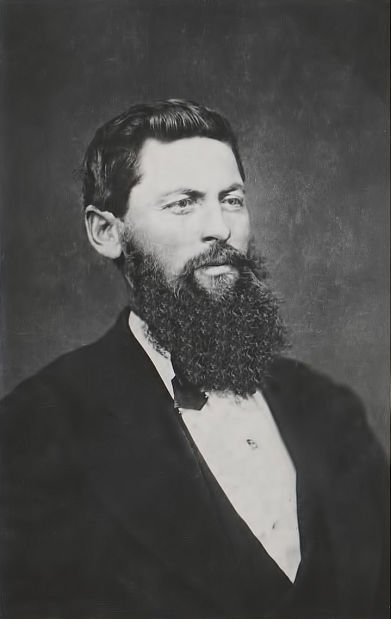 In 1869, Louis Zeckendorf opened a store in the old military blacksmith, farrier and wagon shop, and it appears it was enlarged and absorbed Callejon Del Herrero as it isn't on the 1872 S.W. Foreman town site survey.
Etchells was born on June 8, 1837, in Michigan. For a few years during the Civil War he worked as a blacksmith for the U.S. Army in Missouri. After being discharged in 1863, he traveled to New York and took a steamer to present-day Panama. Finding cholera and yellow fever common there, he moved on, traveling around Cape Horn, and landing in either in San Francisco or Mexico. By 1864, he was working as a blacksmith at the Heintzelman Mine (Cerro Colorado Mine) southwest of Tucson near present-day Arivaca.
By 1869, he was residing in Tucson and began a partnership with Sweeney. Around this time he met Soledad Borquez and in 1870 their first child Petrawas born, followed by John, Sadie, and Peter. In 1874, he was elected to the Tucson School Board.
In 1873, Etchells was elected to the Tucson Common Council for the first time. He would serve several more times over the years.
During the 1880s, Etchells became the sole agent for Studebaker wagons, which was known as the Ford Model T of its day, because it was a practical, everyday wagon. Competition also increased during this decade, with Adolfo Vasquez and Winnall Daltonopening a shop as well as A.M. Bragg.
Callejon Del Herrero either derives its name from John Burt, the first blacksmith on the alley or the blacksmith shop itself that existed from 1856 until about the turn of the century.