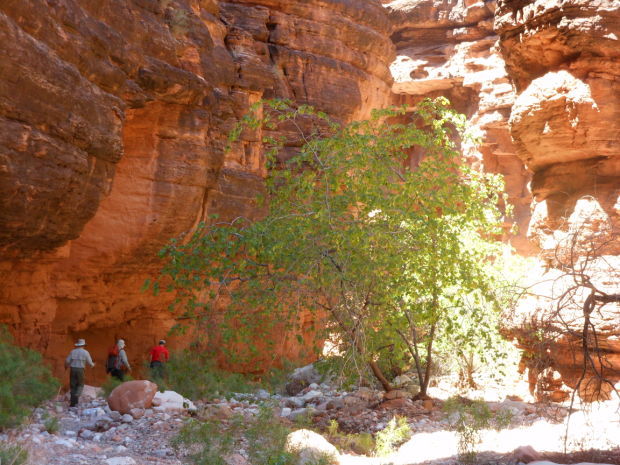 Sure, Arizona could use a slogan.
God knows this state has had a bad time over the last seven years or so. We could use an injection of appreciation — even self-esteem.
So the idea of seeking our own "Don't mess with Texas" is fine — as far as it goes. Howard Fischer of Capitol Media Services reported Monday that the Arizona Commerce Authority has hired Scottsdale marketing firm Heasley & Partners to conduct research and come up with rebranding ideas for the state.
But the effort, spearheaded by Gov. Doug Ducey, becomes complicated when you consider the real problem this effort is trying to solve.
Does Arizona have an image problem? Or does it have a reality problem?
These questions surfaced after then-Gov. Jan Brewer signed SB 1070, and the state immediately lost dozens of meetings to cancellations. In May 2010, Brewer launched a similar rebranding campaign to combat what she said were misconceptions of the new immigration law and of the state in general.
It was Brewer herself who had helped spur the fears of Arizona, not just by signing the bill but also by bemoaning border-related crime in the state. Infamously, she talked about beheaded bodies in Arizona's desert when there weren't any. She herself created a faulty perception of reality that she then tried to correct via rebranding.
Now, though, there seems to be a real battle about what our reality is. Back in January, at the outset of the legislative session, state Senate President Andy Biggs, a Republican from Gilbert, blasted legislative Democrats for criticizing the state's spending on education.
"If you want to consistently say to business, 'Hey, you know what? We have a crappy education system,' you're not helping the state, you're not helping our education system, and you are hindering our economy," Biggs told a group of business executives at a pre-session forum.
But Biggs was wrong in asserting that criticism created our image problem. It was his Legislature that steadily cut funding for education and facilities — in other words, it was a reality that they created, aided by the recession.
Just how wrong Biggs was became clear in June, when the U.S. Census Bureau released a report on education funding that showed Arizona near the bottom in various measures of per-pupil spending on education, using 2013 data. Yes, the Legislature bumped up funding slightly this year, but it's still pathetically low, even compared to our own past per-pupil funding.
So while Biggs complained about the perception, he has been wasting his opportunity to do something about the reality.
As much as I dislike Ducey's approach to governing — trying to cut our way to success — he has done a few things to change Arizona's reality. One was to discourage the kinds of bills in the Legislature that made Arizona a target of TV comedians. No new SB 1062 — the bill that would have enshrined businesses' ability to discriminate against gay couples in law — came to his desk in the last legislative session.
Also, after the Legislature took Ducey's austere budget plan and cranked it to a new level of austerity this spring, the governor announced his plan to use the state's land trust to increase education funding. Granted, the plan couldn't take effect till 2017, and the state treasurer opposes it, and it entails only small increases. But at least it is a plan.
When Ducey ran Cold Stone Creamery, he hired the marketing firm that will help create a new state slogan — Heasley & Partners — to analyze his company as it grew.
What it found was that Cold Stone stores projected an image that did not measure up to the quality of the ice cream. Here's a "case study" detailed on the firm's website:
"The stores were not in alignment with the ice cream. There was a massive disconnect. Clearly something had to change. The ice cream either needed to taste worse (not an option!) or the stores and the images surrounding the brand had to get better. In other words the Promise had to measure up to the Experience."
It seems the opposite of the problem Arizona is facing right now.
Arizona's reality needs to measure up to its promise — the one the new slogan will represent.