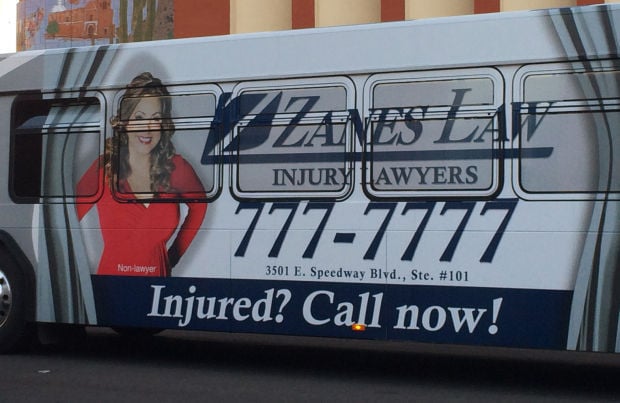 If you've driven around Tucson much, you've probably seen larger-than-life photos of Claudia Zanes in advertisements for the Zanes Law Firm on billboards or the sides of buses.
Always at the bottom of the picture, in smaller print, are the words "non-lawyer." One funny ad had a dog she was holding labeled as a non-lawyer too.
Those words suddenly represent more than a legalistic disclaimer.
The State Bar has opened an investigation into Zanes Law, and among the questions is whether Claudia Zanes exerted too much influence, for a nonlawyer, over the way the firm handled cases.
The firm's supervising lawyer is her husband, Doug Zanes, but as recently as last year, Claudia Zanes called herself the firm's CEO. Claudia Zanes, whom the Tucson Hispanic Chamber of Commerce honored as its businesswoman of the year in October, has been the face of the firm. Even the lawyers' business cards had her photo on the back.
But now, her well-known name and image is gone from the firm's Web page. At least one bus rolling around town these days is advertising the firm without showing her face.
A half-dozen ex-employees I interviewed described Zanes as a high-volume firm that Claudia ran with an iron fist, sometimes pushing attorneys to settle cases faster when they were behind on their settlement goals. Screens mounted on the office walls tracked and displayed how much money each attorney had made in settlements during that period.
"My personal opinion is it's profits over people for them," said former Zanes attorney Bill Blaser, who left the firm in late 2013 after about 15 months there. "My world doesn't run like that. You can't do that to people and expect people to stay for very long."
Another former attorney, Gerald L. Piccirilli, said he found the firm a "high pressure" atmosphere when he worked there for six months ending on Dec. 31, 2013.
"There was always the pressure to resolve cases and try to do it as quickly as possible," he said. "The overriding concern was to churn them out."
For more than a week, I tried to reach Doug and Claudia Zanes through emails, phone messages and a visit to the office. I never received a response.
Blaser, Piccirilli and four other ex-employees I interviewed described rampant turnover at the firm. That's what led to a recent lawsuit that opened the curtain on the issues the State Bar is considering. Former attorney Adam Pelz sued Zanes last year, saying — among other things — that the firm had shorted him about $5,000 in pay.
Zanes denied the specific allegations by Pelz, and the two sides settled the lawsuit in December. However, the responses in the case file did not address the broader issues the lawsuit raised, and only one other deposition was taken before the case closed.
In a Nov. 14 deposition that I obtained — not from the parties in the case — former office manager Karina Hamm, who worked at the firm for three years ending in 2013, testified that Claudia Zanes was the firm's top decision-maker.
"Did Claudia Zanes at any time exercise management of attorneys in Doug's name?" asked Pelz's attorney, Stephen Portell.
"How did she do that?" Portell asked.
"We were told as long as we used 'per Doug' on any emails or messages sent to the attorneys we would be OK," she said.
It is considered unethical for attorneys to take direction in legal matters from nonattorneys, said Ted Schneyer, an emeritus law professor at the UA's James E. Rogers College of Law, who still teaches an ethics course there.
"If she is active in making policy for the firm or giving lawyers their marching orders, there's a good chance that would run afoul of the provisions" of an ethics rule, Schneyer said.
That rule, number 5.4, says that, "A lawyer shall not form a partnership with a nonlawyer if any of the activities of the partnership consist of the practice of law." It also says a lawyer may not practice in a firm if "a nonlawyer has the right to direct or control the professional judgment of a lawyer."
Shaun Kenney, an attorney who worked at the firm for about eight months ending in 2008, told me, "Claudia did not exercise any control over the cases I was working on." So, that alleged experience has not been universal for attorneys.
Hamm, in her November deposition, also said she learned from a coworker that Claudia Zanes ran a company called Lawchic Investments LLC, which had loaned money to clients or potential clients. ("Lawchic" was also on Zanes' license plate, Hamm testified.)
Lending money to clients is prohibited in most circumstances — that's in part so firms don't get into bidding wars over who can lend clients the most money, said Schneyer, the UA law ethics professor. When Kenney heard about Lawchic, he went to Doug Zanes, he said.
"I confronted him about it," Kenney told me. "I seem to recall Doug mentioning that this was a business Claudia ran on her own. I told him it doesn't matter because it's being run out of your law firm."
Arizona corporation records list both Doug and Claudia Zanes as the owners of Lawchic.
Being investigated by the State Bar doesn't necessarily mean a firm has done something wrong, bar spokesman Rick DeBruhl told me. Last year, less than half of the 800 investigations the bar conducted led to sanctions, he said.
However, getting as far as an investigation is also rare: Those 800 investigations were out of about 3,500 complaints, he said.
The possibility of investigations and sanctions against the firm wasn't a primary worry for some of the former Zanes attorneys I spoke with. They mostly wanted to get out of a place where they felt they couldn't practice law effectively.
"I have to look at myself in the mirror every day," Blaser told me. "And while it's not necessarily a pretty sight, it's an image I can live with."
The State Bar will decide in coming months whether it considers the problems employees described at the firm worse than a bad workplace atmosphere and — if so — whether those infractions warrant sanctions.
Only if the Bar decides on sanctions, will the public get a detailed disclosure of what was happening inside the firm owned by Tucson's most famous nonlawyer and her husband.